Olukai is a company that produces footwear more aimed at the ocean lifestyle.
Their footwear offers you waterproof and comfortable styles of sandals, boots, and shoes that they distribute through many retailers and stores, as well as online.
Olukai Arch support flip flops are designed to offer your comfortable support as a fun and casual beach-style flip flop design.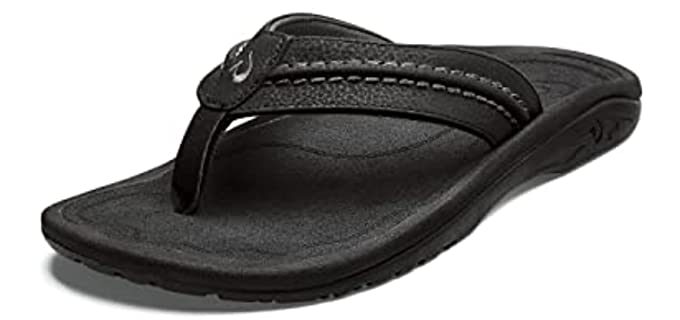 ---
Olukai as a Brand
Olukai, as a footwear brand, started with a very different approach, combining durability and water resistance for the ocean lifestyle, in a brand with strong values and roots, with a casual style, comfort, and craftsmanship.
Bill Worthington and his partner Matt Till initially launched the Olukai range to address a need for high-quality premium style sandals that you can wear to the beach or even to dinner.
They wanted the sandals and flip flops to feel almost similar to stepping on wet sand, offering a superior level of support, stability, and cushioning.
Olukai has a very rich history in Hawaii. They celebrate the spirit of 'Aloha" and try to authenticate the culture around this island state.
---
Why Choose Flip Flops
So why should you generally choose flip-flops from Olukai?
Versatile – Flip flops are one of the most versatile sandals that come in casual and more formal styles. They are suited for almost any occasion and allow you so much freedom and choice.
Allow Your Feet to Breathe – because of the very open design of flip flops, they allow your feet to breathe and ventilate well. They will help to keep your feet cool and dry.
Easy On and Off – Flip fops are an easy grab-and-go design that you can quickly put on your feet and take off. That is why they are so ideal for beach and pool use.
More Freedom – Flip Flops generally give your feet much more freedom of movement, and you can easily wiggle your toes around. Your feet are not cooped up in a constrictive sandal or shoe.
Very Comfortable – Especially Olukai sandals come with arch support and cushioning footbeds that provide exceptional stability and comfort for your feet.
Many Styles and Designs – Olukai flip flops come in a large variety of styles, designs and materials. You have so many choices that are more casual or more formal in style.
They are Relaxing – Slipping on a comfortable pair of Olukai flip flops after a long hot day can be quite relaxing.
---
Features of a Good Arch Support Flip Flop Sandal
Uppers – Olukai flip flops may have leather, vegan leather, or quick-drying textile uppers such as jersey knit. Their sandal is water-resistant and mostly quick drying.
Support and Cushioning – Olukai flip flops have an anatomically shaped footbed with compression-molded EVA, and a dropped in bushed EVA footbed for support. Full-grain leather may be used to line the footbed.
Outsole – Non-Marling rubber is used for the outsole with various patterns and traction styles for grip on wet and slippery surfaces.
Options – From the models we have chosen, you will see that there are some color options and plenty of sizes.
---
Reviews: The Best Arch Support Flip Flops
Listed below are some of our favorite flip-flop models offered by the brand Olukai.
We hope you love the Olukai flip-flops we recommend!
So that you know: We may collect a share of sales or other compensation from the links on this page.
---
1
Arch Support Flip Flop Sandals
One of the most popular flip-flops ranges from Olukai is the Ohana range for men and women.
The Olukai Ohana has a water-resistant design with a smooth drop in the footbed and anatomical fit.
They gave quick-drying and water-friendly jersey knit uppers that are ultra-soft.
The compression-molded EVA midsole has a smooth drop-in ICEVA footbed for anatomical fit in all-day comfort cushioning.
They are lightweight flip flops with and on a design.
---
2
Arch Support Flip Flop Sandal
Here we have two Unique leather flip flop models from Olukai for men and women.
The Hiapo is classic leather flip flops with tumbled and marbled full grain leather construction, with handsewn traditional whipstitching.
The Hiapo flip flops also feature Polynesian tattoo artwork details on the footbed, and they have a leather-wrapped outsole and compression-molded EVA anatomical footbed.
The Pianolo for the ladies is also a classic full-grain leather flip flop with saddle-inspired stitching.
The Pianolo is lightweight, durable, and elegant, and it has a compression-molded EVA footbed and leather-wrapped outsole.
---
3
Arch Support Flip Flop Sandal
Here we have two comfortable beach flip flop models from Olukai for men and women.
They have quick-drying and water-resistant jersey knit and nylon uppers for your comfort.
The flip flops feature an all-day comfort compression-molded EVA midsole and a drop-in ICEVA footbed with a supportive anatomical fit and cushioning.
The flip flops are lightweight and feature a slip-resistant outsole.
They come in a few more colors and designs from which you can choose and plenty of sizes.
---
4
Arch Support Flip Flop Sandal
These are two slightly different flip-flop models from Olukia for men and women.
They feature waterproof, and quick-drying nylon uppers with a soft jersey knit lining that wicks away moisture.
However, the Punua for the ladies features an anatomical poured PU footbed with a micro-textile for traction and a much lower profile for a modern and clean look.
The Punua has a non-marking rubber outsole with a wet grip for traction on wet and slippery surfaces.
On the other hand, the Ulele for men has a soft comfort fit and arch support.
The Ulele has an ICEVA anatomical footbed and EVA midsole for cushioning with arch support.
The Ulele also features a durable rubber outsole.
Booth flip flop sandals are available in a few more color options.
---
5
Arch Support Flip Flop Sandal
These two models from Olukai are very similar to the models we have discussed previously.
The ladies' flip flop model features a poured-in PU footbed and lower profile, with a wet grip rubber outsole, whereas the gent's model flip flop has an ICEVA footbed, EVA midsole, and regular rubber outsole.
The flip flop sandal has water-friendly and quick-drying uppers with a comfortable lining and nylon construction.
They are ideal for beach and pool wear.
Comfortable and casual flip flop sandal that is available in more colors.
---
6
Arch Support Flip Flops for Kids
I have included a model from Olukai, especially for children from their Ohana range.
The Ohana is available in little kid and big kid sizes.
It is one of their most popular flip-flops.
The flip flops feature nylon uppers with a soft jersey knit that is quick-drying and water-resistant.
The footbed has compressed anatomical EVA cushioning and a drop-in EVA design for comfort and support.
The outsole is a non-marking and slip-resistant rubber.
The fit and design are ideal for little feet.
There are also many fun colors available for children in this range.
---
Index Table: Top Rated Arch Support Flip Flops
---
---