You want the perfect little shoes for those special occasions, days out, or even when the baby starts walking. The right pair of sandals are also a must-have in the hot summers.
This article looks at some of the lovely sandal models Adidas offers for babies of all ages.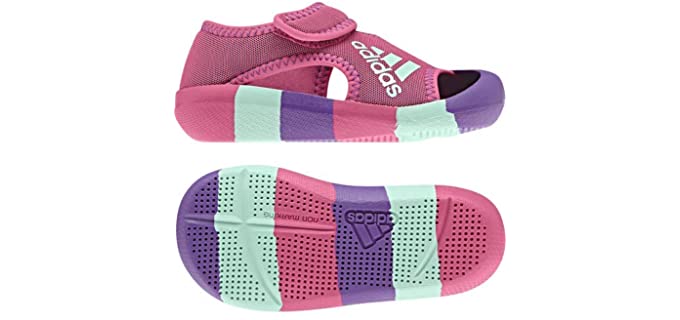 ---
---
When and Why do Babies Need Sandals
Babies generally only need shoes after they start walking, especially not a sandal. Hence it is for special occasions or to do a bit of dress-up.
Special Occasions – Going to town, visiting friends or family, and many other occasions deem as a perfectly fitting reason for wanting to put on a special pair of sandals for your baby.
Walking – When the baby starts walking, it is a good idea for them to wear shoes that help with grip and stability. The right pair of sandals is an excellent choice in summer for this event.
Slippery and Wet Surfaces – When the baby walks on slippery or wet surfaces in hot weather, the sandal can provide excellent slip resistance and protection for little feet.
---
What to Look for in a Good Sandal for Babies
When it comes to the best sandals for babies, there are a few things that you need to consider besides just a cute and colorful pair of sandals;
Materails – Look for soft, lightweight materials and linings that will not cause friction and rubber grips on the sole for extra slip resistance.
Comfort – A padded insole or cushioning protects little feet against impact and hard protruding objects, keeping them comfortable.
Flexible Non-Slip Sole – A flexible sole with a non-slip tread is essential for stability and protection against slips and falls.
Safe Closures – I would highly recommend a shoe with a secure fit and a Velcro closure for young babies. Older toddlers that can wear slide-ons or flops can settle for these designs.
---
Features of a Good Adidas for Babies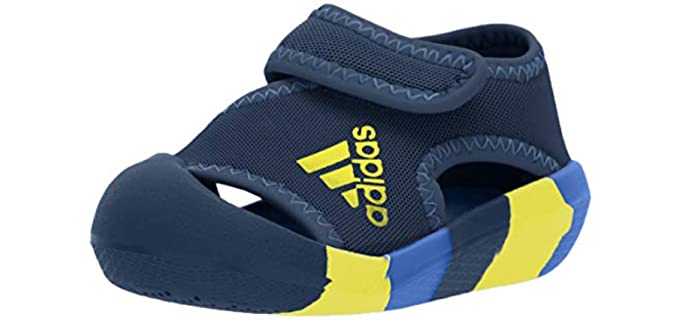 Uppers – For the Upper, EVA is used in the slide models and Neoprene in the Velcro models, which is quick-drying and water-resistant.
Footbed – The Footbed usually consists of EVA, cushioning, shock-absorbing, and protection for little feet.
Outsole – The Outsole will be either EVA or rubber with a patterned tread for better traction and grip on wet surfaces.
Other Features – Other features such as additional decorative detailing, a massaging footbed, and waterproof properties are also visible in many Infant sandal models from Adidas.
Options – Little Kid, Toddler, and Infant size options are available in the kid's sandal models, which are ideal for babies of all ages. You will also find many color options and fun prints in Adidas sandal models for Babies.
Closures and Adjustability – Most sandals from Adidas have a slide design, some with a Velcro adjustable single strap. The closed styles have Velcro straps as closures for a secure fit.
---
Reviews: The Best Adidas Sandals for Babies
These are some of the best sandal models by Adidas for Babies;
We hope you love the products we recommend!
We may collect a share of sales or other compensation from the links on this page.
---
1
Adidas Sandals for Babies
The Adidas Alta Swim is a beach and pool sandal for infants and toddlers.
The Sole is synthetic and flexible with a durable rubber outsole and a high traction tread to prevent slips.
The EVA Upper is lightweight and comfortable with a printed Adidas Logo.
There is a comfortable contoured EVA footbed and flex grooves on the EVA outsole for comfort and support.
The Colors available are for boys and girls.
---
2
This is a toddler-sized Adidas sandal for babies.
The sandal has a slide design and is available in black only.
They have a very soft and flexible upper that is quick drying.
There is a comfortable and cushioned footbed.
The outsole is rubber with high grip patterns on the tread.
---
3
The Adidas Kids Altaventure has a fit for toddlers, little and big kids that you can choose from.
The sandal design is closed and secure to protect tiny feet from all hazards.
The uppers are a soft synthetic material that is a quick-drying textile that he's well and exceptionally lightweight.
With the slip-resistant rubber outsole, your baby can easily flex, move, and be secure.
A Cuplsoel design also improves grip and stability for babies just starting to walk.
Overall, the sandal has a stretchy fit and a comfortable and adaptable feel.
---
4
Adidas Sandals for Older Babies and Toddlers
We have the slip-on Adissage model with massaging footbed, and single adjustable uppers strap for older babies and toddlers.
I recommend this slip-on style for older babies and toddlers who can already walk steadily.
The uppers strap is adjustable with a Velcro closure and synthetic leather.
The rubber outsole is more stable and offers excellent traction.
There are a few colors available for boys and girls to choose from as they prefer.
The Massaging footbed has soft nodules that massage little feet and improve blood circulation.
---
5
Toddler and Older Baby Sandal
The Adidas Adilette for Boys and girls is also designed for older babies and toddlers, with fun color options.
The Adilette comes in a few fun color options that suit boys and girls with the original Adilette design and style.
There are size options available for toddlers, little and big kids, as you will see.
The uppers are synthetic foamy leather, and the footbed is a soft and comfortable EVA foam.
Furthermore, the durable and sturdy rubber sole offers excellent traction and slip resistance.
The Original slip-on style and design of the Adilette are easy to slip on and off and the perfect beach or pool sandal for older babies.
---
6
These cute sandals are unisex in design for boys and girls.
They are available in pink or black and white color options.
The uppers are soft and adjustable.
There are a cushioned footbed and slip-resistant outsole.
---
7
Comfortable play slide sandals for babies.
They are available in a solid black or white option with contrasting logos.
The sandal is soft and foamy for little feet.
Easy to clean and water-resistant.
---
8
The sandal is synthetic with a textile lining.
The outsole is a cushioning EVA foam.
There are synthetic nubuck finishenubuck-finishedd uppers straps.
More colors are likewise available.
---
9
There is a soft and flexible rubber sole for slip resistance.
The Upper is a breathable mesh.
The closed style is ideal for babies and toddlers.
There is a blue one for boys and a pink one for girls.
---
10
The design of the range Superstar 360 is based on the Adidas Originals Superstar.
It has a closed toe with a rubber bumper and a slightly open heel for ventilation.
The sole is a durable and slip-resistant rubber.
The uppers are a comfortable and soft canvas.
There are colors available for boys and girls.
Sizes are for older babies and younger kids.
---
Index Table: Top Rated Adidas Sandals for Babies
---
---