Chaco is an outdoor and casual sandal brand initially introduced in 1989 in Colorado.
After a river guide had a vision of the ultimate footwear in and out of water that will stay on your feet, the plan was set into motion.
The Gecko symbol of Chaco represents Chaco sandals that are ideal to adapt and drive in almost any environment.
Thus Chaco sandals are the best for hiking.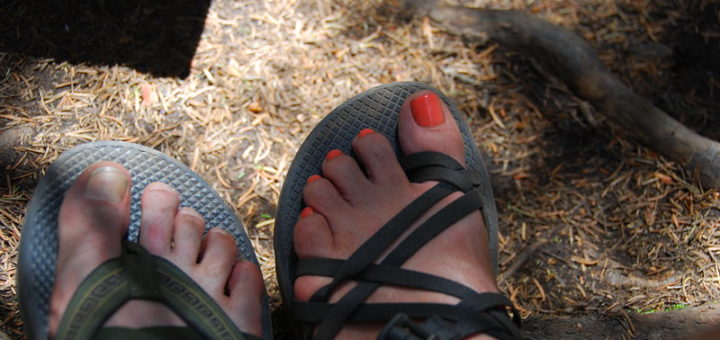 ---
---
Why Choose Chaco Sandals
Chaco sandals are ideal for Hiking because they can be used in any environment, wet or dry.
There are a few elements that make them so irresistible;
Adjustable Straps – Chaco sandals are the only sandal with a 360 adjustable fit in their sandals that you can customize to your specific needs and foot shape. The straps adjust and come with instructions on how to adjust them easily.
Luvseat Footbed – A Luvseat footbed is built into every pair of Chaco sandals. The Luvseat has a contoured design to provide arch support and cushioning for shock absorbency. The American Podiatric Medical Association accepts the footbed.
Materials – Chaco uses Durable and eco-friendly PU materials in their footbeds. Unlike their foams over time, PU foam will not break down or compress with wearing. Ensuring a long-lasting sandal that stays on your feet and does not end up in a landfill soon enough.
Outsole – The Chaco range offers high-performance outsoles on their sandal for grip and traction on the toughest and most slippery surfaces. The Chacogrip outsole is designed for performance and grip in more extreme conditions. The Eco-Tread design outsole uses 25 % recycled rubber for the outsole which is durable for outdoor trails but still easy on the environment.
Care and Repair – The Rechaco Repair department offers repairs and proper cleaning on your Chaco sandals. Almost all the parts of the Chaco sandal can be replaced or repaired, so you will only need to invest in a new pair after a while.
---
Should You Wear Sandals for Hiking?
This is a question that comes up quite a bit, should you wear sandals for hiking?
There are some advantages and disadvantages to wearing sandals for Hiking.
I would not suggest sandals for icy weather conditions or hazardous trails, though.
Advantages of Sandals for Hiking
Sandals are very lightweight, water-friendly, and quick-drying. When wearing hiking boots that are not waterproof, you will need to remove them every time you have to go through a small stream or puddle or have some very wet and cold feet. Hiking boots and shoes can become heavy and also quite hot and sweaty in hot weather. For these instances, sandals for hiking are ideal.
Disadvantages of Sandals for Hiking
On the other hand, keep in mind your toes and feet will be exposed and that sandals generally do not offer the best underfoot protection for very sharp protruding objects. Your feet can be exposed to snake and insect bites, as well as scrapes and scratches. Sandals are also not a good idea for cold weather.
---
Features of a Good Sandal for Hiking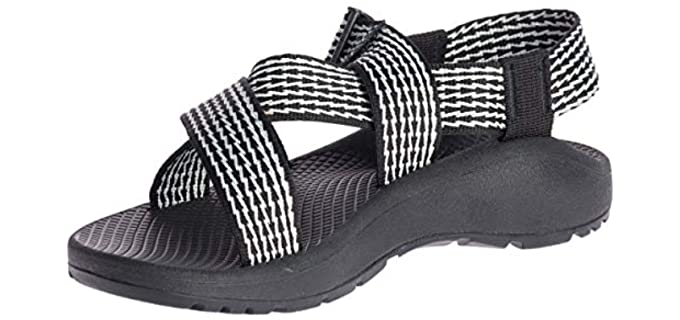 Uppers – Chaco sandals for Hiking generally have Polyester Jacquard webbing uppers that wrap around your feet for a secure fit and through the midsole for durability. They are generally adjustable with durable high-tensile webbing heel risers, and there may be an Injection-Molded Ladder Lock buckle as a closure. Depending on the design, the uppers may also consist of some Pu materials with different designs or straps.
Midsole – Chaco sandals for Hiking all have similar midsoles in the LUVSEAT design with vegan-friendly construction and Upbound EVA or PU materials depending on the model.
Outsole – You get the Chacogrip outsole, a more aggressive 3.0mm rubber compound outsole that is ideal for all surfaces and extreme weather. The Eco-Tread outsole consists of 25 5 recycled rubber, which is tough but still environmentally friendly. In some models, the Outsole may be an EVA compound, which I do not recommend for hiking.
Options – Chaco sandals for Hiking come in size and color options depending on the specific model of the sandal.
---
Reviews: The Best Sandals for Hiking
These are some of our top favorite sandals from the brand Chaco that are perfect for Hiking;
---
1
The Chaco ZCloud original is a favorite in the Chaco Hiking sandal ranges.
It has 1005 quick drying Polyester uppers with buckle closure, and the fit is fully adjustable.
There is a LUVSEAT footbed that is contoured and cushioned for your support and comfort,
The Midsole is polyurethane and shock absorbing.
The outsole is full rubber with a lug tread for excellent grip and traction on outdoor rails, wet and dry.
---
2
The Chaco Banded Z for men and the Wrapsody for women are similar in design, hiking sandals for men and women.
They both have Polyester and textile uppers that dry quickly and are fully adjustable with buckle closure.
The Luvseat Pu midsole offers excellent shock absorbency, contoured support, and cushioning.
The design is water-friendly and extremely durable.
The rubber outsole is a high grip and high traction non-marking design.
There are also quite a few color options available from which you can choose as needed.
---
3
Then there is the Chaco Zvolv, two for men and Zx2 for the ladies.
They are Polyester and textile uppers hiking sandals for durability and quick drying.
You can fully adjust their fit with an easy buckle closure system.
The Luvseat footbed will contour to your feet and cushion them for optimal support on uneven terrains.
The rubber outsole has 3 mm z-inspired lugs for grip and traction.
Furthermore, there are also other colors available in both these ranges.
---
4
The Chaco ZCloud 2 is a newer model from the original and much more advanced, with many new colors and designs available.
It also has the same quick-drying polyester uppers that wrap around your feet for a more custom fit and is fully adjustable.
There is a lighter-weight Pu Luvseat midsole and footbed for comfort and full foot support on uneven terrains.
The lug rubber outsole is non-marking and fully slip-resistant on all terrains.
This model is likewise available in wider-width models and extended sizes.
---
5
The Chaco Odyssey for men and women is a more closed-design sandal for hiking that offers additional protection against abrasions and scrapes.
To has synthetic material uppers that are breathable and quick-drying, with mesh and jacquard webbing.
There is a thick and durable rubber outsole with a lug tread for optimal grip and traction.
The Luvseat dual-density EVA midsole is cushioned and protects your feet from hard impact.
You can also choose from a few available neutral color options.
---
6
The Chaco Mega Z Cloud is a comfortable sandal for hiking for men and women.
This new model has full textile uppers webbing a 28 mm polyester jacquard design wrapping around your feet.
The uppers are fully adjustable with plastic buckle closure.
There is a Luvseat PU midsole that is dual-density for better cushioning.
The ChacoGrip rubber outsole is non-marking and has 3.5mm lugs for exceptional grip on all terrains.
There are also several color options available for you to review.
---
9
The Chaco Wayfarer is a leather sandal that you can use for hiking.
The sandal has leather uppers and a non-marking rubber outsolele.
A Luvseat footbed and EVA are cushioning.
Ideal for light day trips.
---
8
The Chaco Odyssey is a sporty sandal for hiking.
The uppers are synthetic, and there is an outdoor rubber outsole.
The Luvseat footbed and EVR rubber sole provide support and cushioning.
The ChacoGrip Rubber design outsole has 3mm depth lugs for traction.
---
9
The Chaco Chillos slide is a light hiking sandal that easily slides on and off.
It has a slide-on desi with polyester uppers.
There is a Luvseat support footbed and cushioning EVA midsole.
The rubber outsole is ideal for outdoor trails.
---
10
The Chaco Banded is the ideal hiking sandal.
The uppers are a quick-drying polyester,
There is a non-marking rubber outsole.
The Luvseat footbed, along with a PU midsole, provides support and cushioning.
---
Index Table: Top Rated Sandals for Hiking
---
---