The Reef® is a Sandal and beach footwear brand dedicated to making the best Beach and water-friendly sandals.
This article will look at some of Reef's more attractive and best Flip Flop designs.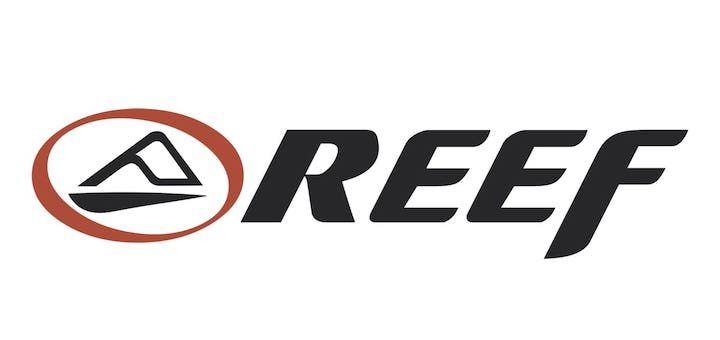 ---
---
The Reef Pledge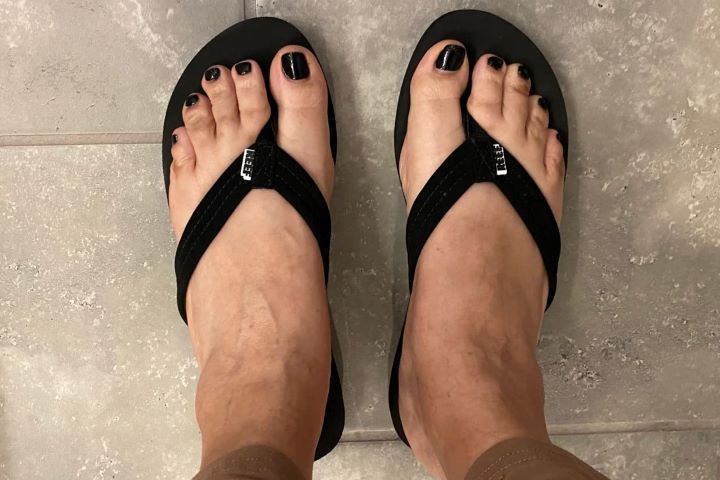 Reef makes some of the best available Flip Flops and sandals for beachwear, which are water-friendly, and they also care about the community and the environment.
Reef believes there is a connection between our well-being and our beaches and is therefore dedicated to plastic pollution initiatives, beach cleaning, and environmental legislation.
The Reef also partnered with Urban Soft 4 Kids to introduce fostered and at-risk children to the healing and positive benefits of beaches and the ocean.
---
What Makes Reef Sandals so Good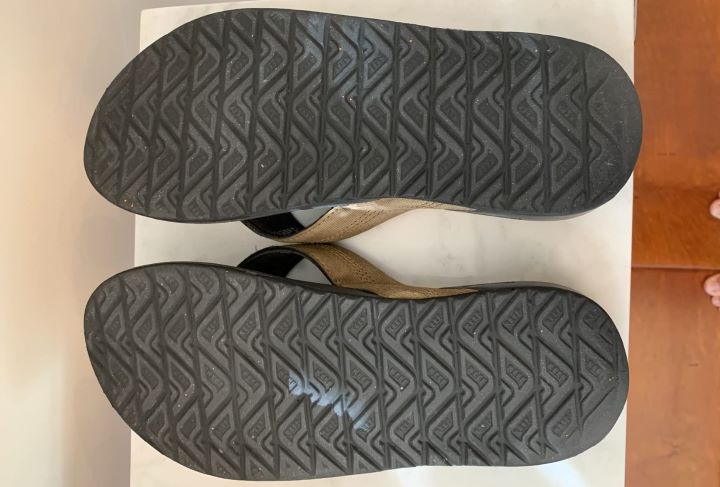 Coming back to the superb Sandals that Reef manufactures, let us look at some of the Different designs and Technologies that they use in their large Flip Flop range;

Reef Ortho Sandals – The Ortho Flip Flop Range has enhanced arch support and a heel cup to promote stability and foot health. The uppers are softer, and there is a shock-absorbing EVA footbed.
Reef Cushioned Arch Support Flip Flop Sandals – Like the Ortho Flip Flop Sandal, the Arch Support Flip Flop sandal also has arch support, a heel cup with an additional anatomically contoured footbed, and a spongy rubber outsole. The Arch support Flip Flop also boasts foamy cushioning with high energy returning and PVC free, with Vegan leather Straps.
Reef Bottle Opener Flip Flop Sandals – This Flip Flop Sandal range has a convenient bottle opener built into the sandal's sole. Furthermore, synthetic Nubuck uppers, a jersey-lined footbed, and Compression-Molded EVA for shock absorbency. Features a bottle opener built into the FootbedF
Reef Leather Flip Flop Sandals – The Leather Flip Flops from Reef feature leather upper straps and a leather footbed with ISA leather. There is also EVA cushioning in the FootbedF. They are outfitted with anatomical arch support to keep you comfortable through every adventure.
Reef Water Friendly Flip Flop Sandals – The Reef Flip Flop is manufactured to be water-resistant and quick-drying with rubber EVA and anatomical arch support for all-day comfort and outfitted with anatomical arch support to keep you comfortable through every adventure.
Reef Beach Essentials Flip Flop Sandals – The Reef Beach Flip Flop sandal is very similar to the Water Friendly design, with TPU straps and an EVA footbed as well as rubber outsole.
---
Reef Flip Flop Sandal Features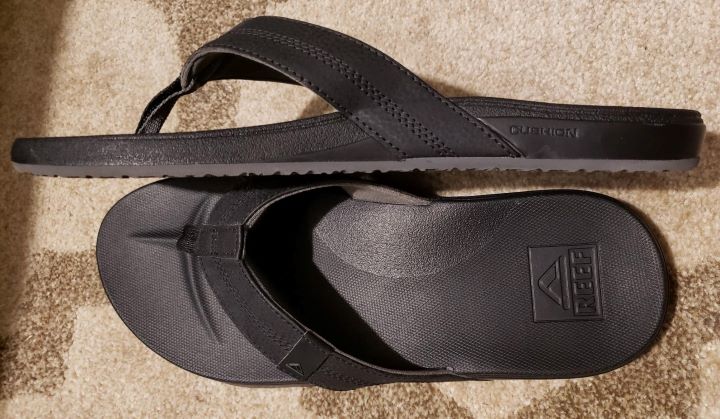 Uppers – TPU, Leather, and synthetic Nubuck are materials prevalent in the upper of most Reef Flip Flops. All materails used in Reef Flip Flops are PVC FREE.
Footbed – Depending on the design, the FootbedFcan be light leather or EVA with a contoured design, arch support, and a deep heel cup for stability.
Midsole – EVA cushioning is used in the midsole for cushioning and shock absorbency.
Outsole – Rubber or EVA is used in the outsole, which is normally patterned for slip resistance.
---
Reviews: The Best Reef Flip Flop Sandals
Here are some of the best available Reef brand Flip Flop sandals in their top ranges;
We hope you love the products we recommend!
So that you know, We may collect a share of sales or other compensation from the links on this page.
---
1
The Cushion Breeze and Bounce Phantom sandals from REFF are their most popular Flip Flop Range for their comfort and high durability.
Synthetic upper straps and a range of color options are available with a similar or contrasting sole design.
The FootbedFis cushioned with Cushioned Bounce Technology for high energizing cushioning and shock absorbency.
Both sandal models are beach and water-friendly and very durable.
The Rubber Sole also offers a good grip on most surfaces and wet conditions.
---
2
The Rover Flip Flop range is a water-friendly and comfortable sandal that is beach-ready.
The Rover for men has fabric and synthetic upper, while the Rover Catch for ladies features genuine leather uppers that are water-resistant.
Both sandals have a comfortable and cushioned footbed and require no break-in time.
The straps on the uppers ha e a wider design to ensure that your feet are comfortable and under less pressure.
These sandals are beach-friendly and very durable.
---
3
The Ortho range from Reef offers you a Flip Flop with maximum support and plush cushioning for Orthopedic relief from certain conditions and painful feet.
The Synthetic upper is lined and fits comfortably for less pressure and irritation.
There are also a few color options available in this specific range.
The FootbedFhas a Heel cup for stability and excellent arch support.
The FootbedFis likewise cushioned with softer and more plush cushioning for comfort.
Furthermore, there is a durable rubber sole for better grip, and these Flip Flops are also Becah ready.
---
4
Beach and Pool Flip Flops
The Smoothy and Sandy are your best Flip Flop range for the beach and pool, and they are water-friendly and more casual in design.
The Smoothy has water-resistant EVA uppers, and the sandy features Polyester quick-drying uppers.
Both flip-flops feature a soft and cushioned footbed with EVA.
The rubber sole is highly slipping-resistant and very durable.
The ideal beach and pool sandal is water-friendly and easy to clean.
---
5
The Reef Fanning Flip Flop is a Sporty Style Flip Flop rugged and meant for rougher terrains and use.
EVA, Nubuck Leather, and Rubber are used in the Fanning construction.
The Uppers offer a wider, more snug fit for better protection and structural stability.
A bottle opener is also integrated into the Flip Flop's rubber sole.
The outsole has a Herringbone pattern in the durable rubber for optimal grip and traction on wet and slippery surfaces.
The EVA foam footbed has a 360-degree heel airbag enclosed in soft polyurethane for cushioning,
---
6
Something fancier and formal is the TwinPin and J-Bay Flip Flop designs for Reef.
There are neutral color options available in the TwinPin, and neutrals and metallics are accessible in the J-Bay for ladies.
The upper consists of smooth Vegan leather with a Jersey lining for comfort.
The FootbedFis cushioned and has arch support and anatomical design for optimal support.
The rubber outsole offers excellent traction and durability.
You can wear these sandals to the beach and for other occasions.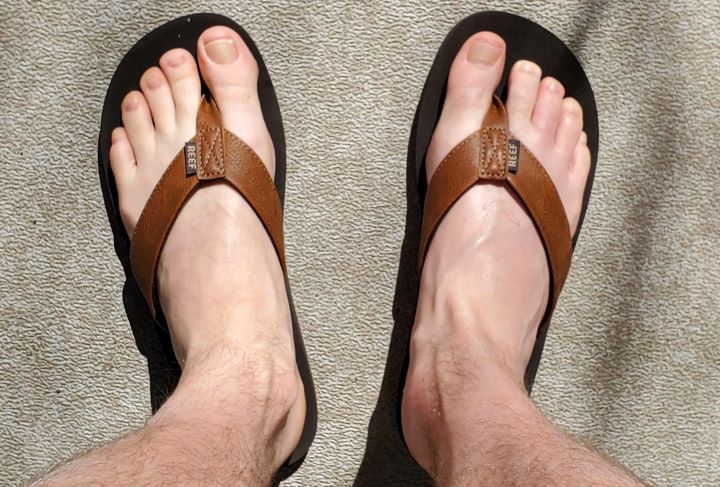 ---
7
The TQT and Zen Love are two fashionable flip-flop designs from the Reef brand.
Both sandals have synthetic leather uppers with a soft lining.
The Footbed is padded and lined for your comfort.
The synthetic outsole is ideal for most floor surfaces offering good traction.
There are a few neutral color options available from which you can select.
---
8
The Modern and Sassy from Reef are stylish and wear Flip Flop Options daily.
The Modern has Nubuck leather uppers, while the sassy has synthetic uppers.
There are many color options from which you can select in both models.
Both sandals feature a durable and slip-resistant sole.
The FootbedFis comfortable and cushioned for optimal support.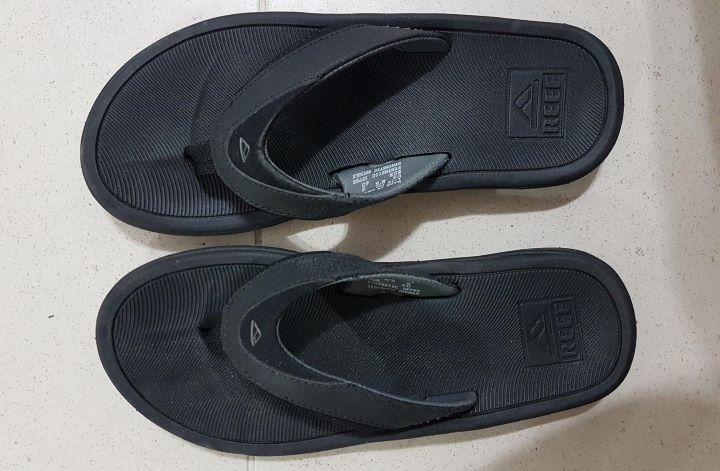 ---
9
The Phantom and Bounce from Reef are similar, offering energy-returning Bouncy cushioning.
The uppers are mesh and nubuck leather that is quick drying.
Both sandals are water-friendly and have a durable and slip-resistant outsole.
The specialized bounce-back energy-returning cushioning technology and EVA are in the FootbedF
You can also select your favorite color option from a few.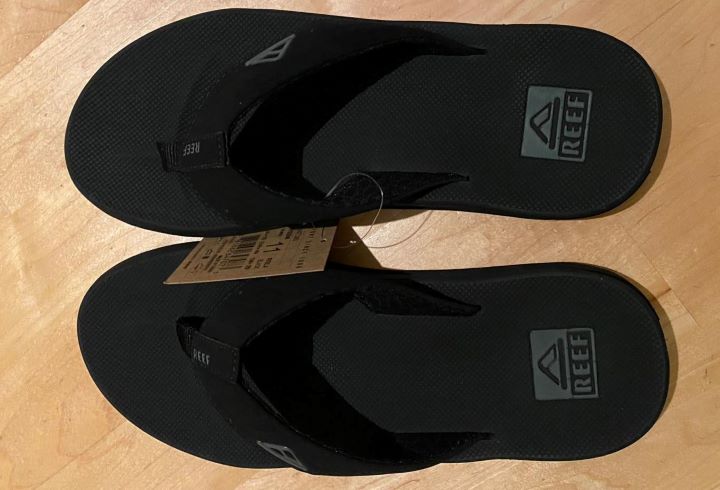 ---
10
The Bliss and One are the perfect water-friendly beach and pool sandals.
The Footbed is EVA, which is cushioned and water friendly.
The durable outsole offers excellent slip resistance on wet surfaces.
These two models are the perfect beach and water-friendly flip-flops.
The thong uppers are also water-resistant and durable.
---
Index Table: Top Rated REEF Brand Flip Flop Sandals
---
---