Chaco is the ultimate outdoor adventure sandal designed to be perfect for nearly any and every environment.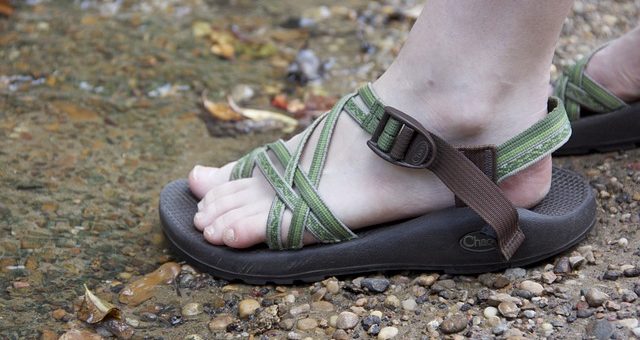 ---
Chaco® Sandal Features
Chaco sandal is built to last even in rough environments and terrains, not to mention that you can repair Chaco sandal.
Chaco has a ReChaco repair program focused on repainting your Chaco sandal to a state as new.
The Chaco sandal is famous for many other reasons besides only being Repairable;

ChacoGrip Rubber Outsole from Ecotread Rubber – The Chaco outsole is a compound leather outsole with a lug tread design for optimal grip and slip resistance. The Chaco Rubber outsole is made of 25 years of recycled rubber.
PU Footbed – All Chaco sandals have a PU footbed that compresses and regains its shape to mold to the shape of your feet.
LUVSEAT Footbed – The footbed's Luvseat design is contoured with excellent arch support for optimal comfort and support in every sandal model.
Uppers – The Chaco sandal offers you a choice between a toe loop or no toe loop uppers design, with a 360-degree customizable fit.
---
Why Choose Chaco's favorite Sandal Models
The favorite models from Chaco have been tried and tested by many happy and satisfied customers; that is why they are so popular.
The Chaco sandal is comfortable, high-performing, and available in so many styles and customizable styles. What is more is that Chaco is a podiatrist certified sandal that is also backed by Chaco's commitment to quality, comfort, and very durable construction.
Chaco offers you the ultimate combination of comfort and style, and you can choose your favorites from a full range of designs.
---
Features of a Good Chaco® Sandal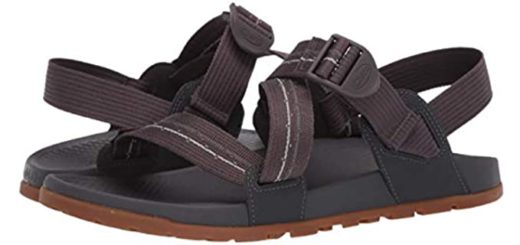 Uppers – The Upper webbing or straps in the Chaco sandal usually consist of a strong and quick drying Polyester fabric. Some more durable and hiking style designs have a full-grain leather upper lined and padded for comfort.
Footbed – The Chaco's Footbed features the popular LUVSEAT design with a dual-density PU midsole and Chaco Cloud cushioning.
Outsole – Most outsoles on the Chaco consist of either rubber or their popular ChacoGrip 3mm lug compound rubber sole that is ideal for outdoor experiences.
Stability – Some Chaco models have stability features such as a Nylon Shank and an Injection Molded ladder lock footbed design.
Closures – The Closures are usually Velcro straps at the back and top or a hook and loop design closure.
Colors – There are many neutral and bolder color options available in most Chaco sandal models.
---
Reviews: The Best Chaco® Sandals
Below are the most sought after sandal models from Chaco;
---
1
The Chaco Wayfarer and The Chaco Juniper are the two perfect men's and ladies sandal models from the Chaco brand.
These sandals feature smooth and soft leather upper straps made from full-grain leather with a suede-lined footbed.
There is an injection-molded ladder lock buckle design footbed for added support and cushioning.
A non-marking Chaco grip rubber outsole also provides extraordinary slip resistance and grip without staining floors.
You can also get the sandal in different widths and color options.
---
2
The ZCloud from Chaco features a comfortable and fashionable LUVSEAT footbed.
The uppers are made from durable fabric that is available in many colors.
The uppers have a jacquard weaving design that wraps around your foot and is polyester-based.
The popular LUVSEAT footbed is cushioned, contoured and lined sand treated for odors and bacteria.
The Webbing design heel risers are durable and highly adjustable.
You can also look forward to another very durable and high grip CHacoGrip rubber outsole.
---
3
Ideal and lightweight for beach or pool excursions, the Chaco Zx2 is a durable and comfortable sandal.
The polyester uppers are fast drying and comfortable with hook and loop closure systems.
There is a PU comfort-cushioned footbed that is lightweight in supportive.
The Midsole ensures better alignment and shock absorbency.
The durable rubber outsole ensures good slip resistance and stability.
The sandal is available in some color options for your perusal.
---
4
Lightweight Plantar Fasciitis Sandal
The Chaco ZVolve 2 is lightweight and supportive with a more classy and fashionable design.
There are Adjustable webbing straps made from synthetic materials constructed in a crisscross silhouette with a toe loop.
The ZVolve 2 also features the classic and traditional LUVSEAT PU footbed with its airy and softest underfoot cushioning.
A nylon shank has been embedded in the Chaco ZVolve for additional defense and stability in the sandal.
There is likewise a durable and non-marking outsole.
You can choose from a variety of styles and colors in this specific model.
---
5
The Wrapsody and tegu are two comfortable and sporty-styled sandals from Chaco.
Both sandals feature Polyester upper webbing, which wraps around the foot.
There is a LUVSEAT footbed that is contoured, cushioned, shock-absorbing, and odor resistant.
The PU midsole likewise ensures excellent cushioning and shock absorbency.
The durable rubber ChacoGrip outsole makes sure that you never slip and fall.
Available in some color variations.
This is also a Vegan option in a sandal with no animal-derived materials used in the making.
---
6
For something a bit more formal and of occasional wear, I have chosen the Tulip and down from Chaco.
The Lowdown for the men has Polyester upper in more neutral solids colors, and the Tulip has genuine leather, and leather-lined uppers are also available in neutral color selections.
Both sandals feature the LUVSEAT footbed as well as an EVA midsole for cushioning and support.
The ChacoGrip rubber outsole offers exceptional grip and slip resistance and is also non-marking.
The straps on this sandal are adjustable with a hook and loop closure design.
---
7
The Z Cloud Mega features many comfort features and a thicker sole.
The upper webbing is polyester that wraps around the foot for a customized fit with adjustability options.
There is a Luvseat PU, midsole and Cloud cushioned footbed for comfort and shock absorbency.
The durable rubber outsole is non-marking and slips resistant.
You have a selection of many color options in this model.
---
8
The Z2 Range is similar to the Z1, with a few more added features. The Z2 is the Classic design sandal from Chaco with adjustable straps.
The uppers are textiles with adjustable straps.
The sole is a durable high grip rubber.
There is a nubby footbed for comfort and woven design uppers.
There are also many colors available from which to choose.
---
9
A classic Sport model sandal from Chaco is the Z1 range available in a ton of color selection.
The uppers are textile from polyester with adjustable high tensile webbing heel raisers.
There is a comfortable Luvseat PU midsole and cushioned footbed.
The ChacoGrip rubber outsole is lug and non-marking.
You can also choose from many color options in this range.
---
10
The Playa Pro and Lowdown is a comfortable Hiking Flip Flop sandal with durable construction.
The Upper is leather with a moisture-wicking textile lining.
There is a Luvseat design Midsole from Pu materials and a Cloud cushioning comfort system in the footbed.
The Three-point design offers a comfortable and snug fit.
The sole is slip-resistant and durable.
There are also many colors from which you can select.
---
Index Table: Top Rated Chaco Sandals
---
---