ECCO has a real passion for making exceptional shoes and sandals.
Unique to many other industries, ECCO makes their leather at their tanneries and only produces shoes at their factories.
Thus they are one of the Top Comforta, Casual, and outdoor Footwear and Sandal brands known today.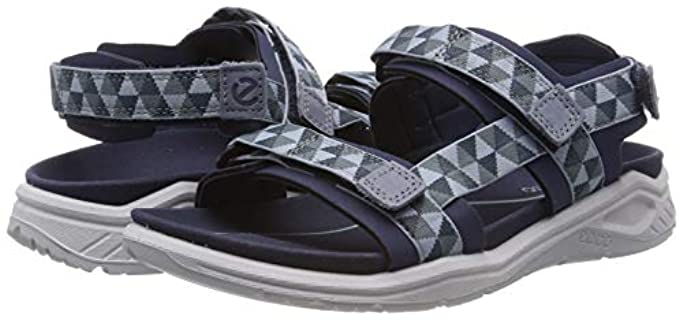 ---
ECCO ® – The History
ECCO was established in 1963 by a man named Karl Toosbuy in a small town called Bredebro in Southern Denmark.
The Company expanded its operations internationally by 1982 to accommodate increasing demands.
ECCO today has tanneries for its leather in the Netherlands, Thailand, Indonesia, and China. Their tanneries are among the leading leather manufacturers globally for the fashion, sports, and car industries.
Ecco Shoes and goods are sold in over 99 countries today.
---
What Makes ECCO Sandals so Impressive
There are a Few Technologies that ECCO uses which makes their footwear and Sandals simply outstanding;
Biomechanical Technology – The BIOM Natural Motion Technology they use in their shoes' footbed is based on your foot's natural movement. This design encourages the muscles and ligaments in your legs and feet to strengthen with every step you take.
FluidForm Technology – The FLUID FORM technology used in many sandal models uses an injected resilient shock-absorbent material in the footbed that bonds instantly to the sole without any seams. The technology cradles your feet, is flexible, and absorbs shock.
Hydromax Leather Technology -The HYDROMAX leather treatment used in leather manufacturing by ECCO prevents the leather from hardening after getting wet. Drying repeatedly improves durability and water resistance.
Leathers – Leather used in most ECCO sandal models is either CALF LEATHER, which has a refined grain and smooth appeal, or YAK LEATHER, which is ideal for extreme conditions and offers excellent durability and breathability. NUBUCK LEATHER is also used, which has a more velvety feel and is available in more Vibrant color selections.
Fit – The unique ECCO SHAPE in the footbed is constructed with fluid PU that follows the natural curves of your foot. The uniquely rounded heel and footbed allow the foot to sit 15 mm closer to the ground than an ordinary higher heel. So what looks like an elegant 90 mm heel will feel like a comfortable 75 mm heel.
---
Features of a Good ECCO® Sandal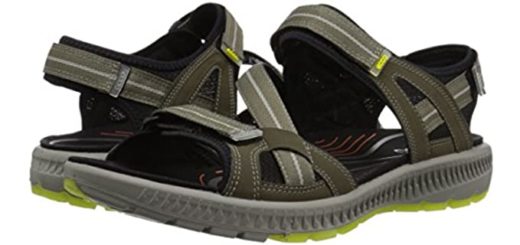 Uppers -Premium Yak or Oiled Bovine leather is used for the upper in some models and textile and mesh in others.
Footbed and Midsole -Most models have a direct-injected PU foam midsole or an EVA footbed with a microfiber cover for premium cushioning or the FLUID FORM direct injection process Eva insole that is contoured for better support.
Outsole – Ecco uses durable rubber for their outsole with different tread pattern optiosn for different terrains and requirements.
Adjustability – Most sandas from ECCOl have an adjustable hook and loop strap design.
Linings – Leather, mesh, or microfiber are favored by ECCO as moisture managing and breathable linings.
Color and Styles – ECCO sandals are available in many colors and designs, although most are more neutral in color.
Support features – RECEPTOR technology for excellent stability can be used in some models, while others have a PU midsole that ensures good shock absorbency in turn.
---
Reviews: The Best ECCO® Sandals
Below are some top selling modles of the best available ranges in ECCO sandals;
---
1
Sandals for Hiking and Trail Walking
A top-selling classic model from ECCO is the Yucatan range. I have chosen the popular three-strap model.
The uppers on the Yucatan three-strap have an adjustable design on all three straps with hook and loop closures.
Textile materials are used for the lining of the leather uppers.
There is a Lightweight molded EVA and a microfiber cover for cushioning and comfort.
The receptor Technology in the sole and the direct-injected PU midsole foam ensure exceptional stability and shock absorbency.
There is a durable rubber outsole that offers outstanding grip on different terrains.
---
2
The X-Trinsic is a more up-to-date range from ECCO.
There are leather uppers from premium Yak leather upper with a moisture-wicking lining.
The athletic style has a three-point adjustability design for a more comfortable fit.
The Microfiber lined, FLUIDFORM anatomically molded footbed and toe grip, offers exceptional cushioning and stability.
The rubber outsole is durable and ensures an excellent grip on all terrains.
---
3
These are two more casual everyday wearing sandals from ECCO>
Casual for Men
A double strap sandal with an easy fit.
The uppers consist of genuine extra oiled leather.
A lightweight molded EVA footbed is also quite flexible for comfort and stability.
The direct-injected PU cup sole provides excellent durable cushioning.
There is a high traction durable rubber outsole.
The Felcicia
The Felcica Wedge is available in many colors from which you can choose.
A leather upper and a durable rubber outsole with a lug tread.
A hook and loop adjustable ankle straps allow a comfortable fit.
---
4
Slip on sandal and Thong Sandal
I have chosen a slip-on design for the ladies and a Thong sandal for the gents from the ECCO Flowt range and fun and casual beach wearing a sandal.
The upper consists of leather and synthetic materials with either a slip-design or a thong design.
There Is a lightweight molded footbed with FLUID FORM technology and anatomical support for better stability and cushioning.
The microfiber covering on the footbed also ensures exceptional moisture-wicking and comfort capabilities.
The sole is flexible, and the outsole is rubber with a high grip tread.
---
5
Sports and Athletic Sandal
A more athletic and sporty design from ECCO is the Terra 3S.
In this range, there are some color options available.
This is the ideal sports sandal with textile quick-drying synthetic cuppers and sandwich mesh linings.
Ther is a lightweight and molded EVA footbed and a PU foam midsole for comfort and shock absorbency.
A durable rubber outsole also provides excellent traction and grip on most surfaces.
---
6
As a dressy style sandal, I have Chosen the Flash model for women and a Fisherman's style sandal for men from ECCO.
Fisherman Men
Smooth black leather upper with an elegant and more formal closed Fisherman style.
Inside are moisture-wicking fabric linings and a lightly added collar.
The footbed is flexible and lightweight with EVA cushioning and a direct-injected PU outsole and rubber for traction.
Flash for Ladies
The Flash has leather criss-cross uppers straps with a leather lining to wick away moisture,
An EVA midsole and FLUID FORM direct injection sole for comfort and shock absorbency.
The Flash is also available in a few different color selections.
A higher heel design and durable high traction outsole provide grip and stability.
---
7
The ECCO Corkspeher is a more casual wearing sandal for everyday use.
The uppers are leather with adjustability features and a comfortable fit.
There is a lightweight molded EVA footbed that is cushioned and shock absorbing.
The sole is flexible and supportive with a durable outsole.
Fluidform injection technology offers a more anatomical fit,
There are a few neutral color options available in this range.
---
8
The Offroad Lite is a lightweight sandal ideal for all terrains without the weight.
The uppers are durable leather and fully adjustable.
There are a comfortably cushioned footbed and supportive midsole.
The rubber outsole offers good slip resistance and durability on all terrains.
The sandal is lightweight and very comfortable, and available in more colors.
---
9
The Yucatan Offroad and Toggle are two sports sandal models for outdoor sports.
The thick rubber sole is durable and has a grip on all terrains.
The leather uppers are lined with textile material for comfort and are fully adjustable.
Receptor technology in the cushioned footbed, along with a fluid form fit, offers excellent comfort.
There are more color options available in both models for men and women.
---
10
These two slide sandal models for men and women are comfortable and ideal for everyday casual wear.
The Felicia and Buckle slide is available in a few neutral color options.
The Felicia has adjustable Velcro upper strap, while the Buckle slide for men has buckle closures.
Both sandals have leather uppers and a lightweight molded EVA comfort footbed.
The outsole is durable and ensures a good grip.
---
Index Table: Top Rated ECCO Sandals
---
---