Mephisto is a brand that we have all heard of somewhere but are still determining what to make of at this stage.
In this article, I will let you know the wonders that Mephisto Sandal can offer you.
---
---
Mephisto Sandal Technologies
To understand fully what makes Mephisto sandals so exceptional, we need to have a peek at some of the innovative and highly sought-after technologies used in their sandals;
.

Soft-Air Technology – The very innovative Soft-Air Technology in the footbed and midsole gives Mephisto sandals extraordinary walking comfort. The midsole is manufactured from flexible and very soft Soft-Air foam that reduces shock to an absolute minimum.
Healthy Foot Climate – The Soft-Air technology footbed also comes with an all-natural lining ensuring a healthy, continuously pleasant, dry foot climate.
Footbed Shape – To protect the feet from the hard impact of daily activities, the footbed has an anatomical design and Soft-Air cushioning technology.
Fit – Most Mephisto sandals offer adjustable fit and width options to find the most comfortable fit for your foot type and shape.
---
Sandals Ranges for Men and Women
Classic – A sporty sandal style with different models, such as a closed fisherman style, adjustable leather, or Flip Flop Style.
Ankle Strap – The Ankle Strap range is for women only, ranging from sporty and casual styles to more formal heeled sandals, all with an adjustable ankle strap.
Platform and Wedges – The Platform and Wedges range is casual and formal style sandals with either a Platform or wedge sole.
Cork Footbed – The Cork Footbed range is for ladies only and offers you many casual and formal models, all with the comfort of a Cork Footbed. The footbed also has a natural temperature regulating lining to create the perfect climate for your feet.
Heels – For Dress Occasions, there is also a formal heeled range in Mephisto sandal for ladies.
---
Features of a Good Mephisto Sandal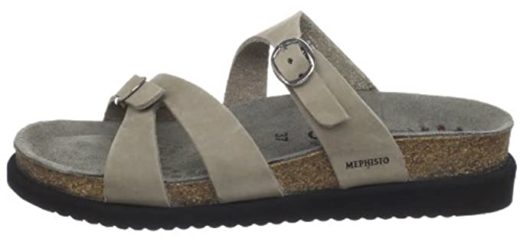 Uppers – Mephisto uses a range of Genuine Leather, Nubuck or Suede Leather, or a Leather and Material Mix for the upper of their sandals. Some uppers are lined and padded others are not.
Footbed – In the Footbed, Soft-Air Technology is used, and the footbed is anatomically shaped for maximum shock reduction. There is also the Cork footbed range, which similarly has an anatomical shape. Some models also offer a removable footbed to accommodate your own orthotic devices.
Outsole – Rubber or synthetic materials are used for the outsole depending on the sandal range. The outsole has a lug pattern for excellent slip resistance.
Heel – A shock-absorbing heel pad offers additional protection and cushioning in the heel. Many of the lady's models have either a high heel, wedge heel, or platform sole.
---
Reviews: The Best Mephisto Sandals for Men
---
1
The Mephisto Zach is a classic leather two-strap style Slip-on sandal with a Rocker design sole for optimal comfort.
The Zach is a favorite model in the Mephisto brand.
The upper of the Zach comprises leather, and there is also a breathable midsole.
Soft-Air Technology is used in the footbed for flexibility and cushioning.
The Zach offers comfort and support, ideal for protecting your feet, joints, and spine.
---
2
The Mephisto Leather fisherman's sandal is an excellent casual wearing and dress-style sandal for men.
The Mephisto Sam has leather uppers that are comfortable and adjustable.
The footbed has SOFT-AIR technology cushioning that is flexible and absorbs shock when you walk.
The sole has a non-slip design and is constructed from durable rubber.
You can choose between a few neutral color options in the Sam.
---
3
The Shark from Mephisto is a comfortable and casual wearing Hiking style sandal that is adjustable and offers excellent support features.
The perfect adjustable comfort sandal from Mephisto with an adjustable top, back, and front strap.
The users consist of smooth and durable leather available in black or brown color options.
There are supportive Air-relaxed cushioned footbeds and shock-absorbing heel cushions.
A durable rubber outsole ensures good traction and long-lasting stability.
---
Reviews: The Best Mephisto Sandals for Women
---
4
The Paris from Mephisto is a comfortable and elegant Dress sandal for ladies with the Soft-Air Comfort sole.
The Paris is a sophisticated and feminine ladies' dress sandal from Mephisto.
The uppers are constructed o durable and smooth leather.
There is a Soft-Air Flexible and cushioned midsole and comfortable insole.
The double straps are adjustable and offer a better fit.
You can choose between a few color options in Paris.
---
5
The Mephisto Helen is a top favorite sandal for the ladies, with a thong slide design and availability in many colors and patterns.
The Helen from Mephisto has leather uppers and a durable synthetic sole.
The sandal offers a more sleek and snug fit, so I suggest settling for a size up in this model.
The durable outsole offers excellent traction and shock absorbency.
The sandal also has a slight half-inch heel.
---
6
The Hannel has a multiple strap upper design with adjustable features and buckles and is also available in many color options.
There are many colors to choose from in the Mephisto Hannel, making it the perfect sandal for ladies.
The uppers comprise durable leather and are adjustable.
The sole is synthetic and has a half-inch platform design with a one-inch heel.
The sandal boasts an easy slid on and off design for casual wear.
---
7
The Lissandra from Mephisto is a comfortable Platform Dress sandal for all occasions.
The Lissandra is available in many color options to choose from as you wish.
The uppers are leather, and there are adjustable hook and loop straps.
There is a shock-absorbing midsole and cushioned footbed for comfort.
The durable rubber outsole ensures good traction and grip.
---
8
The Perry is a low-heeled, comfortable casual sandal from Mephisto for everyday wear.
You can get the Perry in a bright red or solid black option with a black sole.
The leather uppers ate smooth and soft, and hook and loop fasteners at the toe and ankle.
The removable footbed has integrated Soft Air Technology cushioning.
There is also a smooth, breathable leather lining.
A durable rubber outsole allows for excellent traction.
---
9
This is a comfortable slide sandal with Thong upper from Mephisto.
Plenty of color options are available in the Slide Design sandal from Mephisto.
The uppers are smooth and soft leather with a thong strap.
The footbed is cushioned with Soft-Air Technology cushioning.
There is also a Shock-absorbing Cork in the footbed that molds to the shape of your feet.
---
10
The Agave is a casual design flat sandal from Mephisto.
The uppers are genuine and durable leather with adjustable double straps.
There are a Soft Air cushioning midsole and a flexible outsole design.
The footbed is comfortable and lined to keep moisture at bay.
The durablee rubber sole provides good grip and traction.
---
Index Table: Top Rated Mephisto Sandals
---
---