One of the oldest shoe forms is the simple minimalist sandal, allowing natural and flexible movement while offering underfoot protection.
You have probably yet to hear of Luna sandals, but if you love simple minimal, and elegant sandals, Luna is a sandal brand just for you.
Luna offers you the most comfortable and flexible fit, with underfoot protection to your liking and personal needs.

---
---
Why Opt for a Luna Minimalist sandal
In one of the best-selling books, "Born to Run," a barefoot Ted tells us his story about his quest to learn about the natural running form.
He learns through his journey that the human body is already fully equipped to move and run naturally. He also found the simple sandal as the choice of footwear among many cultures.
Ted began tinkering and experimenting with many sandal designs. In March of 2010, at a Volunteer park in Seattle, Ted met two brothers in the park who already knew who he was.
They became friends, and thus, a business plan for the Luna sandal was developed, and from here on, the Luna brand became more popular.
---
The Luna Sandal Range
Luna offers a sandal range that caters to your needs, from its most minimal range to a more flexible and protective range.
Sole Thickness – When choosing your Luna sandal, you have a choice between three different sole thicknesses depending on your activities and the levels of protection needed.
Sandal Use – You can also choose your sandal for usage, whether for hiking, trails, or just casual wear. Luna has a sandal type ideal for every lifestyle. You may need three categories for what type of sandal: the general Lifestyle sandal, the Fitness, sports sandal, and the more rugged Hiking and Trail sandal.
Occasions – The Luna sandal range likewise offer different features for different uses and occasions, such as features for; Climbing, Water Adventures, Hiking, Trail Walking, and running, Casual and Smart wear, as well as for recovery after an injury or activity.
Styles – There are three styles to choose from, the Wings for sports and casual, the Retro for Hiking and Trails, and the Wings, which are more formal and casual.
---
Features of a Good Luna Sandal
With the Luna sandal, there are only two features, the Upper and the Vibram Rubber Sole;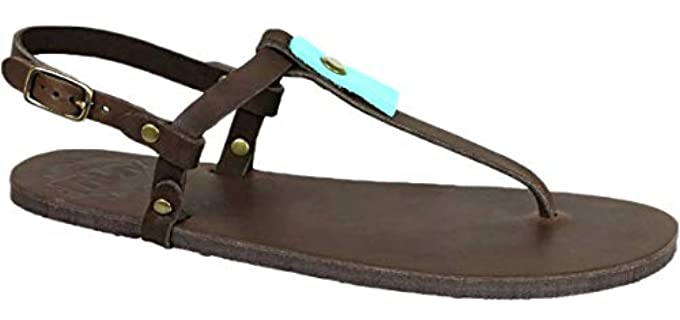 Uppers – Luna uses genuine or veggie leather for most of their sandals, usually a minimal strap or thong. Some sandals have the choice of a quick-drying textile upper. The Upper is also adjustable and has a buckle closure in some models.
Sole – Durable rubber is the best for the sole, whether you want a thinner, more flexible sole or a thicker high grip lug sole. The MGT Monkey Grip technology sole for hiking, the Morflex outsole, or the Mega Grip Sole. All Luna Soles consist of Vibram Rubber, a blend of durable rubber and EVA, which is flexible and offers good cushioning.
---
Reviews: The Best Luna Men's Sandals
---
1
The Luna OSO is one of their top ranges in a sporty-styled sandal with a MegaGrip Vibram outsole and textile uppers.
The upper material consists of performance laces and adjustable straps.
There is a Monkey Grip footbed for better stability.
The outsole consists of Vibram MegaGrip rubber.
The sandal is lightweight and ideal for trails and outdoor excursions.
---
2
The Luna Desert Canyon is a sturdy, slip-resistant outdoor and hiking sandal for harsh environments.
The Upper consists of durable performance laces that are completely adjustable.
For comfort, there is a Monkey grip technology footbed that also absorbs shock.
The midsole and outsole have a MegaGrip Rubber design for grip and shock resistance.
The sandal is more durable for outdoor use.
---
3
The Luna Mono Gordo is the ideal minimalist hiking ad outdoor trail walking sandal with a thicker sole that offers excellent grip.
Comfortable upper-Performance laces in a thong style for casual wear.
The footbed also has Moneky grip technology.
There is a Vibram Morflex flexible and light outsole.
You can choose between two color options in this specific model.
---
Reviews: The Best Luna Women's Sandals
---
4
The Luna OSO is a unisex outdoor and hiking sandal that perfectly fits men and women.
The uppers are adjustable and made from a textile material that is lightweight and very durable.
The Monkey grip technology footbed offers better support and a minimalistic design.
There is also a Vibram MegaGrip durable and lug outsole.
The sandal is perfect for casual and outdoor wear.
---
5
For a comfortable and minimalist casual wearing sandal, the Luna Origen is your best option.
The upper of the Origen consists of durable vegetable leather.
There is an Upcycled Tyre sole that is light and thin.
The drawcord closure ensures the perfect fit, and there is also an ankle strap.
You can choose between two color options.
---
6
The Luna Brijita is another superb casual wearing comfort sandal from the casual range.
A comfortable Thong Slingback sandal from Luna for the ladies,
The upper comprises leather with a leather footbed.
There is a Vibram rubber sole for slip resistance that is thin and flexible.
Three color selections are available in this model.
---
7
The Luna Mono Wing Edition is another excellent addition to Minimalist Hiking sandals for women.
The Sole consists of a cushioning EVA with a natural rubber outsole.
The sole is flexible, and the lug outsole patterns offer superb traction and slip resistance.
The uppers straps are minimal and adjustable, consisting of a textile material.
The Mono Wing is only available in black color options for women.
---
Index Table: Top Rated Luna Sandals
---
---