Have you ever wondered how you can fit Erath into your everyday life, or how you can make a difference?
Well, here is a small step you can take, and that is by investing in a pair of the best sandals from Earth Origins.
Read further, and I will explain exactly how.

---
Who is Earth Origins
Let's start by looking into Erath Origens as a company.
Earth Origins design and manufacture shoes and sandals that are stylish, fashionable, and comfortable, yet also sustainable and environmentally friendly.
Earth Origins Shoe Boxes – The shoeboxes that Earth Origins uses to place their shoes in are glue-free, staple free, and uses a hinge style lid. The box is made from recycled metals and reduces the amount of cardboard needed to make the box in the first place.
Tree Planting – In order to help the Planet Earth Origins Partnered with a Non-Profit restoration Organization with the aim of planting more trees to restore nature to its natural balance. Along with Trees For The Future, Earth Origins aims at planting t over 1,000,000 trees.
Helping the Poor – Earth Origins also partnered with an organization called Soles4Souls and donate shoes to those in need all over the world.
---
Some Technologies and Materials Used in Their Sandals
Powerpath Footbed – The Powerpath Footbed uses energizing foam in a contoured design for the heel to toe support and cushioning.
Recycled Materails – The Lining of Earth Origin shoe and sandal consist of recycled materials.
Slip Resistant Outsole – The Outsole on Earth Origin shoes and sandals are certified slip-resistant on dry and wet surfaces.
Vegetable Tanned leather – Most sandal and shoe models are made using Vegetable-tanned leather materails.
LWG Gold Rated – The leathers used are sourced from a Leather Working group that is a Gold-Rated tannery for sustainability.
Help Plant a Tree – By Purchasing a shoe or sandal from Earth Origins, you also help to plant a tree.
---
Features of a Good Earth Origins Sandal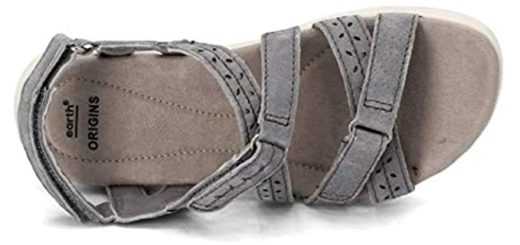 Uppers – Soft leather or suede uppesr in different styles, or perforated for breathability.
Footbed – A Powerpath Footbed design that offers contoured support and foam cushioning and arch support.
Adjustability – Straps are adjustable for a customizable fit with a hook and loop or buckle closure system.
Colors and Details – many different color selections are available, as well as cutout detailing, branding, Gladiator style straps, and zip additions.
Outsole – The outsole is synthetic as well as ASTM rated slip resistant on wet and dry floor surfaces.
---
Reviews: The Best Earth Origins® Sandals
Below you will see some of the top favorite sandal models from the Earth Origins brand;
---
---
2
Here we have a comfortable flat sandal model from Earth Origin's, that is available in a few color options.
The uppers are leather, and the shoe has a more closed protective design.
You can also choose from quite a few color options in more neutral colors.
The footbed has airy cushioning and offers optimal arch support for your comfort.
The heel is under an inches high, and the synthetic sole provides good traction.
---
3
If you want an excellent sandal for walking, then I highly recommend the Westfield, Winona, from Earth Origins.
The sole on the Westfield Winona is synthetic and durable.
A combination of suede leather and knit textiles are used for the uppers.
The uppers have a three-way adjustable hook and loop closure system.
There are a few neutral colors from which you can select.
The footbed is Cushioned with Arch Support.
---
4
Another excellent model from the Westfield range is the slide sandal, Westley model.
An easy slide on and off the design is what you will find in the Westfield Westley.
The upper strap is a single adjustable leather strap.
There is a cushioned arch support footbed with Powerpath technology.
A combination of suede and soft synthetics is used for the upper, and there are a few color options with a contrasting sole.
The sole is durable and offers good traction.
---
5
The Kendra Kamilla has a more dressy style with a Gladiator design.
The Kendra Kamilla has a Gladiator style leather upper and front Ghillie laces.
The heel is flat, and there is a cushioned footbed.
The outsole is durable and ensures excellent traction.
There are only a few neutral earthy colors and black option available.
---
6
The Belle Bentley from Earth Origins has a simple elegance to it and a lightweight flair.
The Bentley has a simplistic style with leather upper and a flat sole.
There is cushioning and arch support with the Powerpath footbed.
The leather used for the upper is soft and flexible.
You can also select from a few neutral color options.
---
7
The Nellie from Earth Origins is a flat and comfortable closed-toe sandal.
The Nellie is available in many color options from which you can choose.
The strappy upper has a closed toe design and a slingback strap.
Leather is used for the straps and rubber in the durable sole.
The footbed is cushioned and has arch support.
---
8
From Earth Origins, the Sophic is a sporty design comfort sandal.
Leather is used for the uppers and rubber in the sole.
The uppers straps are adjustable for a customizable fit.
The footbed is padded for comfort.
There are also a few color options available in the Sophie.
---
9
The Belle Bentley is a flat strappy sandal for everyday wear.
The Belle Bently comes with leather uppers available in many neutral color options.
The strappy uppers and flat sole give a casual appeal to the sandal.
There is a lightly cushioned footbed with arch support.
A durable rubber outsole offers good support and traction.
---
10
The Kendra Kimber is a low heeled sandal with a more fashionable appeal.
You can get the Kendra Kimber is a brown or black leather upper.
There are tassel detail and décor on the leather uppers and cutout accents.
The footbed is cushioned with arch support, and there is a shock-absorbing cork midsole.
The Powerpath footbed is designed to guide your motion and support balance.
There is also a durable and supportive synthetic outsole.
---
Index Table: Top Rated Earth Origins Sandals
---
---