Healthcare professionals and nurses many times struggle with the choice of shoes.
As they are on their feet all day, they may suffer from foot pain and fatigue, and in warmer weather, their feet may become really hot and uncomfortable in a closed design shoe.
Crocs are a lightweight shoe that offers good underfoot cushioning, excellent breathability, and a roomy fit. Crocs for nurses may be a good choice.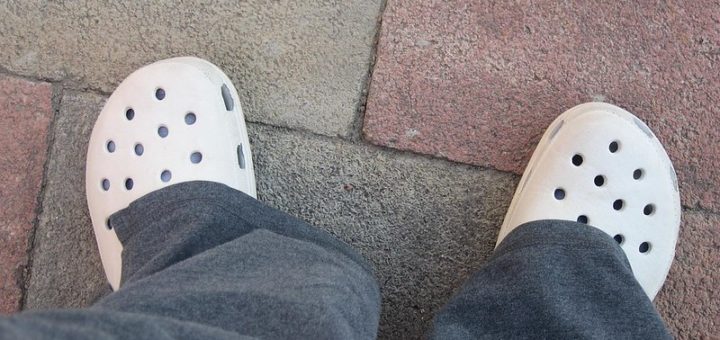 ---
Why Nurses Need High Quality Shoes
Nurses need the best shoes for a few reasons;
Slips and Falls – Slips and falls are a great risk for nurses as hospital, and clinic floors can be extremely slippery and even get wet or greasy. Thus, a good grip on their shoes is and an absolute must.
Durability – As a nurse, you want shoes that last, they will be worn daily for long hours and take quite some wear and tear. Thus, a good quality shoe can make a big difference.
Comfort For Standing on Your Feet All Day – because nurses are on their feet all day, on very hard floor surfaces, shoes with plenty of cushioning and good arch support features are needed. They evenly distribute weight and properly align your feet, along with providing good shock absorbency and comfortable underfoot cushioning.
Easy To Clean Shoes – Your shoes will get dirty plenty of times, and that is why you need shoes that clean easily, quickly, and that dry even faster. Crocs luckily consist of material that can just be wiped clean, and they dry almost instantly.
Foot Conditions and Form – As a nurse, you need to consider your foot shape and arch type and the support you need to get the maximum comfort and fit from your shoes. Many nurses may have issues such as bunions, corns, calluses, foot pain, heel pain, or even back pain, in which case a good shoe can make a huge difference. You may also have a wider or more narrow foot shape that requires a certain shoe fit.
A good pair of shoes for nurses is really important as you can see, there are many options, such as comfortable athletic shoes, clogs, and even Crocs, that have design and comfort features ideal for nurses.
---
So Why Choose Crocs?
Crocs are shoes that are extremely easy to wear, they are slip-resistant and very comfortable, and durable Crocs consist of a very soft Crosslite foam material that is water-resistant and that you can easily just wipe clean. They will also dry instantly after washing.
Crocs have a supportive anatomical footbed with plenty of cushioning and a generally wide and roomy fit for all foot shapes.
You get fully closed models and models with air or drainage holes which are great for warmer weather.
They are so easy to slip on and off in between shifts or during your shifts.
Crocs also come with a highly slip-resistant outsole., thus making them ideal for nurses.
---
Features of a Good Crocs Shoe for Nurses
Here are a few ideal characteristics that Crocs shoe models offer you as a Nurse for comfort and protection;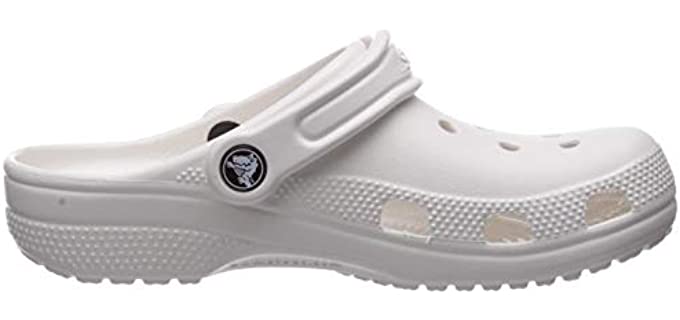 Materials – Crocs consist of a soft and very durable Crosslite foam material that is generally waterproof, and that is easily wiped clean. Some models may have other materials and a rubber outsole.
Design – You do get the regular classic Crocs for nurses with large drainage holes or more closed designs such as their Bistro clogs that offer better coverage and waterproofing.
Slip Resistance – Crocs for Nurse will have a durable rubber or Crosslite outsole with a lug tread for optimal slip resistance.
Footbed – As you will see, clogs have an anatomical shaped, almost contoured footbed that supports your arches, with a heel cup for stability and plenty of cushioning for shock absorbency.
Options – Most Crocs shoes have a general wide fit, however there are more sizes available. Crocs are available in a variety of colors. However, the most favored color for nurses is white.
---
Reviews: The Best Crocs Shoes for Nurses
In our List, we have chosen a few models from Crocs that will ideally suit nurses;
As you will see from the review list, we have opted mostly for the closed-style Clogs from Crocs that offer better spill and liquid protection. The models we have included are mostly work shoes that have been specially designed for occupations such as healthcare, chefs, and food industry workers.
---
1
The Crocs Neria Pro are clog design Nurses' shoes that are ideal for full waterproof protection and comfort.
They can easily be wiped clean and dry quickly.
The clogs have a comfortably cushioned footbed and roomy toe box.
They are Certified and tested with a slip-resistant outsole.
---
2
The Mercy Clogs from Crocs are ideally chef and Nurse shoes.
They consist of 100% Crosslite foam that is water-resistant and easy to clean.
The footbed offers good cushioning and support with an anatomical design.
The fit is roomy and comfortable, so you can easily splay out your toes and relax your feet.
There is a full slip-resistant outsole.
---
3
The Crocs Bistro Crocs are slip-resistant work shoes.
They offer good coverage and waterproof protection.
They are very easy to wipe clean and dry fast.
There is a comfortable footbed with crosslite foam cushioning.
The outsole is designed to be fully slip-resistant.
---
4
The Specialist Vent Clogs offer a more closed and spillproof cover with ventilation holes at the bottom.
They are breathable and comfortable, with anatomical footbed.
The clogs have a slip-resistant outsole and are very easy to clean.
They are available in more colors and the solid white
---
5
The Crocs LiteRide 360 sneakers are something a bit more athletic for nurses.
They are very breathable. However, not spillproof.
They have LiteRide foam insoles that are comfortable and soft.
The Matlite uppers feel already broken in and comfortable.
---
6
The Crocs Classic Clogs has larger ventilation holes, so they are not waterproof.
The Crosslite foam is water-resistant and easily cleaned.
The footbed is contoured for support with cushioning, which will help to absorb shock and reduce the impact on your feet.
They have a slip-resistant and durable outsole.
---
Index Table: Top Rated Crocs Shoes for Nurses
---
---