We are seeing many sandals and even shoes today that employ cork technology in their footbed or insoles.
Cork is a versatile material that also provides moldable cushioning and comfort, among many other benefits.
One of my favorites is the cork flip flop ranges that we will discuss today.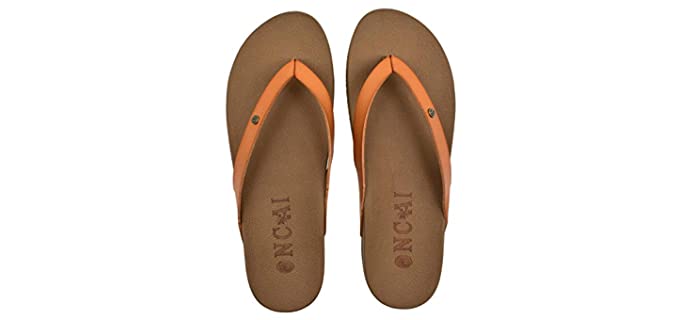 ---
Cork in All Its Glory
cork has been around for thousands of years and used for so many things by us humans.
Cork consists of the outer bark of the cork tree, the Quercus Suber, and is a vegetable fabric formed by millions of micro-cells filled with a gaseous mixture that is identical to air.
The cell structure of a cork is similar to that of a honeycomb. Cork is extremely flexible and elastic and can be compressed to half its size without losing elasticity.
The cushion-like cells in cork have elastic memory, and when compressed, they will return to their original shape.
Cork is generally lightweight, chemically inert, biodegradable, and moisture resistant, it has a low density and is impermeable with very high resiliency, it is insulating and fire retardant, low conductive, and durable.
No wonder cork is used for so many things besides just keeping a bottle of wine sealed.
Thus, cork makes such an incredible footbed in sandals and many shoes.
---
The Benefits of Cork Footwear
Now that we know all about cork as a material, let us look at the benefits it holds as a footbed in your sandals.
Natural and Renewable – Firstly Cork is a natural and renewable material. A cork tree can live up to 500 years and can be harvested every nine to twelve years.
Ergonomically design Foot Bed – Many sandal manufacturers use cork as a footbed and design it with an ergonomic al shape that offers good arch support and heel cushioning. Cork naturally molds and compresses to your unique foot shape, offering optimal support and cushioning.
Shock Absorbing – Cork offers natural cushioning and excellent shock-absorbing properties, which in turn helps to prevent foot pain and other issues caused by hard impact.
Water Resistant – Cork is naturally water-resistant and its floats. Because cork is water-resistant, it will not absorb odors and will not smell in your sandals.
Compression – Corks acts similar to an Inflated ball. When your foot strikes down on the cork footbed, the air pockets help push your feet back up off the ground in a similar way. This extra boost provides energizing cushioning.
Lightweight – Cork is an extremely lightweight material that is almost feather-light. It offers such exceptional cushioning and support yet makes your sandals so much more lightweight.
---
Features of a Good Cork Flip Flop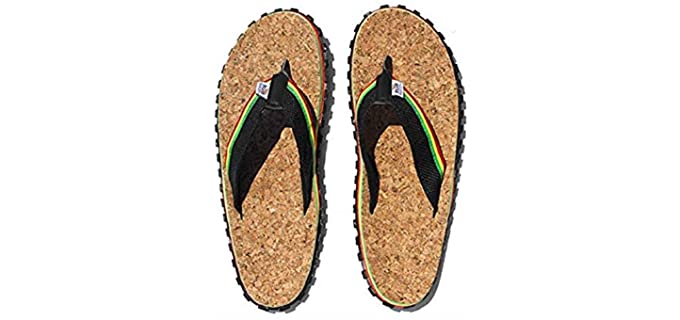 Uppers – The Uppers of a Flip Flop feature the Y Design strap that can be canvas material, leather, rubber, plastic, or synthetic leather.
Foot Bed – The footbed can consists of cork only or a cork and latex, or cork and EVA blend for cushioning and shock absorbency. There will likewise be a leather, suede, or synthetic lining to wick away moisture.
Sole – The sole can be EVA, synthetic, or a durable rubber with a patterned tread to prevent slip resistance.
---
Reviews: The Best Cork Flip Flops
Here are some of our top picks in Flip Flop sandals that feature a Cork Footbed;
We hope you love the products we recommend!
So that you know, We may collect a share of sales or other compensation from the links on this page.
---
1
The Birkenstock Gizeh has more of a thong fit but does make for one of the best Flip Flop designs with a cork footbed.
The Uppers are synthetic leather, and there are many more colors from which you can choose.
The footbed consists of cork and latex with an anatomical shape for optimal support.
The outsole is a synthetic material and is patterned for proper grip and traction.
Birkenstock is one of the most favored brands when it comes to cork footbed sandals in general.
---
2
The Spenco Yumi is a comfortable and more basic style flip flop with a cork footbed.
The uppers straps are synthetic leather, and there are some more colors available.
The footbed consists of cork and compression-molded EVA, which offers moldable support and cushioning that is extremely comfortable.
The footbed has an anatomical design for optimal support with arch support and a heel cup.
The heel has a zero-drop heel lift design, and the sole is durable rubber with a high traction tread.
---
3
These Flip Flops are completely Vegan with an arch support design.
There is a soft nylon toe post webbing, and leather thong in the Leoed, and more colors available.
The footbed is EVA and cork that absorbs impact, and there is proper arch support.
The outsole consists of a durable rubber compound with a high traction tread for improved slip resistance.
The flip-flops are ideal for vacations, traveling, and beachwear.
---
4
These are two different brands and models of sandals with similar features.
Both feature a contoured and molded cork footbed with a brushed texture.
The uppers are a textile material, and the Roxy has a braided cotton upper.
The Zion is available in the single Bob Marley color option, while there are more color options in the Beach flip flop from Roxy.
These flip-flop sandals are very casual in nature and will make for the ideal beach or pool footwear.
---
5
This is a comfortable and versatile cork flip flop sandal for men and women.
The uppers are a soft canvas material.
The Midsole is a cushioning cork, and there is a moisture-wicking suede top sole.
The outsole is durable rubber and has a patterned tread.
The sole absorbs impact and provides excellent cushioning.
---
6
Here we have comfortable beach flip flops from Oncai for men and women.
The Flip Flops are ideal for wearing to the beach, pool, and many other more casual encounters.
The uppers consist of premium quality leather with a microfibre fabric lining for your comfort.
The Sole consists of cushioning EVA and Cork, and the outsole has a slip-resistant patterned design.
The insole is fully cushioned and has a smooth lining for wicking away moisture.
They are comfortable and neutral in color so that they will go well with almost any outfit.
---
7
Both these flip flops have a cork cushioned and contoured footbed.
The uppers are leather and textile, and canvas in design.
There are a few color options available to you.
The sole is a durable and high traction rubber.
---
8
From ECCO and Runcati, we have two casual-style cork flip flops.
They have a supportive and moldable cork footbed for support.
There are also many colors available to you.
The outsole is non-slip rubber.
---
9
Both are surfer brand cork footbed flip flops.
The uppers are a thin leather strap for beachwear.
There are a few neutral color options available.
The footbed is a moldable and cushioning cork.
The outsole will offer excellent slip resistance on most surfaces.
---
10
Both these flip flops feature a luxury cushioned cork footbed for your comfort.
They are comfortable flip flop designs available in a few color selections.
The sole is a durable rubber.
The flip flops have a moisture-absorbent insole.
---
Index Table: Top Rated Cork Flip Flops
---
---