Having a high arched foot means that you will need proper footwear to support and cushion your feet to accommodate this arch type.
This will also be the case for sandals and flip-flops. As we know flip flops, are generally the most comfortable or supportive choices for sandals.
However, in this article, I will show you some of the best Flip Flops for high arches that offer excellent support, cushioning, and comfort for this arch type.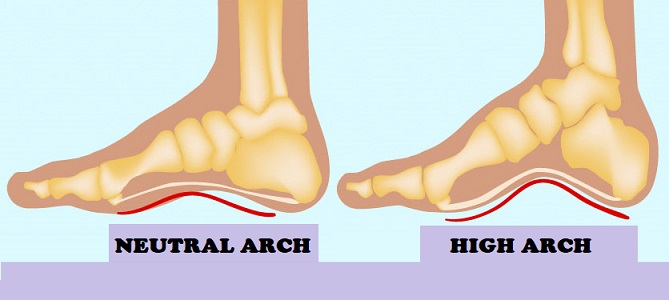 ---
High Arches Causes and Symptoms
With normal arches, weight and stress are typically distributed across your entire foot. However, those with high arches carry the weight mainly on the heels and the balls of their feet,
This, in turn, places unnecessary stress on the toes and ankles and leads to much instability.
Since most high arched feet ack the flexibility to absorb shock, they tend to roll outward excessively with walking and running, called Supination. This, in turn, increases your risk of ankle sprains and fractures.
High arches are mostly an inherited structural deformity of the foot. Although in some cases, ut can be secondary to neurological conditions such as Charcot-Marie-Tooth disease (CMT). The neuromuscular contractions actually draw the balls of your feet closer to your heels.
Other conditions that may lead to High Arches include; post-stroke paralysis, spina bifida, cerebral palsy, clubfoot, poliomyelitis, and muscular dystrophy.
High arched feet can cause other issues such as Metatarsalgia, which is pain and inflammation in the balls of your feet, Hammertoes, which are bent or claw-like toes, Plantar Fasciitis which causes heel pain. And issues with your knees, hips, and lower back.
All in all, you will need proper footwear to support high arched feet to prevent other issues and conditions from developing.
This is important when it comes to sandals especially flip flops for high arches.
---
Choosing Flip Flop Designs for High Arches
There are a few factors to look at when choosing the best flip flops for high arched feet;
Cushioning – High arches absorb little to no shock at all with every step that you take. Thus, it would be best to have a flip flop with a cushioning footbed and a cushioning midsole to absorb as much shock as possible. Cushioning in the heel and the ball of the foot area is particularly important.
More Volume in Fit – A high arched foot will generally need more volume and space inside the shoe; this can also be important in flip flops. The straps should accommodate a high arch and have an extra volume or higher design.
Low or Uniform Heel and Sole – I would not advise High Heeled flip flops for High Arches. Generally, a uniform sole or low heel is acceptable, and you should also not opt for flat sole flip-flops.
Arch Support – Good arch support for a high arch is crucial in any shoe type for high arched feet, this is also important for flip flops.
---
Features of a Good Flip Flop for High Arches
These are just a few features that make for an excellent flip flop sandal if you have a higher arch type;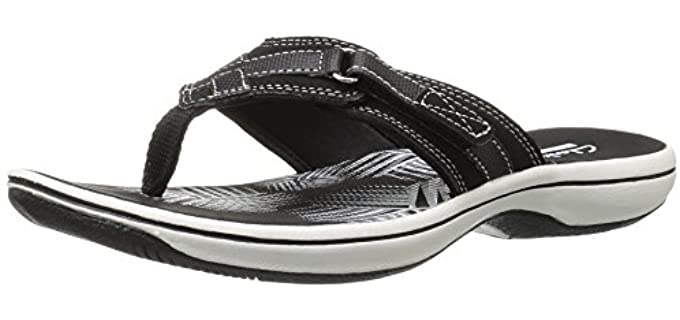 Adjustable or Wide Uppers – Choose a flip flop design or which you can either adjust the uppers or that has a wider toe box area and higher fitting uppers. It would be best if you had additional volume in the forefoot area for a higher arch.
Support Features and Cushioning – Ensure that the flip flop's footbed has a contoured design or some arch support. Light stability is required. You will also need good underfoot cushioning, especially in the heel and the ball of the foot area. Find flip-flops with a shock-absorbing foam midsole and a softer cushioned insole.
Materials – Good materials for the uppers include textile, canvas, rubber and leather, synthetic or genuine leather. You can look at Crosslite, EVA, and other types of foam or even latex and cork options for the footbed. Rubber and EVA are ideal for the outsole, as long as it has a patterned tread for slip resistance.
---
Reviews: The Best Flip Flops for High Arches
Here are our choices for some of the best available flip flops for high arched feet;
---
1
Flip Flops for High Arches
Two favorite Flip flops for high arches are the Whelkie and Breeze from Clarks.
As you can see from the design, they offer the perfect arch support form for a higher arch type.
They are also cushioned in all the right places and have excellent shock absorbing technologies such as EVA and a Contoured footbed.
The Uppers are Polyurethane and Nubuck leather for comfort.
---
2
The Iqushion from FitFlops is a great range for beach and summer wear.
They consist of water-friendly materials and come in a large range of colors.
The Iqushion range features a contoured footbed with arch support for a high arch and additional heel and ball of the foot cushioning for shock absorbency where you will need it the most.
The footbed has a wide to medium fit, and the uppers are also roomy and comfortable in fit for a high arch.
---
3
Flip Flop for High Arches
Another great addition with a perfect fit for a high arch is the Surfer, and Surfa ranges from FitFlops.
They have quick-drying polyester upper webbing and a durable slip-resistant rubber sole.
The Footbed is cushioned with soft foam, and there is a high absorbency shock-absorbing Midsole foam.
The footbed is contoured for good arch support.
More color options are likewise available to you.
---
4
Flip Flop for High Arches
The Crocs Athens Flip Flops are very lightweight and offer excellent support and comfort for a high arch type.
The footbed has a contoured design with optimal arch support.
The entire flip flop consists of a soft and lightweight cushioning foam Crosslite.
The uppers offer a generous and roomy fit, and there are many more colors available from which you can choose as desired.
---
5
The Oofos recovery flip flops likewise offer a wider and more heavy depth fit for a high arch.
There is a rocker design sole that reduces pressure off your feet.
The design has a cushioned foamy footbed with optimal arch support, and it allows for much better natural motion when walking or running.
There are likewise more colors for your perusal.
---
6
Flip Flop for High Arches
The Vionic Tide flip flop sandal is quite a popular choice by people who have high arch types.
It has a fully contoured and arch support footbed with cushioning in EVA and rubber for the outsole.
The footbed is a podiatrist-designed for excellent stability and flexibility.
There are a few neutral color options available to you and plenty of sizes.
---
7
Flip Flops for High Arches
Here we have two flip flop models from Teva that are ideal for Higher Arches.
They have leather uppers with a textile lining.
The footbed is cushioned with EVA and softer foams for comfort and support.
There is a durable and high traction rubber outsole.
---
8
Flip Flops for High Arches
Two flip flop designs from Vionic that offer high arch support.
The uppers are genuine leather, and there is a durable rubber outsole.
The footbed provides comfortable support and cushioning.
There are also a few more neutral colors available to you.
---
9
Flip Flops for High Arches
The Vionic Tide Flip Flop has a Vio Motion support footbed for high arches.
The uppers are synthetic and quick drying.
There is a Vio Motion three-zone support and cushioning system for high arches.
The outsole is a durable rubber.
---
10
Flip Flops for High Arches
A comfortable cushioned recovery Flip Flop from Oofos.
The Flip Flop consists of a soft cushioning foam.
It has a rocker design sole to reduce pressure on your feet.
The outsole also ensures good grip and traction.
---
Index Table: Top Rated Flip Flops for High Arches
---
---