Warm weather and fun days ahead mean that those little feet need more freedom to roam but still some protection from physical elements that may hurt little feet.
Flip flops for kids are an excellent choice for light protection and are easy on and off. They are also fun and come in so many styles and colors.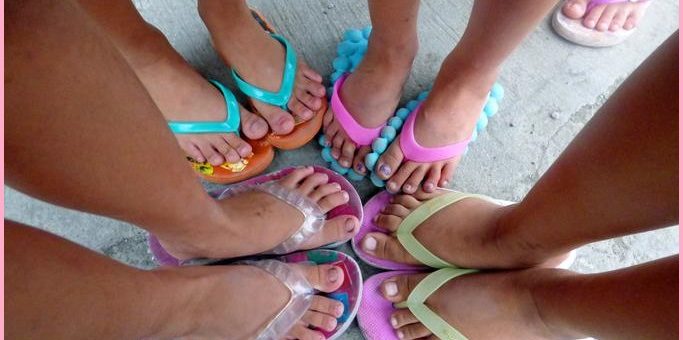 ---
---
Why Your Child Needs Proper Flip Flops
Flip Flops are an absolute staple for summer shoes; almost everyone owns at least one pair. They come in so many colors, designs, and patterns, as well as any size imaginable, even for little feet,
Flip flops are a requirement for a beach vacation or day at a pool or park in summer, and They are lightweight, take up very little space, and provide light and comfortable protection.
Flip Flops for Children are a necessity for these few reasons;

Beach and Pool wear – They protect the bottoms of your child's feet against hot pavements and sharp objects before entering the pool or ocean. They are also much easier to put on wet and sandy feet than sneakers or closed shoes at the end of the day.
Home Wear – For Quick errands in and out f the house, your child, well, an older child, in this case, can quickly slip into a pair of flip-flops for underfoot protection as needed and then take them off again. They also make excellent slippers when you need to keep your child's feet clean in the summer, and they refuse to wear hot slippers.
Camps and Sleep Overs – They are a great summer shoe option for summer camps and quick sleepovers and do well for those campsite showers.
Communal Showers – In college or school dorms where kids need to take a quick shower or any other communal or gym shower, flip flops offer good and easy protection.
---
Getting The Right Fit
One of the most important aspects to consider when getting the best flip-flops for kids is the size and the fit.
Compared to closed-shoe styles, Flip Flops have many other aspects to consider when choosing the right size. It would help if you also remember that their feet may be swollen when your child is hot and sweaty after activities.
Use a Shoe Chart – You can print a foot chart or podiatry chart that will help you get the perfect measurements of your child's feet for all types of shoes.
Trace Their Feet – You can always trace their feet and use them as an example or get the measurements.
Check Measurement Charts – Use your information and your child's foot measurements to compare with the charts provided with most shoe brands and models.
---
Features of a Good Flip Flops for Kids
There are so many choices in flip-flops available for children today, so how do you make a choice?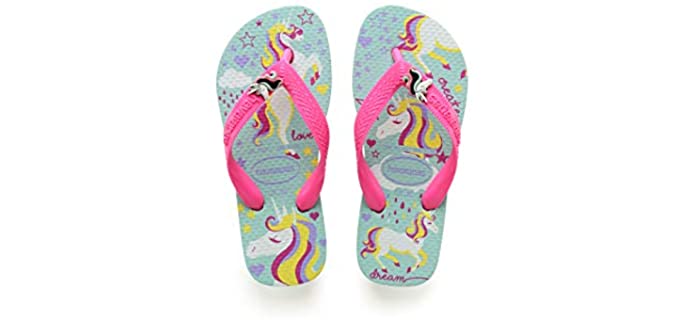 Sizing – As we have discussed, you need to consider proper sizing, look at size charts made available, and read reviews to get an idea of the size of a specific flip-flop model or brand. Never assume that there needs to be "Room to Grow," especially with the contoured footbed and arch support flip flops, as these need to match your child's feet exactly.
Materials – Flip Flops generally consist of a variety of materials which include rubber, textile, or leather for the uppers, EVA, Foam, Rubber, or other materials for the footbed, and durable rubber or EVA for the outsole with a lug pattern for slip resistance.
Ages – As you will see, most flip-flop models and brands offer sizes for toddlers, small kids, big kids, and youth. Some designs are also more appropriate for smaller children, such as the ones with the back strap.
Price – Flip Flops are very affordable; however, opt for a good quality brand that costs a bit more, as it will still be all that much.
Purpose – Your choice of flip-flops for your child will also depend on their purpose. Opt for something with some support and cushioning if they are for daily and more frequent wear. If they are just for quick on and off wear, such as at the beach, the pool, or for taking a shower, you can opt for a basic and durable design.
---
Reviews: The Best Flip Flops for Kids
In our list, we have some of the top favorite flip-flop models and brands for children;
---
1
The Olukai Flip Flops are designed specifically for kids.
They are available in toddler, little, and big kid sizes.
The flip flops are non-marking with a slip-resistant rubber outsole,
They have an anatomical compression-molded EVA footbed for support and comfort.
There are also more colors available.
---
2
The Reef AFI flip flops for girls and boys come in toddler and little kid sizes.
They have a soft, high-density flexible EVA outsole and an anatomical arch support footbed.
The sandal is rubber, and the toddler sizes come with a handy back strap.
They are available in more colors for boys and girls.
---
3
The Havaianas are a favorite basic beach and pool flip-flop design for children.
They come in many colors and prints that are fun for kids.
The sole is soft foam, and there is a cushioned insole.
The outsole is durable and slip-resistant rubber.
---
4
The Sanuk Flip flops are ideal for little and big kids.
They are synthetic and polyester and come in more neutral colors.
The flip flops have a yoga mat design cushioned footbed and a Happy U sponge rubber outsole.
They have a lined uppers strap for comfort.
---
5
This is the flip-flop range from Crocs for kids.
They are available in so many color options.
Crocs consist of a soft, foamy crosslite material that is easy to clean and water friendly.
The flip flops offer lightweight comfort and cushioning for little feet.
---
6
Another basic surf brand flip flop from Quicksilver for kids.
The flip-flop has a flexible three-point rubber upper strap.
There is an EVA footbed and a slip-resistant blown rubber outsole.
Many colors and prints are available, as well as kids' sizes.
---
7
From Aleader, we have lightweight flip-flops for children.
They have an Ultra Soft EVA footbed and water-friendly uppers.
There are a few color options available.
The sole offers good slip resistance.
---
8
The Aitawee flip-flops are ideal for beach and pool wear.
They offer a lightweight and comfortable fit for children.
There are also many fun prints available for kids.
The flip flops are lightweight with quality PE materials.
---
9
The Under Armour flip flops are perfect for kids.
They have a TPU strap and Ultra cushioned footbed.
The outsole is durable and slip-resistant rubber.
There are also more colors available.
---
10
The Quicksilver flip flops are available in small and big kid sizes.
They are 100% suede leather with a compression-molded EVA foam footbed.
The outsole is a durable high traction rubber.
There are also more neutral colors available.
---
Index Table: Top Rated Flip Flops for Kids
---
---