Generally, Flip Flops are light, flimsy, and offer very little support or comfort other than for wearing on a hot beach.
Yet, there are many excellent Flip Flop brands and models with great support features for foot conditions such as Plantar Fasciitis.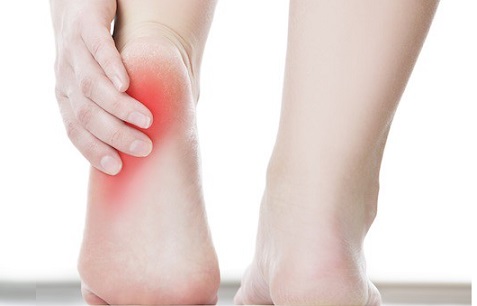 ---
Plantar Fasciitis and How it Affects Your Feet
Plantar Fasciitis is a foot condition that is the most common cause of heel pain, commonly a stabbing pain that usually occurs with your first steps in the morning or when you get up after sitting down for w while.
Here are a few Facts on Plantar Fasciitis and How it Affects your feet and choice in Flip Flops;
Causes and Risk Factors – Your Plantar Fascia is the Bow String-shaped tendons in your feet that support the arch and help to absorb shock on impact. With repetitive stress, the Plantar Fascia becomes inflamed and irritated, leading to Plantar Fasciitis. Being overweight, having a flat foot, and your age are all risk factors. However, exercises and activities that place repetitive pressure on the Plantar Fascia can also be the main cause.
Complications with Plantar Fasciitis – Ignoring Plantar Fasciitis will eventually lead to chronic heel pain, which can change the way your walk and run, which in turn may lead to hip, back, and foot problems.
How the Right Shoes Helps – Wearing shoes that provided good arch support and added heel cushioning even in your Flip Flops could help alleviate symptoms and allow the condition to heal.
---
What to Look for in a Flip Flop for Plantar Fasciitis
Here are a few considerations:
Arch and Heel Support – Good arch support along with a hee cushion or cup is ideal in Plantar Fasciitis Flip Flops.
Rigid Sole and Midfoot Cushioning – A less flexible and cushioned sole with a supportive and cushioned midsole reduces pressure on the Plantar Fascia.
Stability and Cushioning – Cushioning that allows for the least impact on your feet and some stability features to prevent Overpronation are also ideal in good Plantar Fasciitis flips Flops.
---
Features of a Good Flip Flops for Plantar Fasciitis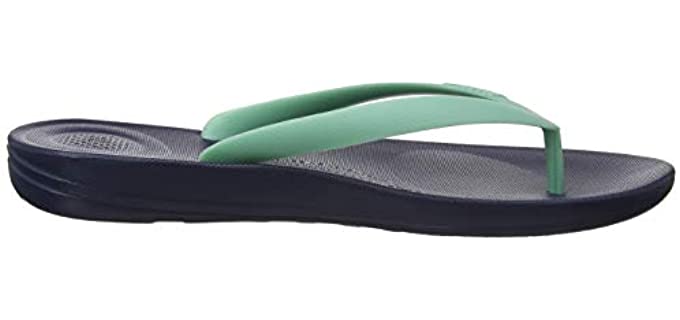 Uppers – The Upper of a Flip Flop for Plantar Fasciitis can be anything from textile material, to leather, EVA, or rubber. There are also lined uppers in some models with mesh and padded or adjustable fit uppers.
Footbed – A cushioned and contoured, or Biomechanical anatomically shaped footbed is your best option for Plantar fasciitis. EVA, Memory Foam, Goga Mat Technology, or Crosslite foam can cushion the footbed. Some Flip Flop models also have a textile or leather lining to wick away moisture.
Outsole – Rubber or EVA are the best options in an outsole for a Flip Flop. A patterned or lug tread is ideal for slip resistance and traction on wet and dry surfaces.
Other Features – Other features such as a Heel Cup, Heel Cushion, and arch support can also be ideal in a good Flip Flop for Plantar Fasciitis.
Options – You will find a variety of color and print options in most Flip Flop models, as well as the fit, size, and even width options from which you can choose, depending on the specific model.
Closures and Adjustability – Flip Flops have a set design, although there may be one or two models that allow for adjustability on the upper thong.
---
Reviews: The Best Flip Flops for Plantar Fasciitis
Listed are some ideal Flip Flop designs which help with Plantar Fasciitis;
---
1
Flip Flops for Plantar Fasciitis
I love the FitFlop Iqushion because it holds superb supper and cushioning features while remaining so very lightweight and simple in design.
The Upper consists of leather, and there is a plush and foamy flexible sole.
An Ultra-Light anatomically designed midsole that is biomechanically engineered offers superb support and cushioning.
There are impact pillows in the foot's heel and ball, which ensures even better shock absorbency.
The Air Foam cushioning in the sole is very lightweight and foamy, and the outsole offers excellent slip resistance and traction.
Other than that, a few color options are available for men and women in the range that I have selected.
---
2
Flip Flops for Plantar Fasciitis
The Vionic Tide 2 is another excellent choice in Flip Flop for Plantar Fasciitis because of the cushioning and support.
The uppers consist of leather with a comfortable textile lining to reduce friction and wick away moisture.
For the footbed, you have EVA cushioning, and a podiatrist design biomechanically engineered for orthopedic support.
There is also a Deep heel cup for stability and dual layers of suede or leather for underfoot comfort.
The TPR outsole is extremely durable and ensures excellent grip and traction.
---
3
Plantar Fasciitis Flip Flops
From Skechers, we have the Fit reggae Belano for men and the On the Go 600 for women, similar in features.
Both Flip Flop feature soft and comfortable textile uppers and are available in a few color options.
The Baleno has a soft and Plush 360 Memory Foam footbed for cushioning, while the On The Go 600 has a Goa Mat energizing foam cushioned footbed and lightweight 5Gen cushioning.
Both Flip Flop has a contoured footbed design and a durable rubber design outsole for traction and slip resistance.
These Flip Flops are also very lightweight and flexible for easy movement.
---
4
Leather Flip Flops for Plantar Fasciitis
The Clarks Malone and Breeze are more formal design Flip Flops with leather uppers and a classy style.
The Malone has brown leather uppers and a synthetic sole with a low heel and comfortable PU contoured footbed.
The Malone also features an Ortholite cushioned and supportive technology in the sole with premium leather for the uppers.
The Breeze has a synthetic leather and textile uppers with a durable, slip-resistant rubber sole and an EVA footbed.
In the Breeze, you will also find that there is Cushion Soft-cushioning technology in the footbed.
Although the Malone has only one available color option, the Breeze has quite a few colors from which you can choose.
---
5
Plantar Fasciitis Outdoor Flip Flops
The Under Armour Marathon Key 2 and the Marbella are two sporty design Flip Flop sandals perfect for Plantar Fasciitis.
The Marathon Key 2 features leather uppers from synthetic materials with a HeatGear lined strap that wicks away moisture to keep your feet cool.
There is also a sculpted supportive and cushioned EVA footbed and a synthetic slip-resistant sole in the Marathon Key.
Hence, in the Marbella, the uppers are textiles with many color options, and there is a footbed built with two layers of performance 4D foam.
The Marbella's footbed is also anatomically contoured, and there is a sculpted EVA sole with a durable rubber outsole.
---
6
Crosslite Flip Flops for Plantar Fasciitis
The Crocs Unisex Duet is a soft and foamy FlipFlop that is water-resistant and ideal for casual wear.
The Soft Foamy Crosslite material and the contoured design footbed offer excellent comfort and support for Plantar Fasciitis.
The entire Flip Flop is water-resistant and very easy to clean.
The outsole tread design is built to last with lug patterns for added grip and slip resistance.
There are a few color options available for both men and women in the Crocs Duet Flip Flop.
---
7
Flip Flop Sandals for Plantar Fasciitis
The Memory Foam in the footbed provides ample cushioning for heel pain.
There are also comfortable and soft uppers and a durable rubber outsole.
This flip flop offers good support and comfort for plantar fasciitis.
They are available in more colors.
---
8
Flip Flops for Plantar Fasciitis
The Flip Flops have an orthopedic design for plantar Fasciitis.
The flip flops have compression-molded EVA footbeds and an anatomical shape for proper arch support,
There are deep heel cups for better lateral stability.
There is a black and brown color option available for men and women.
---
9
Outdoor Flip Flops for Plantar Fasciitis
The Kona flip offers good support and cushioning for Plantar Fasciitis.
It has water-friendly textile uppers and more colors available.
There is a Metatomical support EVA footbed and cushioning.
The outsole is a non-marking rubber.
---
10
Orthopaedic Flip Flops for Plantar Fasciitis
Both Flip Flop models are designed for pain and plantar fasciitis relief.
They offer versatile comfort wear for every day.
There is an orthopedic cushioned and designed footbed that offers good arch support.
A deeper heel cup supports and cushions your heels.
---
Index Table: Top Rated Flip Flops for Plantar Fasciitis
---
---