Platform Flip Flops are a fun and fashionable favorite that is popular among many.
Platform flip flops come in a variety of designs, shapes, and heights of the platform.
So if you are looking for your favorite pair of Platform Flip Flops, then look no further as here we will discuss them in many details.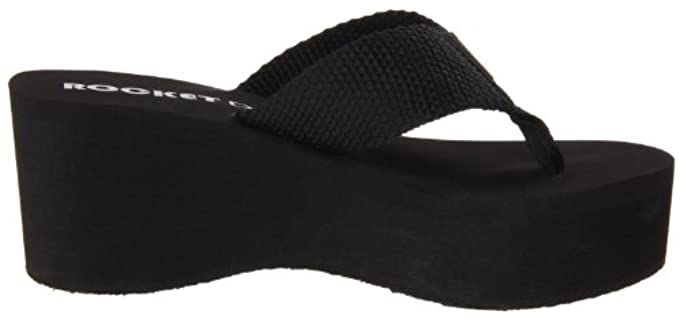 ---
What is a Platform Flip Flop
The first modern version of the platform sole was designed in 1930 by Morrish or Moshe Kimel for Marlene Dietrich.
The Platform sole shoe and sandal made their fashion debut during the '70s and also had a huge comeback in the '90s.
Although this style sole has had its ups and downs, being in and out of fashion through the years, it still remains a popular style adored by many who love to follow this style today.
So what is a Platform?
Well, it is a form of sole on a shoe or sandal, flip flop pertaining to this article, that has a solid and more uniform style high sole from heel to toe. The sole is a thick and solid platform design that may have some variations to date.
---
Are There Advantages to a Platform Sole Flip Flop
Well, yes and no, mainly the sole creates height and is a fashion statement, its also better in shock absorbency compared to the flat-soled flip flop models, but mostly just fashionable.
Here are a few reasons where a Platform sole flip flop can be quite convenient and fun to wear;

Create and Original Hippie Style – If you like to wear Hippie and Boho style outfits or even need to put an ensemble together for a themed party, the platform style flip flop sandal is an absolute must-have sandal. Platform style sandals go extremely well with 90's style outfits as well as 70's style outfits and are a staple if you enjoy these fashion styles.
Loads of Cushioning and Underfoot Protection – With the Extra thick platform sole, you do not have to worry about puncture incidents as you have all the protection your need. Similarly, most Platform sole flip flops have soft foam cushioning, which provides excellent shock absorbency. Just keep in mind it takes some getting used to walking with a very high platform sole flip flop.
Fashionable – Platform flip flops are not something that easily goes out of style, and they are very fashionable to wear with many different outfits. You can pair them with literally any outfit in summer.
Extra Height – If you are a slightly short lady and need a bit of extra height, a platform sole sandal or shoe will most definitely do the trick.
Ideal to Wear with Long Skirts and Dresses – Platform Flip Flops look absolutely stunning with very long or maxi skirts and dresses. They also create a bit of height so you can see just enough of the sandal and do not trip over the extra length of the dress or skirt.
---
Features of a Good Platform Flip Flop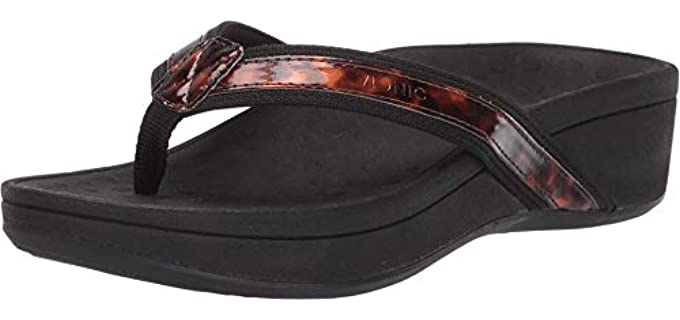 Uppers – The Upper thong of the Platform sole flip flop can consist of genuine leather or synthetic leather. It can also be a textile, plastic or rubber.
Sole – The sole unit is usually EVA or some sort of foam that provides a cushioned and supportive feel and good shock absorbency. The sole can be a medium or higher platform with or without an elevated heel.
Outsole – For the outsole, you will have a more durable material such as EVA or rubber with a patterned tread for slip resistance.
Colors and Designs – You should get most Flip Flop models with platform soles in a range of colors that may be solid, with different kinds of straps and even prints.
---
Reviews: The Best Platform Flip Flops
These are some fun and good quality Platform sole flip flops that are absolutely ideal;
---
1
Vionic is excellent quality and comfortable sandal brand to start off with.
This is the Hightide flip flop with a medium height.
The flip flop has faux leather uppers and a heel of 1.98 inches in height.
The sole unit is a Natural cork with an EVA foot bed and durable rubber outsole.
There are a few available color options, and the flip flop sandal is very durable.
---
2
Roxy is a surf brand that we all know well.
The good news is that they have this gorgeous Melinda Platform sandal.
The Footbed is a durable and cushioning EVA.
The platform is 1.75 inches high, and there is a durable synthetic sole.
There is only a black solid and solid tan color option available.
---
3
Always Pretty is a stunning platform sandal with a high sole.
The uppers are synthetic, and the sole consists of EVA.
They have a 4 and ¼ high inch platform sole that is quite high.
The sandal needs to be purchased in a large size for wider feet.
They also come in a solid black, white, or pink color option.
---
4
yes, the brand Havaianas also have their own Platform sandal model.
They have full synthetic uppers and a durable slip-resistant rubber sole.
This is a medium platform height that is ideal for beach and pool wear.
The sandal is easily rinsed, clean, and water-friendly.
They are a gorgeous and classic flip flop design available in a few solid color options.
---
5
The Calvin Klein Mina is another favorite flip flop platform heel sandal.
It has an EVA sole that absorbs shock and is very durable.
There are fashionable synthetic uppers straps and more colors from which you can select.
The uppers consist of soft canvas material that dries quickly and that is extremely durable.
---
6
The Rocket dog Platform Flip Flop range features a very high platform sole.
They have a solid black color sole with a variety of solid colors in the uppers from which you can choose.
The platform sole is very high at 3 inches consisting of synthetic materials.
The uppers straps have a wider fit and are a quick-drying fabric.
These are perfect for wearing on the beach and for pool parties in turn.
---
Index Table: Top Rated Platform Flip Flops
---
---