Good arch support is an essential part of any shoe or sandal, which also counts for your Flip Flops.
In this article, we will look at some of the best arch support flips flops that you can find available today.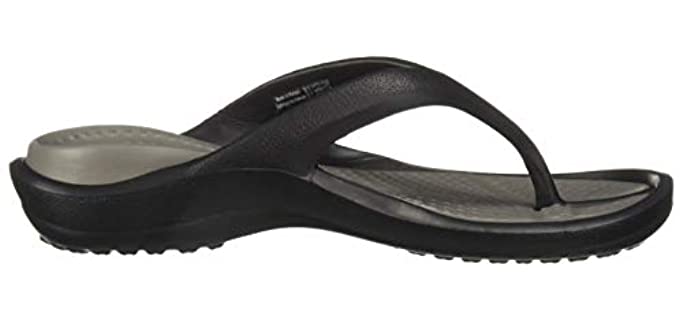 ---
Understanding the Arch of Your Feet
The arch of your foot is designed to bear the full weight of your body, absorb impact when you walk or run, and distribute weight across your feet evenly.
Your arches take quite a bit of pressure, and they allow much flexibility for you to move.
Your arches keep you well stabilized and help you to keep your balance and proper alignment.
Your feet are naturally designed to walk on various flat and uneven surfaces.
We each have our unique foot shape and arches. The arch of your foot can be described in three categories, a High Arch, a Low arch, or a neutral arch.
---
Benefits of Arch Support in Your Flip Flops
Having arch support In your flip flops holds many benefits for your feet;
Distributes Pressure Easily – The arch support will evenly spread weight and pressure across your feet so that there are no pressure points and keep your entire body properly aligned.
Improves Your Posture and Balance – Because of the more even support, you will have a much better posture, and your balance will be improved.
Less Foot and Leg Pain – When your feet are properly supported less strained, you will not have foot pain and other issues or repetitive injuries.
---
Features of a Good Arch Support Flip Flops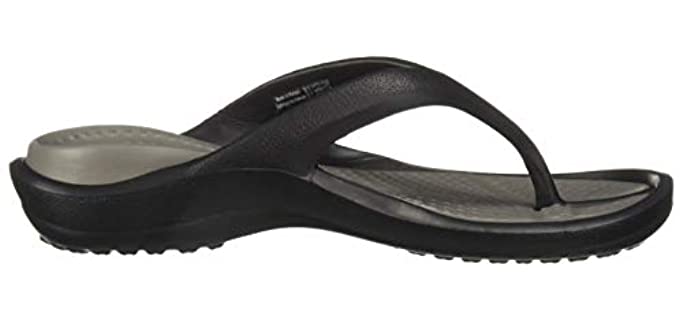 Uppers – Most flip flops will have either leather, rubber, plastic or synthetic leather uppers. Some may have quick drying polyester uppers.
Footbed – The footbed of and arch support flip flop needs to have cushioning such as foam, memory foam, or EVA, with distinct arch support, or a contoured footbed.
Outsole – Most flip flops will have either a rubber or and EVA outsole.
Options – the flip flops we have included are available in more colors and offer many size options.
---
Reviews: The Best Arch Support Flip Flops
Listed below are some of the top flip flop ranges that have and arch supportive footbed;
---
1
Flip Flops for Arch Support
The FitFlop Iqushion is one of your best choices in terms of flip flops with arch support.
The Iqushion features soft rubber uppers with a foamy footbed.
It has a Biomechanically engineered design for support and cushioning,
There is a cushioned arch support and additional cushioning in the heel and ball of the foot area.
The footbed is contoured for proper alignment of your feet.
Furthermore, the outsole is a slip-resistant rubber.
You can also choose from many available colors in this specific model.
---
2
The Vionic Tide is another very popular arch support flip flop model.
It has leather uppers consisting of full-grain leather, with a smooth textile lining for your comfort.
The footbed has a podiatrist design that supports your feet and built-in arch support.
The flip flop also received the APMA (American Podiatric Medical Association) Seal of Acceptance.
There are some neutral color options available from which you can choose as needed.
---
3
Arch Support Flip Flop Sandals
The Olukai Ohana is a favorite beach flip flop design that offers good arch support.
The flip flop has a water-resistant design with quick-dry synthetic uppers straps that are nylon with a soft jersey knit lining.
A Compression-Molded EVA midsole and a smooth drop un ICEVA footbed provide an anatomical fit, arch support, and plenty of cushioning.
The outsole is durable rubber with a unique coral reef lug design for enhanced traction on wet surfaces.
Furthermore, there are a few more color options available.
---
4
The Crocs Swiftwater Wave Flip Flops ate ideal for arch support.
They have synthetic uppers and a synthetic sole consisting of lightweight and foamy materials.
The Swiftwater Wave Flip Flops are water-friendly and easy to lean.
They have a supportive footbed that fully supports your arch.
There are also some more colors available from which you can choose.
---
5
The Everheatlth Flip Flops are also a favorite in arch support flip flops.
They feature a podiatrist recommended design that supports the arch and ensures proper foot alignment for even pressure distribution.
These flip flops are ideal for individuals with flat feet and low arches that need better stability in arch support.
They have water-resistant synthetic uppers straps with a quick-drying soft jersey knit lining.
The outsole is durable and offers good slip resistance.
---
6
Flip Flops with Arch Support
The Teva Voya Flip Flops ate an excellent arch support flip-flops option.
They have textile uppers that are durable and quick drying.
There is a MUSH Top sole that is cushioned for shock absorbency and has an arch support design.
The MUSH top sole conforms to the shape of your feet for more customized support.
---
7
The Crocs Athens Flip Flops are ideal for supporting your arches and providing soft cushioning.
The Athens flip flops consist of soft crosslite foam materials with a slip-resistant, durable EVA outsole.
They have a lightweight design that offers good ventilation and water resistance.
The flip-flops are very easy to clean and quite durable.
They have arch support and massaging footbeds.
Furthermore, you can choose from many available colors.
---
8
Here we have the reef Phantom and Zen sandal for men and women.
The flip flop sandal offers excellent arch support and cushioning.
They are both water-friendly in require no break-in period.
The flip flops have an anatomical footbed that supports your arch and provides good shock absorbency.
The outsole is designed for traction on both wet and dry surfaces.
---
Index Table: Top Rated Arch Support Flip Flops
---
---