We all enjoy the comfort of a good pair of flip-flops, but let us face it, they are generally a more casual leisurewear type of shoe than anything fancy.
Yet, for those who love the look and comfort of a flip flop and want something a little more fashionable and formal styled, why not opt for high heel flip flops.
Flip Flops come in so many choices and designs today, and the high-heeled flip flop is one of them, bringing a bit more style and class to a once casual and informal sandal design.
---
Why Wear High heel Flip Flops
Comfortable – Flip Flops are generally a very comfortable staple sandal that everyone has at least one pair of in their wardrobe. They come in so many designs and styles and can be worn daily.
Breathable – Because of the very open design of flip flops, they make for the best shoes for summer. They keep your feet well ventilated and prevent excessive sweating. Flip Flops truly are the number one summer sandal.
More Elegant and Formal – Flip Flops are generally a very casual shoe that is normally worn at home or to the beach and pool. Give them some heels and some fashionable colors and decorations, and they become quite a classy pair of sandals that will make a huge fashion statement. Heeled Flip Flops look fashionable and elegant and can be paired with so many summer outfits.
More Acceptable – Flip Flops with heels will be accepted in more formal settings. Generally, casual flip-flops are ideally used as beach and pool wear or for leisure wear at home. Heeled flip flops with a bit of formal class are much more accepted on occasions such as formal events, parties, and professional work environments.
---
How to Wear High Heel Flip Flops
As we have said, Flip Flops do not need to be limited to the pool and beach only, and there are so many ways that you can wear them in formal and informal settings.
Here are a few styles that you can try with your high heeled flip flops;

1. For something light and elegant, wear a pair of kitten heel flip-flops with a neutral-colored linen pants suit.
2. If you like vibrant shades, then pair your vibrant colored heeled flip flops with other more neutral colors such as white, beige, or black.
3. Get a formal style with a pair of fitted Bermuda shorts, medium to high heeled flip flops, and a quarter sleeve blouse or fitted jacket.
4. Bodysuits are quite in fashion today, so why not pair them with your favorite pair of heeled flip flops this summer.
5. For a more formal look, you can opt for a skirt and top, or fitted dress and a pair of high heeled flip flops.
6. Then last but not least, the printed summer dress paired with a gold or metallic colored pair of high heel flip flops.
---
Features of a Good High Heel Flip Flop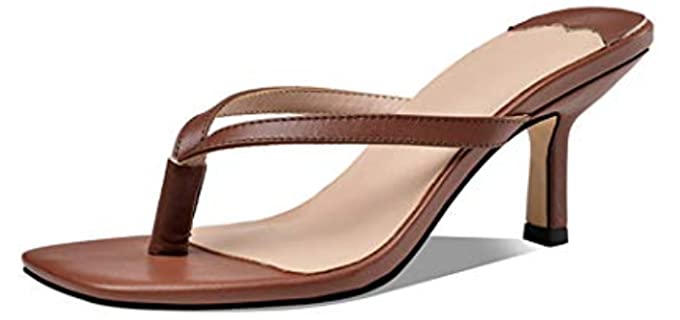 Uppers – Flip Flops have Y design thong-style uppers that fit between your first and second toe. This strap can be leather, PU leather, Rubber, Plastic, or Canvas, depending on the shoe model and design.
Foot Bed – Most High Heeled sandals are not designed for much comfort, but some do have a padded or cushioned footbed for comfort and support.
Outsole – The Outsole can be synthetic or rubber and designed for durability and grip with a patterned tread.
Heel – There are different heel designs from a kitten heel to stiletto, medium heel, and wedge design heels in the high heel range for flip flops.
Options – The high heel flip flop is available in many colors and size options, and some even printed, which all rely on the specific brand and model.
---
Reviews: The Best High Heel Flip Flops
These are our top favorite designs in High heeled Flip Flop sandals;
---
1
These are lovely stiletto heeled sandals for formal occasions, parties, and even dress-up events.
They have PU leather uppers with a flip-flop design.
There are a high kitten heel and durable rubber outsole.
The design is elegant, fashionable, and yet still very simplistic in nature.
There are also more colors available to you.
---
2
I have chosen these for their fun color and designs from Sigerson Morrison.
They are neon-colored, and there are four colors available, including a white pair.
The flip flops consist of Soft jelly materials with a durable rubber outsole.
The heel is a medium height kitten heel design, and they are easy to slip on and off.
Pair them with a neutral-colored outfit, or use them for a fun dress-up party.
---
3
From Cape Robbin, we have a very stunning formal style high stiletto heel flip flop sandal.
The heels on these babies measure around 4 inches.
The uppers have a braided design in PU leather.
The footbed is generally comfortable and lightly padded.
The outsole is durable rubber, and there is a very high stiletto heel.
The toe design is a fashionable square design.
---
4
Something more casual and comfortable.
The Roxy Mellie flip flops are wedge heel flip flops that are elegant but still quite casual in nature.
The footbed is soft and foamy with plenty of support, and the wedge sole is quite high.
There are also three colors available to you.
Furthermore, the uppers are soft braided leather with memory foam backing, and the footbed consists of EVA foam.
---
5
The Amy Q Flip Flops sandals have a high to mid-heel design and are more formal in style.
They have durable Pu leather uppers and a PU leather footbed with light padding.
The outsole is a durable rubber, and there is a 2.76-inch heel.
There are also more colors available in this model.
---
6
The Lishan is a square toe design heeled flip flop.
The uppers are a synthetic material, and the outsole is a durable rubber.
There are more colors available, as well as a completely clear color option.
The heel is a medium height and a kitten design.
These flip-flops are ideal for dress-up parties and all events.
---
Index Table: Top Rated High Heel Flip-Flops
---
---