Wearing uncomfortable orthotic shoes or orthotic insoles with closed-style shoes in those hot summers, when all you want is a pair of flip flops, can be excruciating.
Well, why not wear flip-flops?
I am here to tell you that you can still enjoy orthotic support and comfort by wearing flip flops if you choose the best Vionic brand flip flops.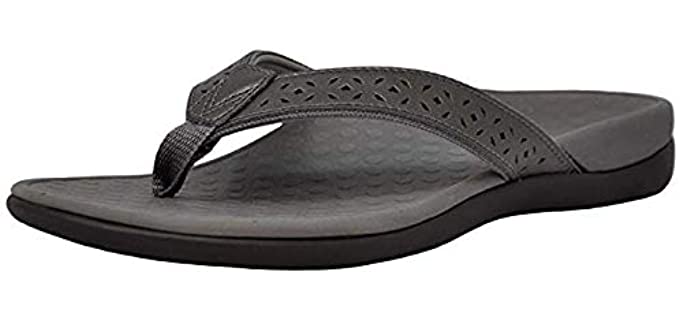 ---
Why Choose Vionic Flip Flops This Summer
So why exactly should you choose Vionic flip-flops this summer?
Vionic flip-flops are not just reserved for warm weather. They are also supportive comfort flip-flops for everyday wear.
Vionic flip flops may just be the most comfortable and supportive flip flops that you will ever find.
Vionic employs support and cushioning system for proper foot alignment and shock absorbency to prevent foot fatigue and pain.
Furthermore, Vionic flip flops offer an excellent fit, even for wider feet, and are also available in wider width fit options if needed.
---
Vionic Technology
Vionic Sandals have some excellent technologies that you can look forward to;
Certified – Vionic flip flops are accepted by the American Podiatric Medical Association (APMA,) which is the leading resource for foot health information. They represent15,000 podiatrists across the United States. Most of Vionic's shoes carry their seal of approval.
Comfortable for Walking and Leisurewear – Vionicsandalsl and flip flops are designed to be comfortable enough for daily casual wear as well as for walking. With the premium material,s they are quite durable, and along with cushioning and support features,s you will enjoy excellent shock absorbency and light stability in these flip flops, which most other brand flip flops do not offer.
Relieves Foot Pain – Vionic shoes, sandals and even flip flops are known to provide excellent foot pain relief because of the contoured and cushioned shape of their footbed that ensures full supper and anti-fatigue cushioning, the built-inn orthotic insole also helps to support the natural alignment of your body. because of the Open and more breathable design of a Flip Flop in general it also places no pressure on your toes, particularly if you have Bunions or Hammertoes and similar conditions. Furthermore, because of the quality upper of Vionic flip flops, the lining is usually padded and smooth for your comfort.
---
Features of a Good Vionic Flip Flop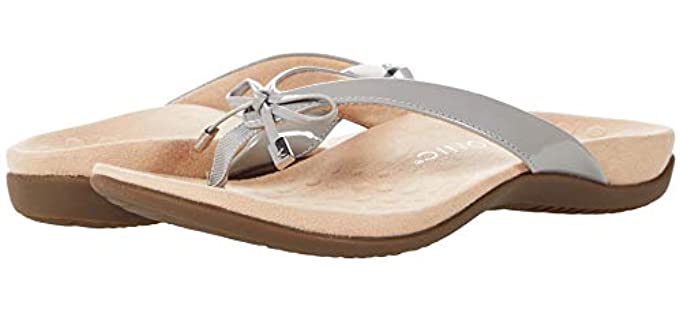 Uppers – Vionic Flip Flops will have toe post uppers that can consist of a variety of materials. There are textile and neoprene uppers in the more sporty styles that are quick-drying and water-friendly. Then you also get the synthetic,c, and genuine leather uppers, usually option lines and, or padded for comfort.
Footbed and Midsole – Vionic uses EVA foam in the midsole or footbeds of their flip flop sandals. The Midsole can feature Vio Motion Support that is flexible and shock absorbing. The footbed may be covered with leather, microfiber, or not have a cover at all.
Technology and Support – Vionic Flip Flops have a Biomechanically engineered footbed that is designed to hug your feet and follow its natural contours for optimal support nd arch support.
Outsole – The Outsole may be either TPR, EVA or a durable rubber with a slip resistant patterned tread. The sole will genuinely differ in thickness depending on the model.
Fit – Most Vionic Flip Flop models have a medium B width, however there are also C widths and extended width options available.
---
Reviews: The Best Vionic Flip Flops
Here are our Top favorite Flip Flop models from Vionic;
---
1
The Vionic Tide Original is a top favorite Flip Flop sandal from Vionic for men and women.
It features genuine leather uppers with neutral colors available.
The uppers are full-grain leather that has a smooth textile lining to prevent friction, and the outsole is a durable rubber.
The EVA footbed is a podiatrist-designed for optimal support and stability along with firmer cushioning and arch support.
Furthermore, the Vionic Tide received the APMA (American Podiatric Medical Association) Seal of Acceptance.
---
2
Here we have two similar flip flop models from Vionic, the Mirage Alta and the Ludlow Elijah.
They are both flat-soled leather-based flip flop sandals with a more elegant and formal style.
The uppers are genuine leather, and the footbed likewise has a leather lining.
There are some neutral color options available.
Both sandals have a podiatrist-designed supportive and cushioned footbed.
---
3
Here we have the Vionic Tide in a Khaki green color for men and the Perforated uppers Tide for the Ladies.
Both have genuine leather uppers with a textile lining, while the ladies model has small perforations in the uppers for décor and ventilation.
The footbed has a Biomechanical podiatrist design with EVA cushioning and contoured support.
The outsole is a durable and high traction rubber.
---
4
The Vionic Tide 2 and Tide Ryder is a Flip Flop sandal with a difference.
It offers exceptional arch and foot support with a Podiatrist design footbed and deeper heel cup.
The footbed is fully cushioned with EVA and offers arch support,
The Uppers are leather and have a smooth textile lining for your comfort.
You can also select from a few available color options.
---
5
The Vionic Wave is one of my favorite Vionic Flip Flop models for beach and pool wear.
The Wave has fabric uppers that are quick-drying and very comfortable.
The fit is a medium to wide.
The footbed is cushioned with EVA, offers full arch support and comfortable contours.
The outsole is a durable and heavy-duty rubber for excellent grip.
---
6
Canoe Dennis
The Vionic Canoe Dennis is a Flip Flop available in a black or brown color option.
It has an EVA Sole and leather uppers with a rubber outsole.
The footbed features a contoured and arch support podiatrist design for comfort and support with plenty of cushioning.
Rest Bella
The Rest Bella for the ladies is a supportive Orthotic flip flop sandal.
It has a Polyurethane sole and PU patent leather uppers with a soft microfiber footbed.
The footbed is cushioned with three Zone comfort for stability and natural alignment.
It is also APMA Accepted as a medical shoe.
---
Index Table: Top Rated Vionic Flip Flops
---
---