Sandals are not always the best option if you tend to Supinate. Mostly athletic shoes and more Orthopedic style shoes are recommended for supination.
However, this article will look specifically at Vionic sandals for Supination. Vionic sandals provide many comfort and support features that can help to correct supination and, in turn, help with some of the symptoms that may be caused by supination.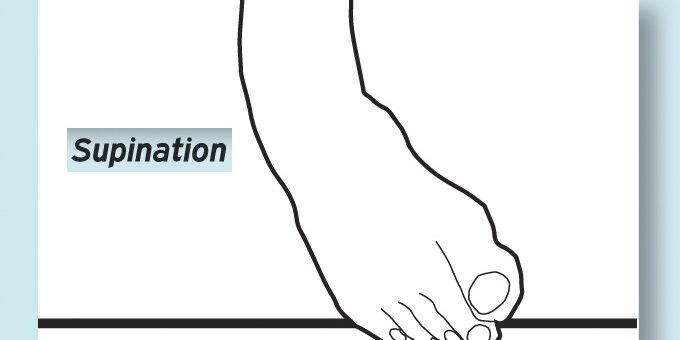 ---
---
Supination Issues
Supination of the foot occurs when your rate rolls onto the outer edges of your feet instead of to the inside, which is then called another underpronation or supination.
Normally, your feet need to roll inward a bit, which is called pronation, so that you are weightless on the ball of your foot and push off on the big toe.
When you supinate, most of your weight will fall on the outside areas of your feet, and you will push off from the outer toes, instead of your victor.
Thus, the mechanics of your feet will be a little off, which can again throw off your entire alignment. This, in turn, could lead to back pain, hip pain, knee pain, and strain on your knees, as well as increasing your chances of getting ankle injuries and the condition of Plantar Fasciitis.
When you supinate, you need to do exercises to help strengthen and stretch the muscles and the tension. And you also need to wear proper footwear.
---
Shoes and Sandals for Supination
You can mainly look at these common characteristics in your sandals and shoes if you tend to supinate.
Firm Cushioning – Look at shoes and sandals with slightly firmer cushioning, such as EVA, which will provide your foot with better shock absorbency.
Medail Post – You can look for shoes with a slight medial post, which will help your feet and prevent them from rolling outward excessively.
Light Stability – You can opt for neutral shoes and sandals. However, you do want large stability. You may not need full-on motion control or stability from your sandals, but large stability features and a more secure fit will be ideal.
---
Features of a Good Vionic Shoe for Supination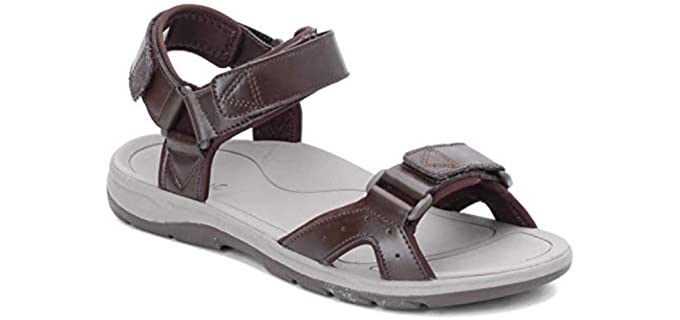 Uppers – Vionic Sandals have let their synthetic or fabric uppers. The uppers may be lined, and they may be adjustable. We have mostly chosen options with a back strap, which is better for supination.
Roomy Toe Box – A sandal with a more roomy toe box is ideal for supination, whereas Vionic sandals generally have a roomy box and are available in wider widths.
Cushioning – You also want a well-cushioned sandal, and luckily, Vionic sandals have a contoured and cushioned footbed that fully supports your fleet and absorbs impacts.
Outsole – Vionic sandals generally have durable rubber or an EVA outsole that is durable and offers good traction.
Options – Or available in more colors, sizes, and some models to offer wider width fits.
---
Reviews: The Best Vionic Sandals for Supination
In our reviews section, we have included some of the best Vionic sandals, all ideal, full Supination.
---
1
I have chosen the Colleen and the Canoe Leo sandals from Vionic, which are perfect if you tend to supinate.
The sandals have adjustable uppers so you can get a more comfortable fit.
The sandals offer large stability, and some orchard boots with a deeper heel cup to help prevent supination.
They have an anatomically shaped footbed that is well cushioned for comfort and support.
---
2
Leather Sandals for Supination
These two sandal models from Vionic are more elegant and suitable for all occasions. They have a slightly more formal style.
The sandals feature a podiatrist-designed footbed built into every pair of vionic sandals.
The footbed provides good stability and cushioning to help with supination.
The sandals have fully adjustable uppers and are available in a few more colors.
Both sandals have a durable and high-traction rubber outsole that will offer good slip resistance.
---
3
The Vionic Tide is a flip-flop style sandal with many support features, making them ideal for supination.
The Tide has a podiatrist-designed footbed to promote more stability and natural alignment for your feet.
The sandal footbed is ideal for relieving plantar fasciitis, helping with flat feet, high arches, and even helping people who supinate.
These flip-flops are available in many fun and neutral color options, from which
---
5
Slide Sandals for Supination
I'd like to see the Vionic Kiwi slide as more of a recovery issue, which can also be an excellent choice for people who supinates.
The Kiwi slide offers a wider and more roomy fit and fully adjustable uppers.
There is a single upper strap of suede leather with a Velcro closure.
The Footbed has three-zone comfort technology, which means it supports your arch. It has a deeper heel cup, and it is also well cushioned.
---
6
Arch Support Supination Sandals
Ludlow Charlie
The Ludlow Charlie is a leather sandal from Vionic.
It is a flat-soled sandal that offers some support with a podiatrist-designed footbed for supination.
The sandals are available in a few neutral colors.
Peony
The Peony from Vionic is also a leather sandal with a slight heel.
The sandal is more elegant and sophisticated for more formal occasions.
A podiatrist-designed footbed will hug your arches to give you stability and prevent supination.
The heels of the sandal are lower and ideal.
The sandals are available in many color options from which you can choose.
---
Index Table: Top Rated Vionic Sandals for Supination
---
---