Supination and Pronation make up the parts of your stride, excessive pronation, whether Underpronation called Supination or Overpronation.
Supination and Overpronation both cause problems with the alignment of your body. Therefore proper footwear for Supination is required to help with proper alignment.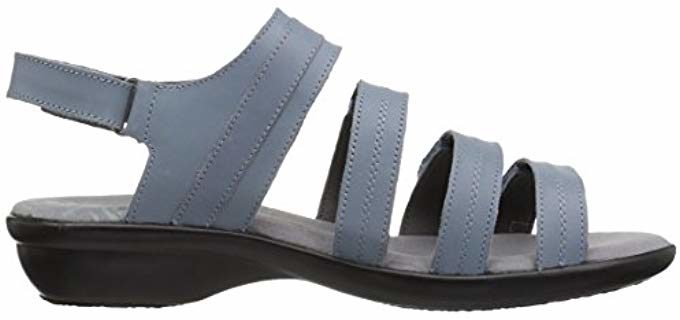 ---
---
What is Supination and Its Causes
Supination occurs when you place your body's weight on the outer parts of your feet when walking or running, so your weight is shifted from the forefoot to the heel. Excessive supination may cause body alignment problems, leading to pain in the feet, knees, hips, and back.
Usually, individuals who Supinate excessively have structural issues in their feet, which prevent them from running or walking properly.
Some Causes of Supination may Include
Before Injury – Old injuries that have not healed properly can lead to instability when walking and weakness in the bones and soft tissues. Individuals who suffer from Achilles Tendinitis are more likely to Supinate.
Body Misalignment – If you do not have a correct posture and there is a misalignment, it means that some body parts need to work much harder than others to keep your balance. Poor form when exercising or performing activities can lead to an imbalance, leading to Supination.
Incorrect Footwear – A right shoe will protect your feet' arches and soft tissues against injury and strain. Excellent support is necessary when walking or running on hard and flat surfaces. The wrong type of shoe or a cause out a shoe offering little support may lead to Supination and other issues.
Genetics – Traits affecting the mechanics of your feet and legs are often inherited, such as your legs' length, foot width, and ankle stability. Your arch's shape may lead to Supination, which is predominant in individuals with a higher arch.
Other Causes – A sedentary lifestyle and lack of exercise, restriction on a range of motion, too much exercise, conditions such as arthritis, and constant impact from hard surfaces are all causes of Supination.
---
Treating Supination
You can correct and prevent Supination of the feet by following these easy tips;
Good Footwear – Flexible and lightweight shoes for Supination that offer proper arch support and some cushioning is ideal for individuals who supinate. Also, please make sure to replace worn-out shoes immediately.
Insoles – Orthotic devices designed specifically for Supination can help to correct the problem.
Proper Form – A Correct posture and good running and walking techniques can address excess Supination. Please land softly on your feet and aim to contact the midfoot rather than the heel when running and walking.
Physical Therapy – A Physical therapist can help loosen tight muscles and tendons in the feet and strengthen these soft tissues to better weight distribution, preventing supination.
Exercises – Knee stretches, Plantar Fascia stretches, Calf Stretches, and Ankle stretches can prevent Supination.
---
Related Articles on Supination
---
Features of a Good Sandal for Supination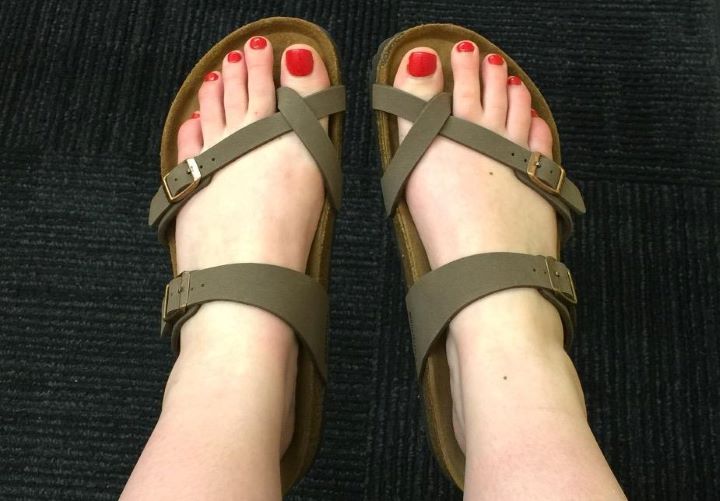 Footbed – A cushioned and contoured footbed that provides better arch support, motion control, and stability is ideal.
Shock Absorbency – The midsole and outsole can offer shock absorbency. Rubber in the outsole is ideal to look for, as is EVA and foam in the midsole.
Uppers – Soft and comfortable leather or textile uppers with an adjustable fit.
Outsole – Rubber is your best bet in an outsole; you want the outsole to offer good grip and stability.
---
Reviews: The Best Sandals for Supination
Below are your best sandal brands and models for feet that tend to Supinate;
We hope you love the sandals we recommend!
We may collect a share of sales or other compensation from the links on this page.
---
1
These two sandals from Clarks offer great technologies and cushioning, which is ideal for individuals who supinate and have a higher arch type.
The Malone Cross features two cross leather straps, a durable rubber outsole, and a contoured and cushioned footbed.
The Arla Primrose has soft textile uppers with a backstrap and a durable rubber outsole.
Both feature the popular Cushion soft cloud-stepper technology and are available in some color variations.
---
2
Orthaheel Technology Sandals for Supination
Vionic brings you these two Orthaheel technology sandals, ideal if you supinate and need the right arch support.
A full-length orthotic footbed in both these models has a deeper heel cup and offers biomechanical arch support.
The outsole is made from slip-resistant, durable rubber and will keep you well-grounded.
Likewise, there is a trip[le density EVA midsole and additional heel cushioning to absorb shock on impact.
The Orthaheel technology provides your feet with better alignment and stability.
---
3
Outdoor Sandals for Supination
If you are looking for the best outdoor and a more hardy sandal for supination, look at the ECCO Yucatan.
Both feature soft and comfortable nubuck leather uppers with a textile-cushioned lining for comfort.
Supportive and adjustable front and back straps for the ideal fit and color availability.
A sporty designed rugged sandal that is excellent for outdoors and trail walking or hiking.
There is a lightweight EVA footbed with a microfiber cover for cushioning and support.
A direct-injected PU midsole foam and Receptor technology for better support and stability.
The rubber outsole is designed to give you the best grip on outdoor surfaces.
---
4
Dress Sandals for Supination
These are two great comfort sandals that can be worn for more formal occasions when you need t dress up a bit.
The Rocklake is a men's style sandal with adjustable hook and loop straps made from Tumbled genuine leather, a rear pull loop, and a flat rubber outsole.
The Briah is a Gladiator-style sandal with a wedge sole, leather upper straps, and a Memory Foam cushioned insole.
The Rocklake similarly features a lightweight cushioned EVA midsole and shock-absorbing comfort system.
Both sandals are ideal for wearing as dress sandals and come in different color options.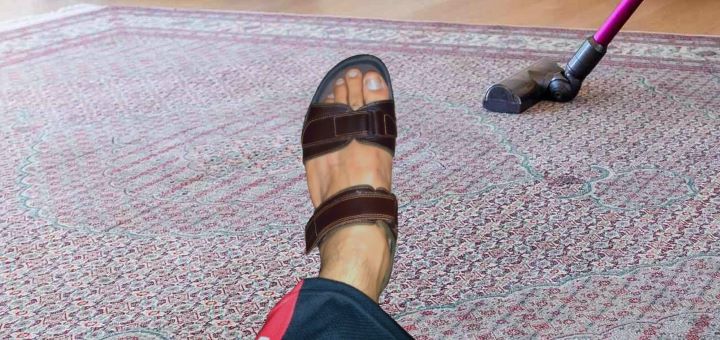 ---
5
Supination Fishermans Sandal
A strappy or fisherman's style sandal is always a good idea when you have foot deformities, need extra protection, or want to hide your toes; this brand and model likewise have features ideal for supination.
Features the popular Smart Comfort system for a more customizable fit.
The footbed is also removable and provides comfortable, orthopedically-designed anatomical support with multiple density layers.
There is a protective Nylon shank that is lightweight.
The durable outsole has multiple density layers to provide superb shock absorbency.
These two models are available in a few color options to choose from as you like.
---
6
Supination Support Flip Flop
Something a bit more casual and comfortable for everyday leisure wear when you have supination.
Features the supportive and comfortable Orthalite technology that offers lightweight cushioning and contoured support.
The Footbed ensures Tri-Planar and motion control, which is ideal for supination.
A deep heel cup stabilizes your feet and aligns them back to their natural position.
The uppers are made from soft and comfortable webbing in textile materials that are fast and easy to dry.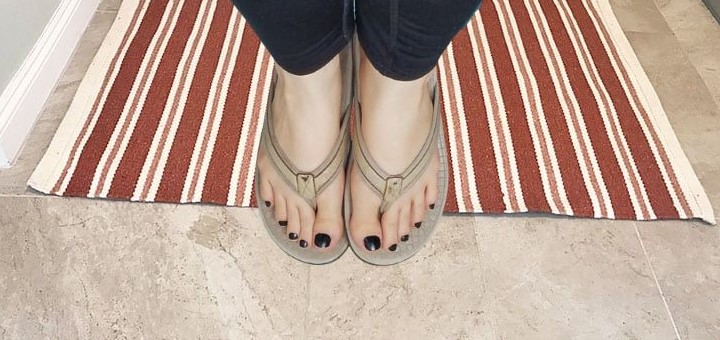 ---
7
Slide Sandals for Supination
The ECCO Flowt and Damar offers distinct features that are ideal if you tend to Supinate.
The upper consists of genuine leather lined with a textile material for comfort and moisture management.
There is a Moulded and Flexible EVA footbed for comfort and support with a moisture-wicking microfiber lining.
The sandal features a three-point adjustability system, so you get the most customizable fit.
The PU outsole is injection molded and very durable offering good traction.
---
8
The Birkenstock Mayari has a contoured and supportive footbed and arch support ideal for supination and high arches.
Leather and synthetic upper straps that are appealing and comfortable.
You can also choose between different width options in this sandal model.
The footbed is contoured and supportive, consisting of latex and cork for cushioning.
There is also a durable and high traction outsole.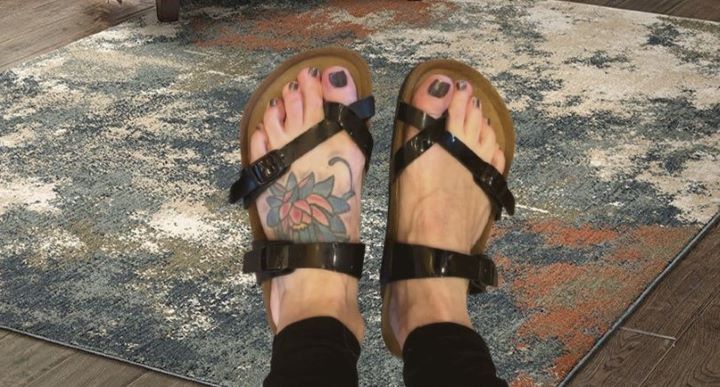 ---
9
Flip Flop Sandals for Supination
One of my personal favorites is the FitFlop Iqushion flip flop sandal for Supination.
The sandal sole has a contoured design with distinctive arch support and extra heel and forefoot cushioning.
The sandal comprises a Foam material and rubber straps that are waterproof and very easy to clean.
You can choose between neutral or many colorful options in this model.
What is more, is that the anatomically sha[ed footbed also offers ample cushioning and shock absorbency.
---
10
From Clarks, we have two comfortable semi-dress style sandals, which are perfect for all occasions.
The Supportive and cushioned footbed is ideal for persons who tend to supinate.
The uppers are soft and supple leather, and there are some color options available.
The uppers are also adjustable in fit.
There is a comfortable and cushioned Ortholite molded footbed and a shock-absorbing midsole.\The rubber outsole ensures good traction and grip.
---
Index Table: Top Rated Sandals for Supination
---
---