Vionic offers some of the most stylish and comfortable shoes and sandal ranges for both men and women, with the most current styles and the best comfort and support technologies.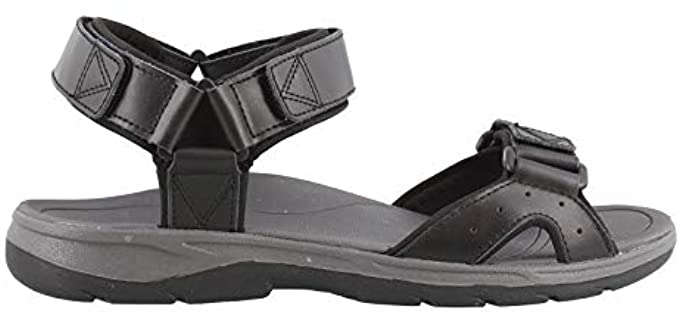 ---
---
Vionic® History and Vision
Vionic began its mission with a renowned podiatrist, Phillip Vasyli, a pioneer and innovator in lower limb biomechanics.
He treated many patients, both young and old, and athletes. He had a genuine passion for making orthotic treatments easier and more affordable to be accessible to all people in pain.
Early in his career, Vasyli created a heat-moldable orthotic that was a low-cost option that allowed patients to walk comfortably no matter the condition. This design laid the groundwork for the popular and award-winning ORTHAHEEL technology used in Vionic's footwear.
Furthermore, the Vionic lab harnesses some of the world's greatest minds on lower limb biomechanics health to create innovative footwear.
Vionic shoes carry the American Podiatrist Association's Seal of Acceptance and are trusted by many Podiatric Specialists.
Vionic Shoes aim to provide essential stability and addictive support with a contoured design seamlessly engineered into each shoe to help support your natural alignment from the ground up.
---
Vionic Vio-Motion Support
The Vionic Vio-Motion support system is one of their latest supports besides the Orthaheel technology. It conceals Biomechanical technology into each shoe and sandal for all-day comfort and support you can feel but not see.
Here are a few of the Benefits that the Vio-Motion Support System Provides;

Deep Heel Cup/ Heel Seat – The Deeper heel cup provides better stability for proper alignment and movement.
Contoured and Orthotic Footbed – The Footbed is designed to contour to the shape of your feet to provide addictive support and better motion control and stability.
Ball of The Foot Cushioning – Cushioning where you need protection against the most impact in the balls of your feet.
Contact Support – The design supports your feet on contact with every step you take, offering full protection against impact, stability, and proper alignment.
---
Features of a Good Vionic® Sandal
Footbed – A Podiatrist-designed footbed.
Cushioning – Orthaheel technology for comfort and cushioning. EVA midsole and cushioning. Orthopedic Arch Support.
Uppers – Soft leather uppers from smooth or suede leather can likewise consist of textile materials, particularly in casual beach-style models.
Outsole – A durable, slip-resistant Rubber or TPR outsole.
---
Reviews: The Best Vionic® Sandals
Some of the top-rated models in Vionic Sandals;
We hope you love the products we recommend!
We may collect a share of sales or other compensation from the links on this page.
---
1
Orthaheel Technology Sandals
The Vionic Shore and Neil are orthopedically designed sandals that aim to provide maximum comfort and reduce pain and fatigue.
Features a full-length orthotic footbed and a triple-density EVA midsole for cushioning with additional cushioning in the heel to absorb shock.
A Biomechanically designed footbed offers better arch support and has a deeper heel cup for better stability and control.
The outsole is made from durable and slip-resistant rubber.
---
2
The Vionic Kiwi for men and Rest Randi for women are casual leisurewear sandals that are easy to slide on and off.
The uppers are made from a breathable and padded mesh, and the straps are adjustable for a customizable fit.
The outsole consists of TPR materials with high traction patterned tread.
It also features the popular Orthaheel technology with a Biomechanical footbed for maximum arch support and shock absorbency.
The Rest Randi is available in many colors and has two adjustable upper straps with perforations and an open back.
---
3
These two Vionic models are the perfect sandal for walking in the summertime, with all the features to keep you comfortable and well-supported.
The Tide is a textile upper flip-flop design with a supportive and cushioned footbed.
These sandals are highly breathable and very lightweight for summer leisurewear.
Both feature a Vionic comfort footbed, cushioning, and a durable outsole that is slip-resistant for the full package when comfortable and supports in a durable sandal.
Both sandals are available in more colors.
---
4
I love that these two Vionic Sandal models offer you a wider fit. They are the ideal sandals for flat feet and wider-shaped feet.
The uppers are made from very comfortable and flexible soft leather in a stylish design that wraps comfortably around your feet with less friction and irritation.
There is a podiatrist-designed biomechanical footbed with added arch support and a deeper heel cup to keep your feet in their natural position.
This sandal also boasts the popular Orthaheel technology and soft cushioning for shock absorbency and comfort.
The outsole is sturdy and durable, offering excellent grip on various surfaces and stability and motion control.
---
5
These two casual and comfortable orthotic arch-supportive sandals are perfect for every occasion and daily wear.
The Stanley is a slide-on sandal with leather uppers and a lug rubber outsole, offering excellent traction, grip, and all-day astounding comfort and support.
The Farra has Faux leather upper available in smooth or patent options and color variations and has a wrapped EVA footbed and a durable rubber outsole.
Both sandals feature a Podiatrist-designed Orthotic Arch support footbed that offers cushioned comfort and support.
Two superb models offered by Vionic are fashionable and comfortable.
---
6
The Canoe sandal for the gents is a thong design with leather and textile uppers.
The ladies' Pacific Rio boasts a more formal style with elegant adjustable uppers straps in leather available in many color options and a platform sole for sophistication.
Both are slide-on sandals for convenience and feature a Podiatrist-designed orthopedic arch-supportive footbed with cushioning and support in all the right places.
The durable rubber outsole offers good grip and traction on most surfaces.
These are two excellent sandal options for all-day and everyday wear for casual and even formal excursions.
---
7
The Vionic Tide and Lupe is a supportive Toe Post Flip Flops sandal.
The Upper is leather with a smooth synthetic lining for comfort,
The EVA Midsole offers excellent shock absorbency, and the TPR outsole is highly durable.
There is a Podiatrist-designed biomechanical footbed with a deep heel cup for cushioning and support.
A few color options are available in both sandal models.
The Vionic Lupe for the Ladies is a more elegant THong-style sandal with a backstrap and a flat sole.
The Lupe is also available in many color options.
---
8
The Vionic Kiwi is a medical slide sandal for foot conditions and post-injury recovery.
The sandal has an APMA Seal of acceptance.
There is an Orthaheel technology biomechanical footbed with arch support and cushioning.
The TPR rubber outsole is durable and offers excellent traction.
The uppers are synthetic and adjustable with a Velcro closure.
---
9
The Vionic Wave Toe Post Flip Flop is comfortable for beach and poolside wearing, while the Rets Farra gives more style and elegance.
These flip flops have concealed added arch support for a neutral arch type.
The footbeds are contoured and cushioned with EVA for comfort.
The uppers are fabric and quick drying.
There is a durable and hard-wearing rubber outsole for slip resistance.
The Rest Eira is ideal for ladies for all occasions.
The Rest Eira has an open toe and adjustable straps, it is also available in more colors.
---
10
The Ludlow and Skylar are comfortable, and casual slide sandal ranges from Vionic.
The Upper is leather with adjustable straps.
The Skylar has a Biomechanical Orthotic Cork Footbed that cushions and provides stability.
The Ludlow has an EVA midsole and podiatrist-designed cushioned footbed.
There is a rubber outsole on both sandal models for grip and durability.
---
Index Table: Top Rated Vionic Sandals
---
---