Vionic is a brand that makes some of the most comfortable and supportive shoes and sandals available. They cater to various foot conditions, and their footwear provides proper foot support and cushioning for comfort.
Vionic Sandals for Plantar Fasciitis are among the best choices you can make in sandals for this condition. Their sandal provides proper support, cushioning, and stability to help individuals who suffer from Plantar fasciitis.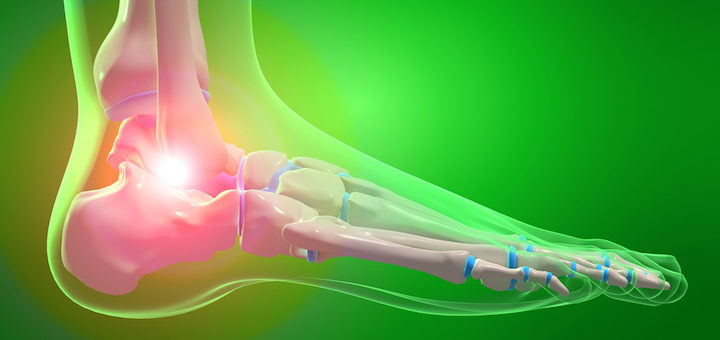 ---
---
Why Should Your Choose Vionic Sandals for Plantar Fasciitis
If you are looking for sandals that will provide the best orthotic comfort and relief with proper support, Vionic is one of the best brands.
Vionic sandal uses Vio-Motion technology with a Biomechanically engineered cushioned footbed that supports every foot type and condition in all the right places.
Here are three reasons why they are the absolute best for Plantar fasciitis;
Based on Peer-Reviewed Study – The technology in Vionic sandals are based on studies by Vionic on persons who suffer from heel pain because of various causes of Plantar Fasciitis.
Approved By Experts – Vionic Sandals are trusted and approved by the American Pediatric Medical Association and hole the AMPMA Seal of acceptance.
Vionic Innovation Lab – The Vionic Innovation Lab, where the shoe and sandal technologies are tested and created, holds some of the finest experts' minds regarding foot and lower limb health and biomechanics.
---
Vionic Sandals Technology
Vionic sandal comes in various designs, colors, and options from which you can choose.
They have casual and more formal-style sandals and even flip-flops.
The sandals' footbed is biomechanically designed for proper alignment, arch support, and heel cushioning.
Their Plantar Fasciitis range specifically aims to provide better heel cushioning for shock absorbency and arch support.
Furthermore, the uppers of their sandal are designed to be comfortable and friction-free, with soft and supple genuine leather and adjustable features so that you get the perfect fit.
They also provide wider and narrow feet options besides their general medium widths.
---
Features of a Good Vionic Sandal for Plantar Fasciitis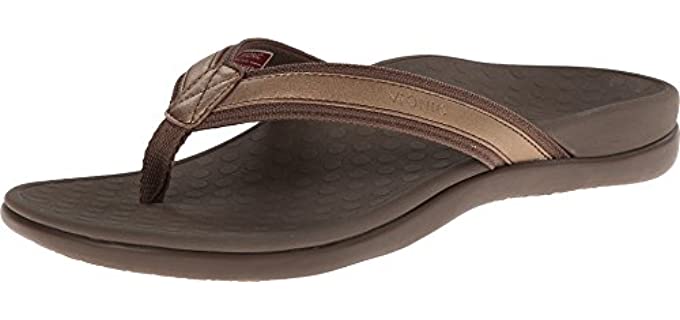 Uppers – Most Vionic sandals come with genuine leather uppers. However, there are some synthetic or textile uppers. The uppers come in multiple designs, such as Flip Flops, double, single, or multiple straps. There are also slide-on or closed heels and heel strap designs available. Generally, Vionic offers adjustability in the uppers of their sandals with a buckle or Velcro closure.
Foot Bed – Vionic features a Biomechanically engineered footbed in their sandal range for Plantar Fasciitis with a Vio Motion support design. The footbed offers good arch and heel support and proper cushioning for shock absorbency. EVA may be used as a moisture-wicking lining in the footbed, microfibre, suede, or leather.
Outsole – The outsole will be synthetic or durable rubber. The outsole is designed with lug patterns to offer good traction and grip on various floor surfaces.
Options – Regarding options, Vionic sandal offers many colors, sizes, and width options in most Plantar Fasciitis range shoes.
---
Reviews: Best Vionic Sandals for Plantar Fasciitis
These are our Top Picks in Plantar Fasciitis relief sandals that are from the Vionic Brand;
We hope you love the products we recommend!
We may collect a share of sales or other compensation from the links on this page.
---
1
Plantar Fasciitis Sandals
The Uppers of these two sandal models are leather and synthetic, and both sandals feature a durable rubber outsole.
The men's model has adjustable uppers and a closed-back strap, while the Amber for ladies is a slide-on with adjustable uppers.
Both sandals are similarly available in more color selections.
The footbed features Vio-Motion support and has a podiatrist design for optimal arch support and cushioning, particularly in the heel area.
---
2
Sandals for Plantar Fasciitis
This is a comfortable leisurewear slide sandal from Vionic.
The Kiwi slide has a single uppers strap consisting of Pu leather with a Velcro closure, which is adjustable in fit.
The footbed has Vio-Motion support and excellent arch support.
The footbed consists of EVA, and the outsole is durable rubber with a patterned tread.
---
3
Plantar Fasciitis Sandals
This is one of Vionic's most favored Flip Flop sandal models, the Wave Toe Post Sandal.
It features fabric uppers for comfort and a durable EVA-cushioned footbed that is highly shock-absorbing.
The outsole is rubber and offers excellent traction with a patterned tread for slip resistance.
The Footbed features the three zonal support systems, the Vio-Motion system, and has a podiatrist design for optimal comfort and support.
---
4
Sandals for Plantar Fasciitis
The Tide is another favorite sandal in the Vionic brand.
The uppers are leather and textile materials for comfort, with leather and a textile lining to wick away moisture and prevent friction.
The footbed consists of cushioning, moldable cork, and EVA with a textile lining to wick away moisture.
The American podiatrist medical association approves this sandal.
The podiatrist design cork and EVA footbed are ideal for persons with plantar fasciitis.
Furthermore, the sole is a durable and high-traction rubber.
---
5
Sandals for Plantar Fasciitis
the Canoe Dennis has leather uppers, an EVA footbed, and a rubber outsole and is available in a few more colors, from which you can select as you wish.
The Aliza features Leather uppers, with a Pu-covered EVA Footbed and a rubber outsole, and is likewise available in more colors.
Both sandals have a Vio-Motion support footbed that offers excellent support and cushioning. These designs offer three zones of aimed support and cushioning to the wearer.
The footbed is anatomical and arch-supportive, ideal for plantar fasciitis and other foot conditions or heel pain issues.
---
6
Sandals for Plantar Fasciitis
The Vionic Ludllow is a more formal-styled leather sandal for men available in black or brown color.
The Ludlow has a leather-covered, cushioned EVA sole and rubber outsole.
The Vionic Shore has synthetic uppers and a flexible EVA Midsole that absorbs shock.
Both sandals have a biomechanically engineered orthotic footbed for plantar fasciitis.
The Shore is available in many more color options.
---
7
Slide Sandals for Plantar Fasciitis
The Vionic Slides sandals are ideal for Plantar Fasciitis.
These are the two pastel-colored options that are available in this range.
They have adjustable uppers straps and a durable rubber outsole.
The footbed offers Vio Motion support and cushioning.
---
8
Flip Flops for Plantar Fasciitis
Here we have two flip-flop designs from Vionic for Plantar Fasciitis.
They have leather and textile uppers and a durable rubber sole.
The footbed features cushioning and a podiatrist design.
There is also concealed arch support.
---
9
Plantar Fasciitis Flip Flops
The Vionic Tide is a comfortable and supportive sandal for plantar fasciitis.
They have an arch support insole and three comfort zones.
The flip flop sandal is durable with a slip-resistant sole.
The uppers are 100% synthetic.
---
10
Sandals for Plantar Fasciitis
These are the Vionic Wave flip flops in their brown and earthy color range.
They are a comfortable and supportive flip flop with a Vio Motion footbed.
There are three zones of support and cushioning in the footbed.
The flip flops have a rubber sole and neoprene, and synthetic uppers.
---
Index Table: Top Rated Vionic Sandals for Plantar Fasciitis
---
---