Teva makes some of the best available sports sandals for indoor and outdoor use.
The best Teva Flip Flops offer superb designs for the comfort and support of your feet and comfortable upper webbing that is quick-drying and water-resistant.

---
---
Who is Teva as a Brand
The original sport sandal from Teva emerged in the Grand Canyon in 1984.
It was born out of necessity when a resourceful river guide needed something to prevent his sandal from floating downstream. He strapped two of his Velcro wristbands onto his flip-flops, and Teva was born there.
Though much more advanced today, Teva originated from using adjustable and universal fit Velcro straps to keep your sandal on your feet.
The original Teva icon was designed to give people more freedom to roam and explore. The self-defining ideal still exists in their sandal today with their timeless signature straps and earth-friendly materials.
In this article, however, we will focus on their range of flip flops rather than their Velcro strap original design sandal.
---
Flip Flops Offered by Teva
There are quite a few flip-flop designs that Teva offers. Here are some of our favorites;

Mush 1 and 2 – The Mush is available in 1 and 2, the newer models. The Teva Mush flip flop has a foot for midfoot-forming comfortable footbed and comfortable textile uppers webbing. The footbed also features plush Mush cushioning that is soft and generous underneath your feet. It is a very lightweight and water-friendly sandal ideal for beach and pool use.
Voya Flip – the Voya Flip Flop is a custom-made design for summer leisure time. It has a foot-forming footbed and MUSH cushioned top sole, a lightweight foam, with an EVA foam outsole. The uppers are a quick dry, reprieve polyester webbing that comes in many fun designs and colors.
Voya Wedge – This is an upgrade to the Voya original flip flop and a design especially for the ladies the Voya wedge has a higher wedge sole design. It also features the soft cushioned Mush top sole and a lightweight EVA outsole. The polyester uppers are water-friendly and come in many colors and designs.
Pajaro – The Pajaro is a rugged flip-flop sandal design for men. It has a molded top[sole that cradles your feet and an extra-wide strap. The flip flop is ideal for light hikes and outdoor use, I. That has premium leather uppers, an EVA sock liner for cushioning, a Nylon shank for underfoot support and protection, and a durable high-grip rubber outsole.
Voya Flip Leather – The Voya Flip leather is also a Flip Flop model for men. The Voya Flip Leather has a comfortable cushioned Mush Top sole and EVA foam outsole; the uppers straps are premium leather with a comfortable microfiber lining.
---
Features of a Good Teva Flip Flop Flip Flops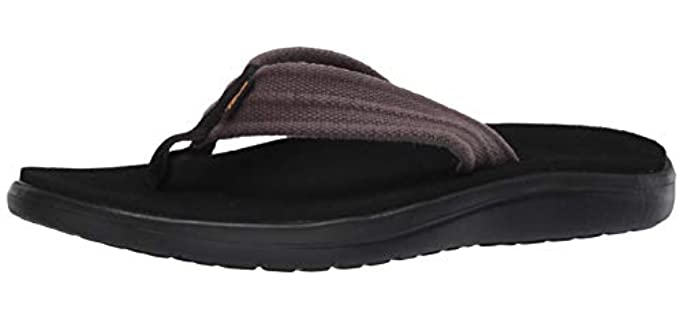 Uppers – The Uppers in the Teva range can consist of water-friendly and quick dryinquick-dryingg polyester or leather with a textile lining. There are also usually plenty of colors available for the uppers.
Comfort and Support Features – For Comfort, there will be either a very soft MUSh topsole or an EVA footbed that absorbs shock and cushions the feet. The Midsole may be EVA with a rubber or EVA and rubber outsole.
Outsole – Most Teva Flip flops have a rubber or EVA outsole that is durable and offers good traction. Some models may have a wedge-style sole for the ladies.
Options – You can choose from a variety of colors and size options in most teva Flip Flop models.
---
Reviews: The Best Teva Flip Flops
These are the best available flip-flop ranges from Teva;
---
1
One of the most popular flip flop designs from Skechers is the Voya Flip Leather range.
This is a Leather design with leather and fabric-lined uppers.
The outsole is synthetic and durable, and the uppers are premium genuine leather with a microfiber lining.
There is a Mush top sole for comfort and cushioning and a lightweight EVA foam sole that keeps you light on your feet.
More neutral color options are likewise available.
---
2
The Teva Mush 2 Flip flops are the ideal summer beach flip flops with more color options.
They feature Canvas and cotton uppers that are quick-drying and soft.
The footbed is a comfortable dual-density EVA and an EVA outsole with grippy traction.
The sandal is a very lightweight flip-flop design.
---
3
This is the synthetic range from Voya. They have polyester upper webbing that is quick-drying instead of leather.
The flip-flops sandal feature a comfortable cushioned Mush top sole and a durable synthetic outsole.
They are also available in a few more color options.
Furthermore, they have comfort and support features ideal for all-day wear on various surfaces.
---
4
This is the Voya Wedge sole range for women and the regular leather Voya Flip for men.
The Voya Wedge has textile uppers available in many colors with a high wedge sole design in EVA and a soft cushioned Mush top sole.
The regular leather Voya for men has genuine leather, textile-lined uppers, and an EVA foam sole with a high-traction outsole.
---
5
The Teva Pajaro is a leather and textile lined flip flop for men with a rubber sole and a sporty style.
The Teva Mush Mandalyn is a wedge sole wedge-solid fabric upper flip flop for the ladies, with a Mush cushioned top sole and woven uppers straps that are a bit different.
Both sandals have a comfortably cushioned footbed and are ideal for beach and pool wear.
They are also available in plenty more color options.
---
6
The Voya Canvas Flip Flop for men and the Olowawu Flip Flops are breathable and comfortable for casual wear.
The Men's flip flop has fabric uppers with MUSH top soles and EVA foam outsole for cushioning.
The Olowawu for the ladies has fabric uppers with a thong and other straps, a rubber outsole, and a cushioned footbed.
Both flip-flop models do offer more color options.
---
Index Table: Top Rated Flip Flops from Teva
---
---