Flip Flops, we see them everywhere on feet of all shapes and sizes, on the beach, at the pool, and in the summertime.
Well, did you know that Flip Flops are quite good for your feet and that they are the new solution to Athletes Foot?
The Best Flip Flops for Athletes' feet can help treat the condition and help prevent it in the first place.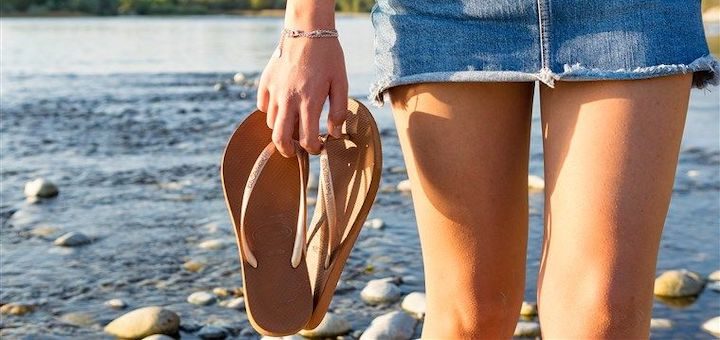 ---
According to the New York Times Flip Flops Can Protect You Against Athlete's Foot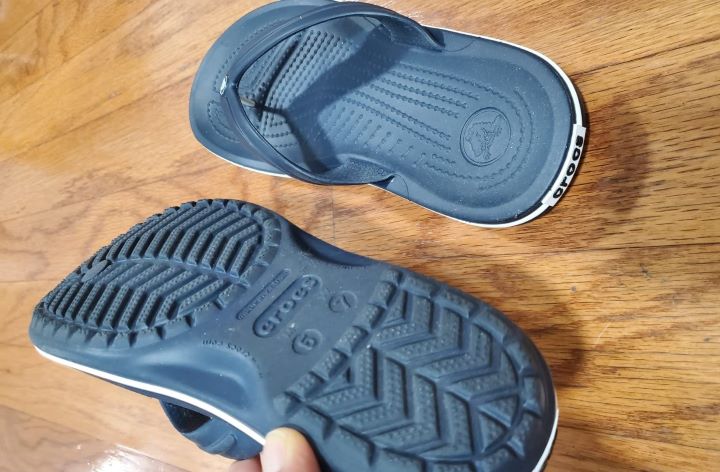 An article in the New York Times brought out the claims and research behind the Fact that Flip Flops can help with and Protect your feet against Athlete's Foot.
Because the Fungi that cause Fungal Foott Infections, including Athlete's Foot, thrives in warm and damp places, showers, public bathrooms, Public Swimming Pool areas, Gym Showers, and Dorm bathrooms are a breeding ground.
Wearing Flip Flops when you have Athlete's Foot helps prevent further spreading and healing, and wearing them when you do not have Athlete's Foot will prevent you from getting the infection initially.
Cleaning your Flip Flops and Drying them after each use is essential to prevent bacterial and fungal build-up and protect your feet or help with the healing process.
---
So How do You Choose the Right Flip Flops for Athlete's Foot?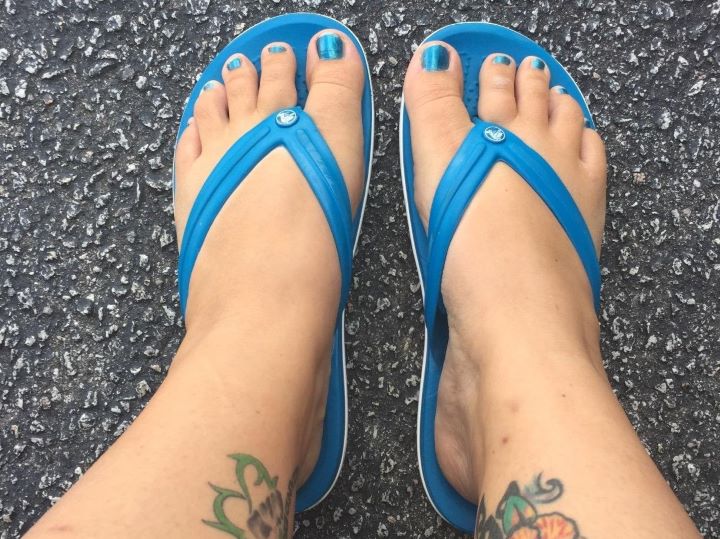 Easy To Clean and Water Freindly – Opt for Flip Flops that are made of water-friendly materials such as EVA, plastic, or Rubber, which you can wear in the Shower to the pool or beach. Keep your Flip Flops clean and dry, and wash them after every use.
Comfort and Support – Also, look at comfort and support features in your flip flops, such as a cushioned and comfortable footbed and a secure fit.
Slip Resistance – If you wear your Flip Flops in wet conditions and on slippery surfaces, you also need to ensure the sole offers good grip and traction.
---
Features of a Good Flip Flop for Athlete's Foot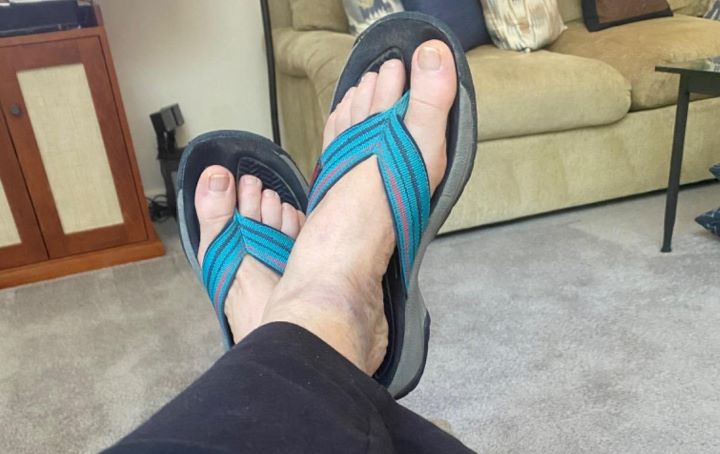 Uppers – Most Flip Flops will have either a plastics, synthetic, or rubber uppers strap, which is ideal for water resistance, and then there is also a leather option which I do not recommend getting wet.
Sole – The sole usually consists of rubber, EVA, or other foamy materials, and in some models, it may be linked with a leather or microfiber lining. I do not recommend leather, however, for wet conditions.
Outsole – The outsole is best in rubber for better grip with lug patterns. Though EVA and other materials could be used for the outsole.
---
Reviews: The Best Flip Flops for Athlete's Foot
Below we have some of the best available sandal brands and models that are good for Athlete's Foot;
We hope you love the products we recommend!
So that you know, We may collect a share of sales or other compensation from the links on this page.
---
1
Cushioned Flip Flops for Athlete's Foot
The FitFlop Iqushion is one of the most comfortable and versatile sandals to prevent and treat Athlete's Foot.
The FitFlop Iqushion consists of an Airy Foam material with rubber straps that can be cleaned and dried regularly to prevent the Athlete's Foot or help cur it.
There is an ergonomically designed cushioning footbed with arch support.
SAdditional cushioning in the heel and forefoot is also great for shock absorbency.
You can likewise get the Iqushion plenty of colors to select from as you prefer.
---
2
The Crocband from Crocs is a water-friendly, foamy Flip Flop with features ideal for Athlete's Foot.
Croccslite material is used to construct Crocs footwear, a light, durable and foamy material that is water-resistant and does not hold moisture causing bacteria and Athlete's Foot.
You can choose your favorite color from many in the Crocband Range.
The Crocband also offers good underfoot cushioning with a supportive and contoured footbed.
---
3
Sporty Flip Flop for Athlete's Foot
The Keen Kona is a robust and sporty style flip flop ideal for Athlete's Foot and prevention.
The Textile Upper is easy to keep clean and dry very quickly.
There is a breathable leather lining on the footbed to prevent moisture build-up.
The Metataomical EVA cushioned footbed provides ample comfort and support.
There is also a Non-marking durable rubber outsole.
---
4
Beach Flip Flop for Athlete's Foot
The Havaianas Flip range comes in a massive variety of colors and patterns, in an easy-wearing flip flop ideal for wearing to the beach or pool.
The design is very lightweight and comfortable with availability in many color selections and patterns.
The footbed is lightly cushioned and comfortable.
The uppers are synthetic and durable.
The materials in the flip flop are all water-resistant and easy to clean and dry.
There is also a Rice Pataterened sole for extra slip resistance.
---
5
The Flip Flop from Reef features Nubuck leather upper, which is more sophisticated in a flip flop sandal.
The rubber outsole provides excellent traction and grip.
There is also a cushioned and comfortable footbed that is PVC-free.
The whole design is water-friendly and breathable to prevent bacterial growth and prevent the Athlete's Foot.
---
6
Comfortable Flip Flop for Athlete's Foot
The Sanuk Flip Flop has a comfortable Yoga Mat Footbed design, and Neoprene lined upper.
There is a Nylon webbing upper with a Neoprene lining for moisture management.
The footbed is contoured for comfort with Yoga Mat cushioning and arch support.
The Happy U-Sponge outsole offers excellent shock absorbency and is durable.
The design is water-friendly and quick drying.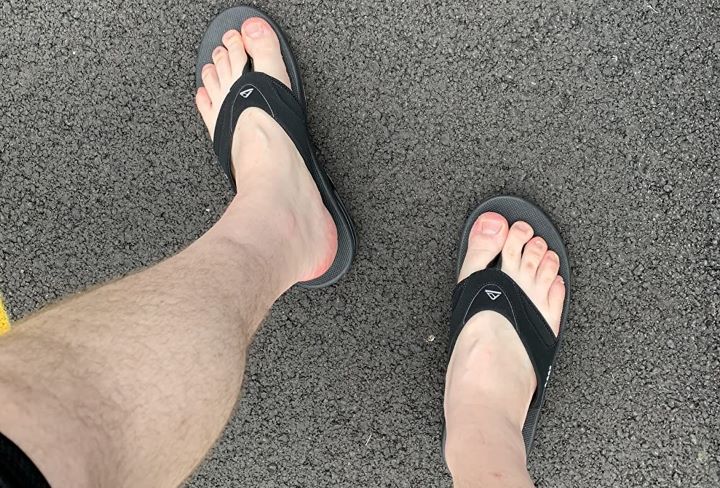 ---
7
Athlete's Foot Flip Flops
The Crocs Athens Flip[ Flop offers you comfort and an open breathable flip flop sandal to relieve the Athlete's Foot.
The Flip Flop is very lightweight and breathable with a durable synthetic sole.
There are massage pods in the footbed, which is also moisture-wicking.
The flip flop consists of a soft and foamy, cushioned Crosslite material.
There are also a few colors from which you can select.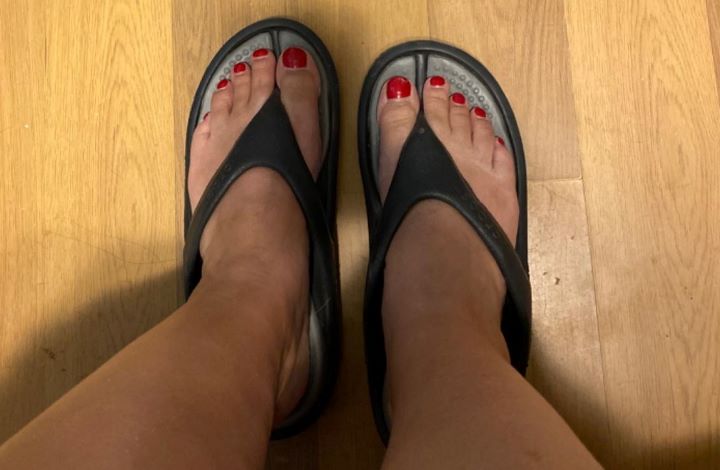 ---
8
The Telic energy is a comfortable and cushioned open design Flip Flop perfect for an athlete's foot and other foot conditions.
The Telic Flip Flop offers orthotic grade support and comfort along with a breathable design.
The entire flip flop consists of Novalon material that molds to your feet' shape when heated and offers a customized fit.
There are also a few color options available in this range to select.
---
9
Arch Support Athletes Foot Flip Flops
The Vionic Wave Toe Flip Flop offers excellent support and relief from Athlete's Foot.
The fabric uppers keep your feet dry and comfortable.
There is a Biomechanically engineered Podiatrist-designed footbed with optimal arch support and cushioning.
The design is lightweight and open for optimal airflow.
The sol offers excellent slip resistance and is a durable rubber.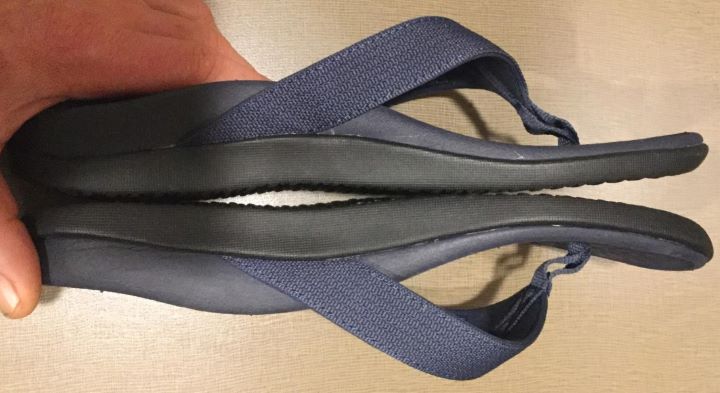 ---
10
The Gumbies canvas Sandal will keep your feet dry and comfortable and free from infections.
The Rubber Sole is durable and offers good slip resistance.
The Canvas materials and linings keep your feet dry and free from infections and bacteria.
There are many color options available in GUmbies Flip Flops.
The footbed also offers some comfortable cushioning and support.
---
Index Table: Top Rated Flip Flops for Athlete's Foot
---
---