The Flip Flop is an extremely versatile and casual sandal we all own at least one pair of.
But why not take the comfort further by investing in a pair of the best memory foam flip-flop sandals to improve their comfort?
---
Why Invest in Memory Foam Flip Flops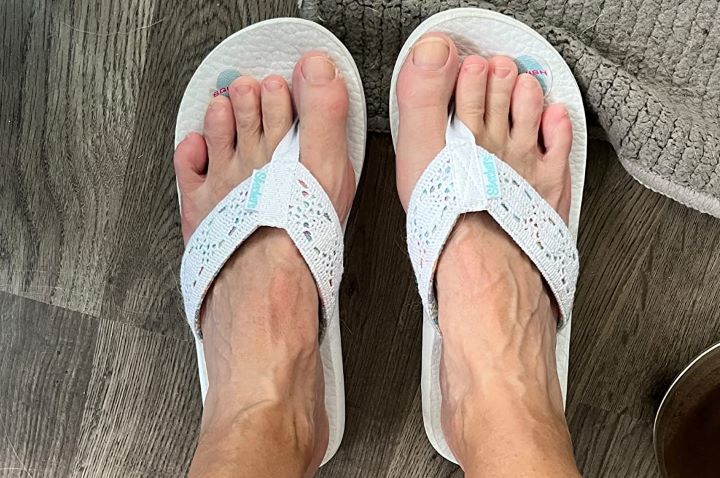 We all love a comfortable pair of flip-flops, but why should you opt for a Memory Foam Flip Flop?
They Are Comfortable – If anything, there is nothing as plush and comfortable that provides the cushioning that memory foam does. Memory foam molds and shapes the unique shape of your feet to provide targeted comfort, cushioning, and support. Memory foam evenly distributes your balance and will return to its original shape after you have worn your memory foam flip-flops.
Memory Foam Eases Foot Pain – Memory foam provides cushioning that reduces pressure on your feet and evenly distributes weight. Therefore, it also provides excellent pain relief, especially for heel pain. Memory foam flip-flops are ideal for relieving pain and symptoms associated with spurs, corns, and neuroma.
Excellent Pressure Relief – As we have mentioned, the memory foam footbed of your flip-flops greatly reduces pressure and hard impacts on your feet from standing or walking. The Memory foam does not just absorb pressure but also releases energy after every step that you take.
Shock Absorbing – Memory Foam in Flip Flops offers excellent shock absorbency, especially in the heel area where you need it most. This, in turn, helps to provide better stability and helps with issues such as heel pain and plantar fasciitis.
Minimizes Fatigue – A memory foam footbed in your flip-flops makes them comfortable, cushioned, reduces impact, and returns energy to your feet. This, in turn, helps to reduce foot fatigue. Memory foam flip-flops can be ideal if you are on your feet for long periods.
Can provide Some Warmth – Although this is not a benefit you want in a flip flop, or any sandal for that matter, memory foam does absorb body heat and create warmth. Warmth can be excellent for reducing swelling and foot pain. However, most memory foam flip-flop technologies are also designed to have cooling capabilities, and flip-flops are generally well-ventilated.
---
Flip Flops and Their Uses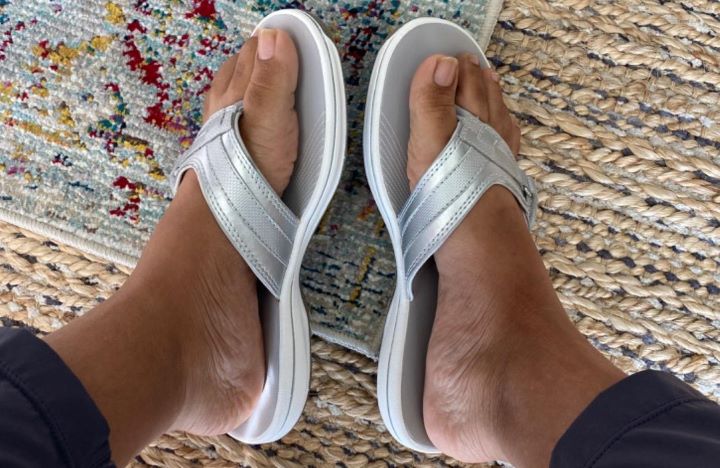 Flip Flops are one of the most versatile, comfortable, and widely accepted summer sandals that you will find.
They come in various styles, from casual beach flip-flops to more formal heeled or leather flip-flops.
They are comfort shoes, and when they have a memory foam insole or footbed, they can be the most comfortable summer sandals you own.
---
Features of a Good Memory Foam Flip Flop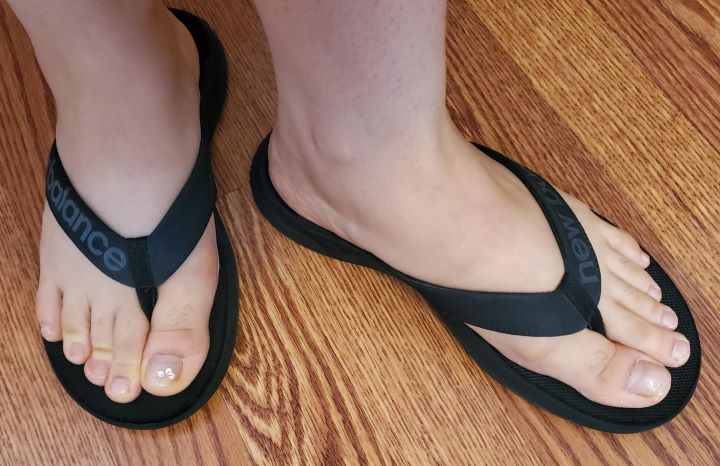 Uppers – The Upper T-Strap of the Flip Flop can consist of a variety of materials. Textile such as polyester may be used, or genuine or synthetic leather. Some Crosslite Foam Flip Flops may have the Upper as a similar material to the rest of the sandal. You may find upper straps with either a single layer, a lined layer, or foam and lined layer at the top. Colors may vary, and there should be plenty to choose from depending on the model.
The Footbed and Midsole – Memory foam will be prevalent as a cushioned insole or footbed. Different flip-flop brands use different forms of technology or layering to employ memory foam in the footbed or insole of their flip-flops. Additional foam layers such as EVA may be used in the footbed or the midsole for firmer support and shock absorbency.
Outsole – Generally, the outsole is either EVA foam, Rubber, or synthetic, depending on the flip flop type. However, it is good to check for a more patterned tread if you want something that will offer good traction and slip resistance.
Options – Most memory foam flip-flops models offer color options and sizes, and some may even have extended width options.
Other Technologies – A contoured design anatomical footbed, traction pods, or a shank may be added to the flip-flop sandal for further support and functionality. Most flip-flop sandals have water-resistant or quick-drying upper materials that are easy to clean and maintain.
---
Reviews: The Best Memory Foam Flip Flops
Below are our top choices in Flip Flops with a Memory foam footbed.
We hope you love the flip-flops we recommend!
So that you know, We may collect a share of sales or other compensation from the links on this page.
---
1
Memory Foam Flip Flop Sandal
A comfortable memory Foam Flip Flop sandal from Skechers is the Evented Arven.
The Upper is a soft canvas fabric with a sip-on design.
In the footbed, you will find memory foam with 360 degrees cushioning and a padded strap lining,
The memory foam offers full-length comfort and padding.
The sole is lightweight and flexible with a high traction tread.
---
2
The Flip flop sandals from Under Armour feature a comfortable memory foam insole and a supportive footbed with an anatomical shape.
the Straps are synthetic leather with a lined foam for comfort.
There are more colors available from which you can choose.
The Footbed has two layers of 4D performance foam and memory foam.
There is a re-engineered EVA outsole with built-in traction pods in the heel for cushioning.
The sandals are lightweight and quite durable.
---
3
The Crocs Reviva Flip Flops have a pampering Memory foam padded footbed for your comfort.
The Upper area is a synthetic and durable material with a lining.
There are also more colors available.
The Footbed has memory foam, and bubbles infused to comfort and massage your feet.
The outsole is durable and ensures good traction.
---
4
Memory Foam Flip Flop Sandal
I have chosen these two brands and sandals models for their similar features and well-cushioned Memory Foam Footbeds.
Clarks Breeze Sea
The Clarks Breeze is available in many color options.
The uppers are synthetic, and there is a rubber outsole.
The front strap can be adjusted for a better fit.
The footbed consists of plush and comfortable memory foam.
Skechers Bosnia
The Uppers consist of soft canvas materials, and a few neutral color selections are available.
There is a comfortable plush padded memory foam footbed,
The outsole is durable and provides good slip resistance.
---
5
These are two different Flip Flops brands, both with a memory foam footbed and other similar features.
Both flip-flops have a sporty style.
The Skechers Flip Flop features a textile upper and a relaxed fit with a full memory foam footbed.
The Nike Flip Flop has thin synthetic leather straps with a stacked memory foam footbed and a textured outsole for better traction.
You can also get these flip-flops in other color options.
---
6
Comfortable and supportive Flip Flops from Skechers feature a plush memory foam footbed.
Both flip-flops have lined textile upper and are available in more colors.
They have a Yoga Foam and Memory foam design footbed for a plush and comfortable cushioning.
The outsole is a durable and high traction rubber.
The fit is more relaxed with a roomy toe box.
---
7
The New Balance V1 Flip Flop is a lightweight and Comfortable design.
It has an EVA sole with soft moldable cushioning that conforms to your foot.
The sole is flexible and lightweight.
There is durable Rubber in the outsole for grip and traction.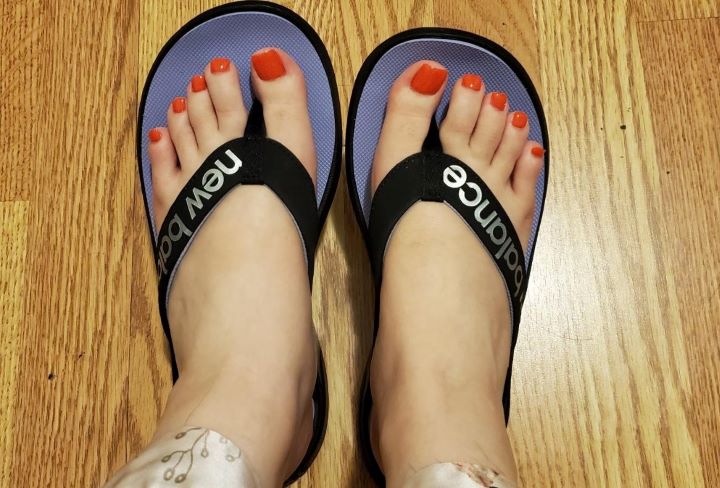 ---
8
The range from Nike features soft memory foam footbeds.
We have the Comfort three for women and the Nike Mule for men.
Both are flip-flop designs with a memory foam footbed and synthetic straps.
There are also more colors available to you.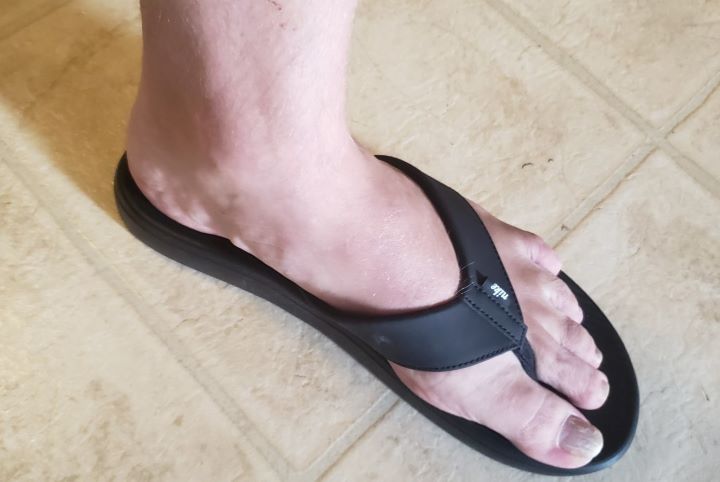 ---
9
From Norty, we have some superb memory foam flip-flop sandals.
They have a memory foam sole and a durable high traction outsole.
The design is very lightweight and comfortable.
There are also more colors at your disposal.
---
10
The Under Armour Ignite lii range offers some excellent memory foam flip-flop sandals.
It has anatomical contours for exceptional support and comfort.
The Outsole is a re-engineered EVA material.
There are also more colors available to you.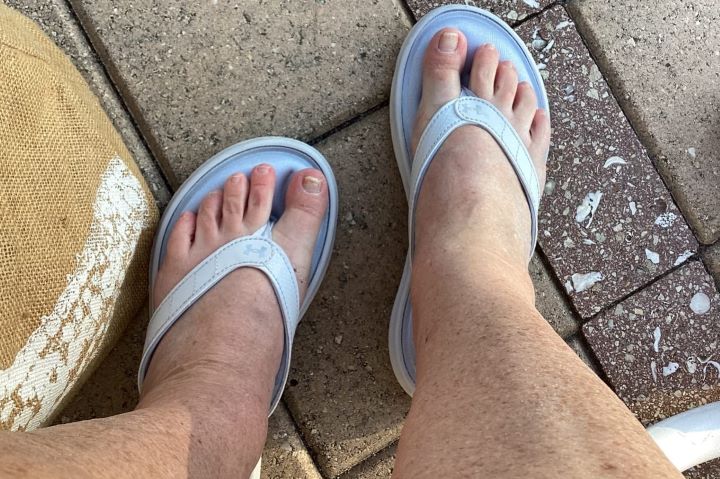 ---
Index Table: Top Rated Memory Foam Flip Flops
---
---