Flip Flops are an absolute summer staple. Everyone should own at least one pair.
Flip Flops generally offer a medium to wide width fit, but what about those of us with more narrow width feet?
Today, we will look at some of the best Flip Flops for narrow feet available in narrow widths or generally have a more narrow fit.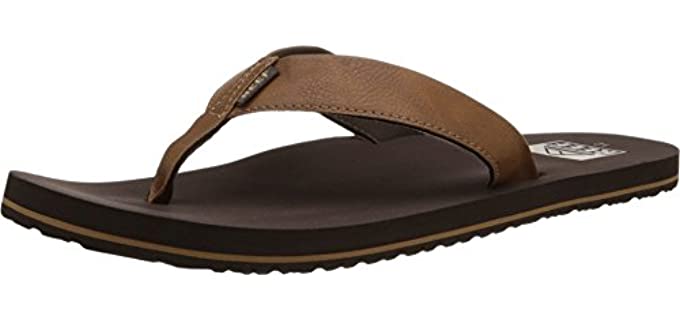 ---
---
Narrow Feet Recommendations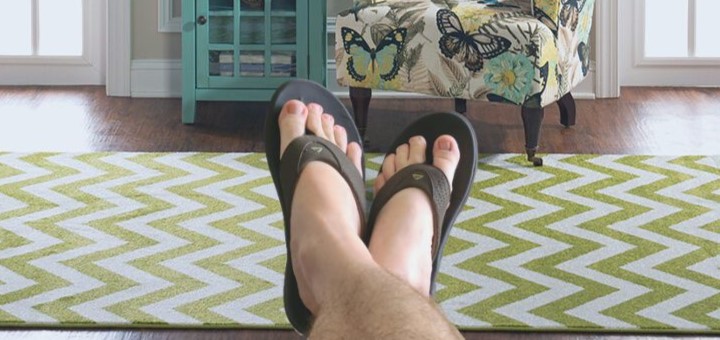 If you find that many shoes, sandals, and flip-flops fit the length of your feet perfectly but leave plenty of space at the sides of your feet, you might have a more narrow foot shape.
If your foot width is around 3 1/16 inches in size seven shoes or 3 3/8 inches in size nine shoes, then you have narrow feet.
You must keep narrow feet the same. Only make your footwear more comfortable, which is generally easy with closed-style shoes, as you can add insoles or opt for narrow-width options.
But the options are a bit more limited when it comes to something like flip-flops.
Flip Flop sandals are generally a good choice for Narrow feet as they flatter this foot shape. The nature of flip-flops is also such that it does not matter if the flip-flop is a bit wider at the sides.
However, some brands and models have more narrow fitting options or sizes available in a narrow fit.
---
How Wide Feet Compare to Narrow Feet
When it comes to wide feet in comparison to narrow feet, there are a few characteristics;
Wide Feet – Wide feet may be genetic or caused, such as swelling, edema, pregnancy, and other foot issues, such as fat feet. There are also many more conditions and issues related to wide feet and the main complaint of footwear fitting uncomfortably. Unfortunately, with wide feet, you need to find footwear that fits wider and your specific width, as you cannot adjust shoes with narrow feet. Most wide-fit shoes and sandals are usually available in D or 2E and similar options, and many shoes in half sizes are their wide-width ranges. You get wide and extra wide-width shoe and sandal options that are quite easy.
Narrow Feet – Narrow feet generally do not have any complaints or issues, except for feet sliding around in shoes that are too wide fitting and some blisters and chafing. Generally closed styles shoes can be adapted with inserts and insoles to accommodate narrow feet. Sandals and shoes are available in narrow-fit designs, but these are less prevalent than wide-fit options. A Narrow fit shoe or sandal for narrow feet is generally rated as 2A or AA.
---
Features of a Good Flip Flop for Narrow Feet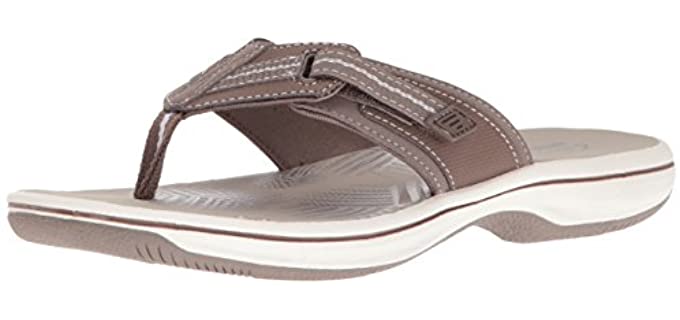 Uppers – The uppers can consist of anything from leather to textile materials or even rubber, depending on the design of the flip flop. The uppers in a narrow-fit flip-flop usually offer a tighter and more secure fit. A few flip-flop brands and models also offer an adjustable fit option to get a more customizable fit.
Footbed – Depending on the brand and model, the footbed may have to cushion in EVA, foam, or memory foam. The footbed may also be contoured with heel support, arch support, or a biomechanical shape and design for support and comfort. In terms of a narrow fit, flip-flop sandals with a contoured or anatomical fit will generally offer a narrower fit.
Sole – The Outsole or entire sole may contain the same materials. However, most flip-flop designs come with a rubber or synthetic outsole that is more durable, with a patterned tread for slip resistance.
Options – Depending on the brand and model, many flip flops offer a wide or narrow fit or half-size and full-size options, of which the full sizes are usually more narrow or standard in fit. You can also choose from some colors and prints available in a specific model or brand of flip-flops.
---
Reviews: The Best Flip Flops for Narrow Feet
Our review section has some superb sandal brands and models offering a narrower fit option.
We hope you love the flip-flops we recommend!
So that you know, We may collect a share of sales or other compensation from the links on this page.
---
1
Flip Flops for Narrow Feet
The Ecco Flowt and Cosrksphere have a cushioned and comfortable designed footbed with a more narrow-shaped fit.
The Upper consists of genuine leather, and the outsole is a durable and high-traction rubber.
The ECCO Corksphere has a suspended footbed that adapts to the shape of your feet, with Fluidform Direct Comfort technology and a suede leather insole lining.
The ECCO Corksphere is available in more colors and generally offers a more narrow fit.
The ECCO Flowt for men has Fluidform injection technology in the footbed, with a PU cup sole platform and molded EVA cushioning.
---
2
The FItFlop Iqushion range features a footbed with strategically placed cushioning, arch support, and a narrower fit.
The Iqushion features an Ultra Light and ergonomic design.
The Heel and forefoot are biomechanically engineered for support and cushioning.
The footbed also has a raised arch for arch support.
The fit is generally narrower and more lightweight.
There are also more colors available to you.
---
3
Flip Flop for Narrow Feet
The Chaco play flip flops have a narrow-fitting design and plush and comfortable Loveseat PU midsole.
The Chaco Play has textile and leather uppers for comfort and a more comfortable and narrow fit.
The footbed has a LUVESEAT PU design with cushioning for shock absorbency.
The sandal has a Three-Point adaptable fit for a more comfortable custom fit.
There are also more colors available to you.
---
4
Flip Flop for Narrow Feet
The Reef Flip Flop sandal models are ideal for narrow feet, with a more casual design.
The Reef sandal is a more lightweight sandal ideal for beach and pool wear.
They have textile and synthetic leather uppers straps and a durable high-traction sole.
The flexible rubber sponge construction provides plenty of durable cushioning and support.
They are also narrower in fit and come in more color varieties.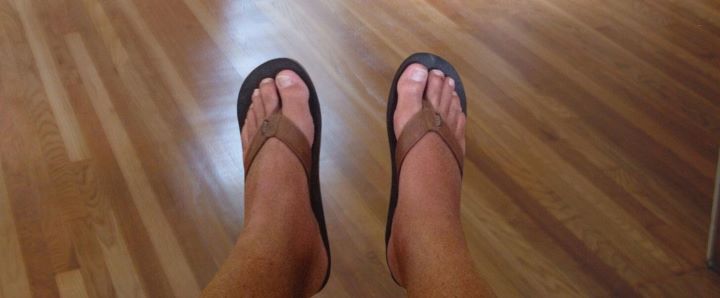 ---
5
The FItFlop Surfa has a contoured and arch support footbed designed to fully support a more narrow foot shape.
The FitFlop Surfa has synthetic straps lined and padded for comfort.
They have a thicker, more durable rubber sole for better grip on most floor surfaces.
The footbed has a Biomechanical design, super-cushioning, and micro-wobble board.
There is also a seamless built-in arch contour for proper arch support.
They are available in narrow fit options and more color ranges.
---
6
Flip Flop for Narrow Feet
The Clarks eBayer and Brinkley are comfortable flip-flop sandals with a more narrow-shaped fit and adjustability features.
These two sandal models offer a narrow, comfortable fit and more color options.
They have quick-drying textile uppers for your comfort.
The footbed is cushioned and soft for comfort.
The outsole has a patterned tread for better traction and grip.
---
7
Flip Flops for Narrow Feet
The Reef Rover is a leather Flip Flop.
It has an arch-support cushioned footbed.
The strap is lined for comfort, and there are more colors available.
The sole offers a good grip.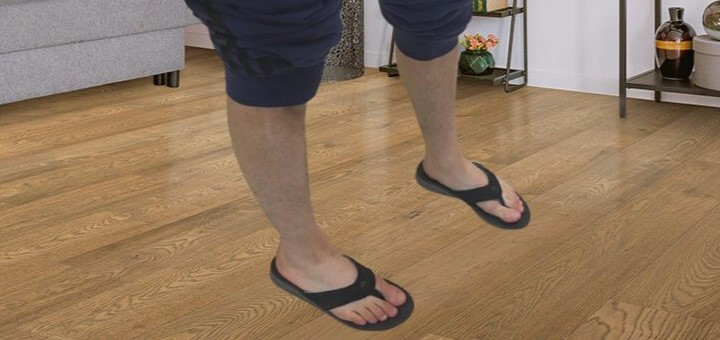 ---
8
From Under Armour, we have a more narrow-fitting flip-flop sandal.
The sandal has a fats drying TPU strap and is available in more colors.
The fit is more narrow, and the footbed cushioning.
The rubber sole offers a good grip.
---
9
Flip Flops for Narrow Feet
This is the slim-fitting design from Havaianas.
It offers a slim fit and comfortable design.
The EVA sole and rubber sole are durable.
It is available in more color options.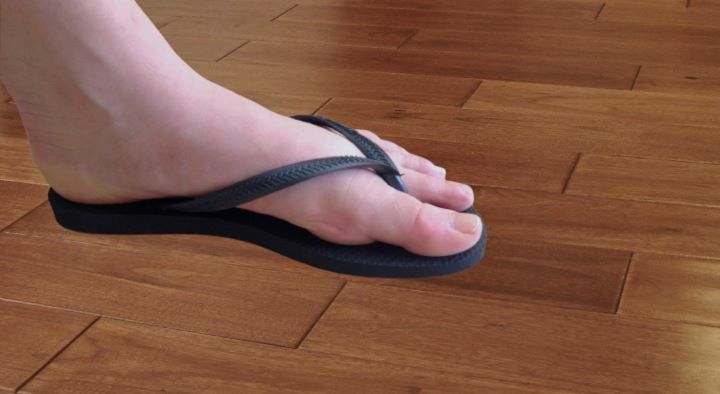 ---
10
Flip Flops for Narrow Feet
The Rainbow Flip Flops are arch support narrow fit.
They have a box toe construction and a single layer arch support,
The toe piece is nylon.
There are also more color options available.
---
Index Table: Top Rated Flip Flops for Narrow Feet
---
---