If there is one item that you cannot go without when visiting the beach, then it is your beach flip-flops.
Flips Flops are one of the most versatile and favored beach and pool footwear designs that you can get.
Beach flip flops are available in a large variety of designs and colors, making that summer experience so much more fun.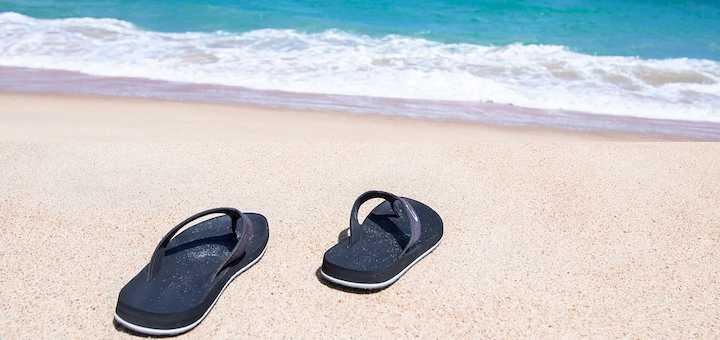 ---
Flip Flops for Beach Wear
Flip Flops are the most popular footwear that people wear on casual and leisure days during the summertime.
The Flip Flop is s sandal consisting of a flat sole held together on foot with a Y-shaped strap that passes between your first and second toe. This is the basic Flip Flop design, although there are some variations.
Yet, today we will be focusing on this basic design called the beach flip flop.
Flip Flops are affordable, extremely easy to wear, and provide a light layer of protection, making them ideal for the beach.
The lightweight, water-friendly, and easy cleaning design of the flip flop are perfect for beachwear to protect you against hot sand and when walking on pavements. They also slip off easily when you want to take a quick drive into the ocean.
---
Benefits of Beach Flip Flops
Flip Flops for beachwear have many benefits. Let us take a look at a few of them;
Easy To Wear – First and foremost, they are so straightforward to wear. You just slip them on and off. Because they are lightweight, they also slip easily into a beach bag. You can enjoy protection when your need, and the feel of the sand under your feet when you take them off.
Readily Available – Flip Flops are among the most available sandal types on the market. There is no beach shop or clothing store that will not have flip-flops readily available in the summertime, and some even in the wintertime.
Fun Designs – Flip Flops come in all kinds of colors, prints, and designs to suit every requirement and fashion style. There are just so many to choose from for adults and children.
Technology – Beach Flip Flops are generally not very supportive and lack any comfort to support technology. However, some brands and models offer additional support and cushioning in the footbed of their flip-flops if that is what you need. I will be placing a few of these designs in the review section.
Comfortable – If anything flip flops are comfortable to wear. They allow your feet to breathe and allow for freedom of movement and for your toes to splay out.
Easy To Clean – One of the things I love about the general beach flip flop is that they usually consist of materials that are water-friendly and super easy to clean. You just rinse them off or wipe them down.
Affordable – Besides your more orthotic designs, most beach flip flops are extremely affordable, and you can own more than one pair.
---
Features of a Good Beach Flip Flop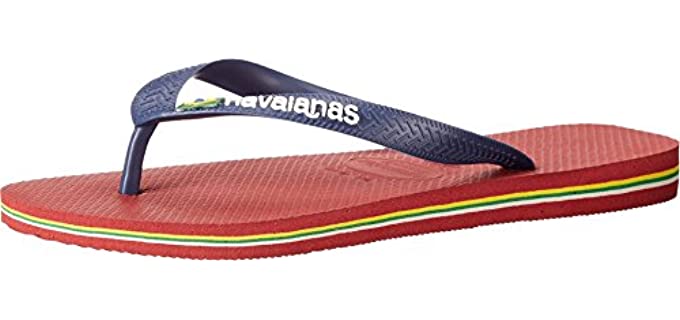 Uppers – Flip Flops have a Y-shaped strap that comes between your first and second toe, which is attached to a solid sole. The Upper strap for Beach Flip flops will usually be a water-friendly material such as plastic or rubber, and some may be leather or synthetic leather or canvas materials such as cotton.
Sole – Most beach flip flops have either a rubber or EVA sole that is water-friendly and soft. There are, however, other sole materials depending on the brand.
Options – This is where the fun start. Most beach flip flops come in colorful designs and prints with that summery feel. You also get more solid colors and options in neutral colors. It all depends on the specific brand and models and the colors they have available. Sizes will also be available for men and women.
---
Reviews: The Best Beach Flip Flops
These are our top favorite picks for beach Flip Flop sandals;
We hope you love the flip flops we recommend!
So that you know, We may collect a share of sales or other compensation from the links on this page.
---
1
The Iqushion range from FitFlops is one of the most comfortable flip-flop sandal ranges out there.
The uppers are a durable synthetic material.
The footbed has an anatomical shape with light foam that is biomechanically engineered.
There are a heel and forefoot cushion and excellent arch support.
The sole is quite flexible, and the outsole has patterns for grip.
There are also plenty of solid colors to choose from as well as contrasting colors.
---
2
The Havaianas Top range offers basic color options and a comfortable design.
The Uppers are synthetic, and the sole is synthetic foam.
The flip-flops are very durable and waterproof.
They are extremely lightweight and comfortable to wear with a versatile design.
---
3
The Reeff cushion Breeze for ladies features soft textile uppers and a water-friendly and durable design.
The Sole of the Cushion Breeze has an EVA footbed and a spongy rubber outsole for cushioning.
The Twinpin flip flop for men has synthetic leather uppers and a full EVA sole.
The Twinpin boasts an EVA footbed with arch support and an anatomical design that offers excellent support.
Both sandals are available in more color selections.
---
4
From Havaianas, we have the Slim for Ladies and Brazil for men, which is available in the Brazilian color options.
Both sandals have a slimmer soiled that consists of soft and foamy materials.
The flip flops are of excellent quality and consist of durable materials.
The materials are all water-friendly and easy to clean.
The soles have a patterned tread for better grip and traction.
---
5
The Reeff Fanning and Sandy are more stylish and fashionable beach flip-flops for all occasions.
The Fanning has leather uppers, an EVA sole, and a durable rubber outsole.
The Sandy features Polyester fabric uppers, a supportive footbed with foam and arch support, and an anatomical design.
The Sandy also has a Herringbone patterned rubber outsole for traction.
Both sandal models can be obtained in more color options.
---
6
The Upper straps consist of 100% synthetic materials.
The Sole on the All Day Flip Flop has an anatomically shaped footbed, while the Dama has an all-over printed EVA footbed.
The Strap on the Dama is molded, and the All Day has a dual plug reinforcement for its strap.
Both sandals are available in more colors.
---
7
The Surfa design Flip flop from FitFlop is elegant, stylish, and very comfortable for beachwear.
The Men's Surfa has a textile thong upper and is available in three neutral color selections.
The Ladies Surfa has a fabric thong upper design decorated with crystal rhinestones and is available in either pink, lavender, or black color selections.
Both shoes feature a biomechanically engineered comfort and support footbed with super cushioning and a micro wobble board pressure diffusing midsole.
The durable outsole offers good traction and slips resistance, and there is a seamless built-in arch contour.
---
7
These are two secure-fitting flip-flop models from Teva.
They are perfect for on and off the beachwear.
The uppers are textile and leather, and the sole is a durable rubber.
The footbed is contoured and cushioned for support and comfort.
---
8
The Havaianas flip flops have a basic design.
They are water-friendly and quick drying.
Lightweight and easy to wear to the beach.
They also come in a few more colors options.
---
9
The Vionic Tide range is very comfortable for beachwear.
They have synthetic uppers and a rubber outsole.
The footbed offers arch support and cushioning.
There are also more colors available to you.
---
10
From Oofos we have a sports sandal which is also ideal for the beach.
It is lightweight with foamy cushioning.
The materials are water-friendly and quick drying.
---
Index Table: Top Rated Beach Flip Flops
---
---