Having diabetes does not just affect your blood sugar labels and overall health, but it can also have an impact on your feet. Diabetes can cause nerve damage that, for the most part, does affect your feet.
When you have diabetes, you need specialized shoes that offer more comfort features and a more accommodating fit, especially if you have nerve damage or numbness in your feet. Generally, a difficult type of shoe to find when you have diabetes is a sandal. However, Clarks sandals for people with diabetes are designed to be more comfortable and more accommodating in fit.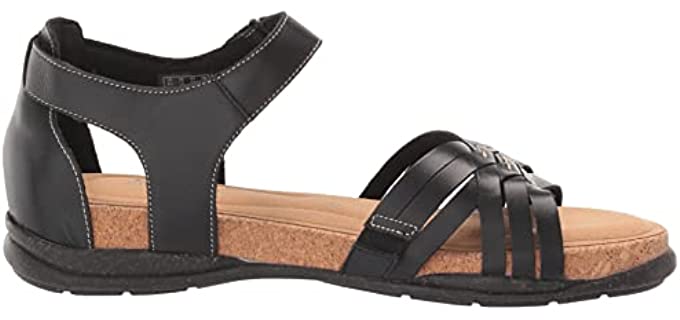 ---
How Diabetes Affects Your Feet
Here are the main ways in which diabetes can affect your feet;

Nerve Damage – First, nerve damage is mostly caused by diabetes, which affects your feet and hands first. A condition called peripheral neuropathy causes numbness, tingling, pain, and a burning sensation in your feet and toes, eventually leading you to lose all feeling in your toes and feet. This can be extremely dangerous in terms of injuries. You may not feel if you step on or hard or shop object, you may also not feel heat or cold. Overall, it is much more important to have the right sandals to protect your feet and keep them cool during summer.
Ulcers – Ulcers or sources can easily develop on your feet, especially if they are numb and lack feeling. Individuals who have diabetes generally also have very poor blood circulation, which means that sores, ulcers bruising take a very long time to heal.
Blisters – Did you know that many individuals with diabetes get blisters for no reason? If these blessers become infected, it may take them a long time to heal, increasing your risk of infection.
Infections – Individuals who have diabetes are much more prone to getting sick from infections because of their poor blood circulation. So a small sore, or also, or even a blister, which may take longer to heal, can easily get infected. It can cause infection and disease in the blood or cause tissue damage and eventually death of tissue in your feet or the affected area of your foot, which may lead to gangrene, which is especially dangerous.
---
Choosing Sandals for Diabetic Feet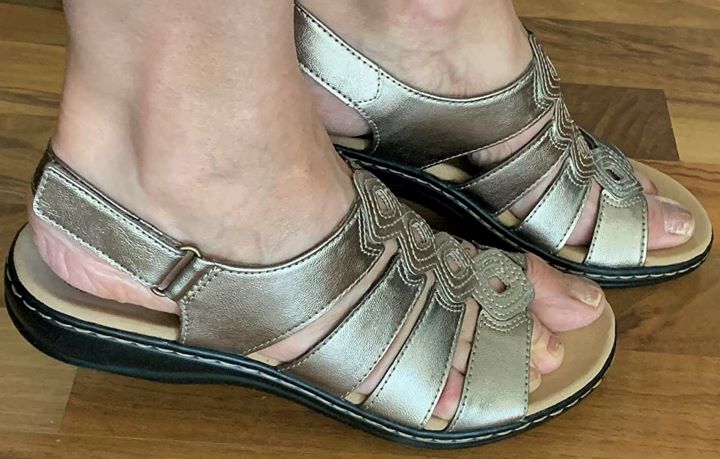 Now you need to take good care when choosing sandals initially when you have diabetes affecting your feet. Your sandals and any other shoots should offer excellent underfoot protection against hard and sharp objects. You also do not want a shoe or a sandal that will scrape, cause friction or dig into your feet, which can cause any sore or ulcer.
Good underfoot comfort is essential you want enough soft sandals with a cushioned foot bit that provides good support and stability. Having numb feet may also mean that you may be unstable on your feet and unbalanced, so I suggest you opt for a sandal that has. Supportive backstop and a more supportive and rigid sole.
---
Features of a Good Clarks Sandal for Diabetics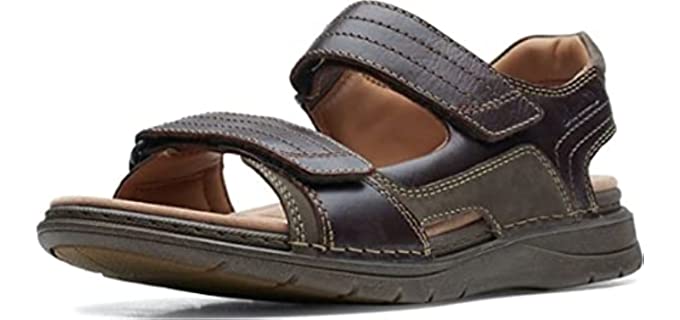 Uppers – Clarks sandals come in many designs, casual sandals,, and formal sandals from which you can choose. Most of those sandals have leather or textile uppers, and their sandals may be lined and padded for comfort. The uppers will also be adjustable to adjust fit your needs.
Support and Cushioning – Clarks sandals will have a comfortably cushioned footbed with a more contoured design to give your feed better support and alignments. Offer good stability and arch support features.
Outsole – Most of these sandal models will have either a rubber or EVA outside that is thick, and that will protect your feet from sharp and hard objects.
Options – Clarks sandals are available in various colors and sizes,, and some models offer wider width fits.
---
Reviews: The Best Clarks Sandals for Diabetics
We hope you love the products we recommend!
So that you know, We may collect a share of sales or other compensation from the links on this page.
---
1
Sandals for Diabetic Feet
Here we have two sporty and casual sandals from Clarks that are ideal for Diabetic feet.
They have adjustable leather and fabric uppers and a durable rubber outsole.
There is a durable rubber outsole for traction.
The sandal has a supportive and well-cushioned footbed.
---
2
Sandals for Diabetic Feet
The Cove and T-Bar sandals from Clarks are ideal for Diabetic feet.
They have a wide and roomy fit with adjustable and flexible uppers.
The outsole is a grippy rubber for stability.
Inside is a soft and cushioned footbed.
---
3
Sandals for Diabetic Feet
These are two sporty and casual sandals for Diabetic feet.
They have fully adjustable and comfortable leather uppers that are lined.
The footbed is cushioned with arch support and an EVA midsole.
The sandals are available in a few more colors.
---
4
Fisherman's Sandals for Diabetic Feet
The Clarks Fisherman style sandal is comfortable, with a more closed and protective design.
They have leather uppers with an adjustable fit.
The sandal is lightweight with an OrthoLite cushioned footbed.
The outsole is a durable rubber with a flexible EVA midsole.
---
5
Sandals for Diabetic Feet
The Slingback sandals from Clarks offer a stable and secure fit with leather, textile-lined uppers.
They have an OrthoLite and PU foam footbed, EVA, and a durable rubber outsole for shock absorbency.
The sandal is adjustable in fit and is available in wider widths.
There are likewise a few neutral color options available.
---
6
Sandals for Diabetic Feet
Here we have two excellent flip-flop models from Clarks for diabetic feet.
They have sturdy soles and an open design for swollen feet.
The sandals have a comfortable, roomy fit and soft Cloudstepper cushioning.
The outsole and midsole use EVA with a high traction tread.
---
Index Table: Top Rated Clarks Sandals for Diabetics
---
---