While we generally wear sneakers or athletic shoes for walking, it may not always be the best option, especially in warm weather.
This is where the best sandal for walking comes into play.
Today I would like to tell you more about Clark's sandal that is ideal for walking.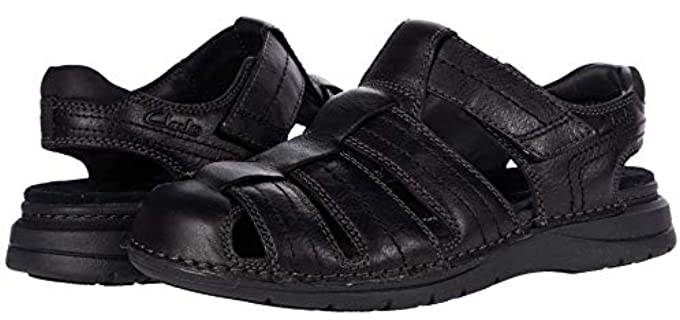 ---
---
Choosing Sandals for Walking
Generally, traditional flip-flops and flat sandals are an absolute no for walking.
When it comes to sandals for walking, you need to consider much more support, cushioning, and a good fit from your sandal.
There are still flip-flop sandal models you can use for walking; however, I recommend a sandal with an ankle strap and a more secure fit.
Here are a few features that you need to consider when looking for the best sandal to walk with;
Adjustable Straps – Look for a sandal with adjustable uppers straps that allows you to adjust the fit to the most comfortable fit.
Cushioning and Support – Make sure the sandal has cushioning in the footbed and midsole, which will absorb shock as you walk and provide comfort. Also, look for a more contoured footbed form or one offering good arch support.
High-Quality Slip Resistant Sole – The sole must be good quality and offer excellent grip and slip resistance for walking. I suggest always opting for a lug-patterned rubber outsole.
---
Clarks Sandals for Walking
Clarks do have some great sandal options for walking;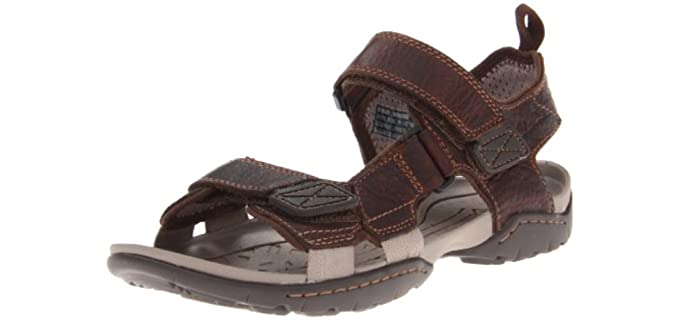 Sunder Range – The Sunder range is a simplistic and adjustable sandal design that has soft nubuck leather uppers to mold to your feet and a durable rubber outsole.
Nature Limit Fisherman's – This is a more closed-style sandal ideal for toe and foot protection when walking. The uppers are leather, and the sole is durable rubber.
Nature Trek – The Nature Trek is a Wraparound sandal design that adjusts across your feet for comfort. It is a premium leather design with an ergonomic and cushioned footbed.
Brinkley Flip Flops – For the ladies, the Brinkley flip flop range is ideal for walking as they have Cloudstepper support and comfort technology and adjustable, comfortable uppers.
Tri-Walk – The Tri-Walk range from Clarks are sporty sandals with rip tape fastenings and adjustable uppers. They are supportive and cushioned.
Sail – The Sail sandals are crafted sporty sandals with Wavewal motion control, technology, and a contoured comfort footbed.
Tri-Sport – The Tri-Sport sandal range is ideal for walking and day-to-day wear. They have a flexible sole and engineered foot-shaped cushioned footbed and fit.
---
Features of a Good Clarks Walking Sandal
Uppers – Clarks sandal ranges usually have leather or synthetic uppers; some have textile uppers and a breathable mesh lining. You also get rip tape fastenings in some of the adjustable upper models.
Cushioning and Support – Different cushioning and support features are used, such as the Cloudstepper range. Wave motion, motion control support, Ortholite Footbed, and EVA for shock absorbency in the midsole. All Clarks sandals have an engineered foot-shaped design and footbed for support and comfort.
Outsole – Clarks sandal models have a Rubber outsole with patterned tread for grip and to the. Some models have an EVA outsole, which could be better for regular walking.
Options – Clarks sandal models offer some color choice. There are also usually plenty of sizes available to you.
---
Reviews: The Best Clarks Walking Sandals
Listed below are some of our top favorite sandal models from Clarks that are ideal for walking;
---
1
The Clarks Un-Trek and Tri-Sporty are both comfortable and durable sandals for walking.
The sandals have leather uppers with a smooth textile lining.
The Uppers are adjustable with a hook and loop closure system.
The sandal offers a cushioned, supportive footbed and a durable high traction outsole.
---
2
The Clarks Nature Trek and the Eliza April ate comfortable sandals for walking.
The Nature Trek is a wraparound sandal that will adjust according to your feet.
The Nature Trek is leather-lined for comfort and has an ergonomic footbed and a durable lug rubber outsole.
The Eliza April Slide sandal has Cloudstepper cushioning technology with an Ortholite footbed and EVA midsole to absorb shock.
The Eliza April has a durable, high-traction EVA outsole and comfortable textile uppers.
---
3
Walking Flip Flop Sandals
Here are two comfortable flip-flop models from Clarks that you can easily walk with.
The Step beat Dune has textile uppers and a durable synthetic sole, with Cloudstepper and cushion soft technology for cushioning and shock absorbency.
The Brinkley Jazz for the ladies features leather uppers that are adjustable in fit, with a rubber sole, Cloudstepper cushioning, and a cushioning soft technology Ortholite footbed.
The Brinkley also has a more flexible and durable EVA outsole and is ultra-lightweight.
---
4
Comfortable Walking Sandal
The Clarks Nature Limit and Solan Sail are ideal walking sandals outdoors and on trails.
The natural Limit has adjustable leather uppers and a leather sole that wraps the feet.
The Nature Limit also features an ergonomic, cushioned footbed and lug rubber outsole.
On the other hand, for the ladies, the Solan Sail has an EVA molded footbed, TPR rubber outsole, and smooth textile linings in the adjustable uppers.
Both sandals offer a few more color options.
---
5
The Clarks Hapsford Creek and the Solan Drift are also favored as versatile walking sandals.
The Hapsford Creek sandal has premium leather uppers, a textile lining, an Ortholite footbed, an EVA midsole, and a durable lug rubber outsole.
The Solan Drift sandal has an EVA molded footbed, TPR rubber outsole, and lined textile uppers.
Both sandals have fully adjustable uppers.
---
6
The Vellum Shore ad Arla Gracie is more stylish and casual walking shoes.
The Vellum shore is a leather sandal with breathable mesh lining and EVA shock-absorbing cushioning.
The Arla Shore features adjustable and comfortable lightweight uppers with an Ortholite footbed, EVA midsole, and a durable rubber outsole.
Both sandals are ideal for walking and looking good on your feet.
---
Index Table: Top Rated Clarks Walking Sandals
---
---