If you plan a trip throughout Europe, investing in some good sandals for walking is a good idea, especially if you are going during the summer.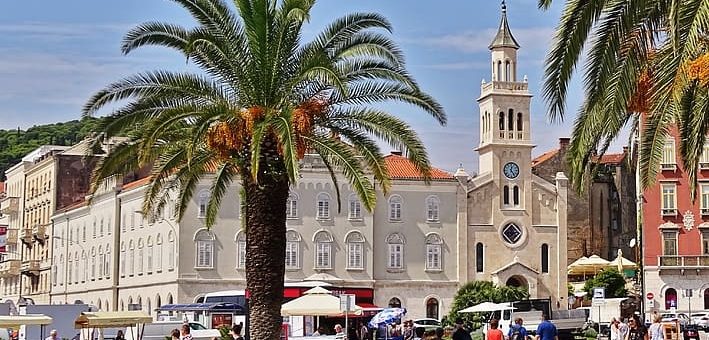 ---
---
Why Invest in Walking Sandals for Europe
Sandals are versatile and comfortable footwear, particularly for hot weather conditions, but they are only sometimes very supportive when walking.
So why should you get the right sandals for walking in Europe?

To Keep Your Feet Cool – When the weather gets hot, a closed design shoe can become overheating, resulting ins sweating, odors, and even infection. For these reasons, it is better to get a sandal for walking in hotter weather.
Good Support and Comfort for Walking – Many sandal brand sand models will come with cushioning and supportive footbeds ideal for walking. These models will also offer a comfortable fit to prevent foot fatigue and pain when walking.
Slip Resistance – Most sandal brands and models have a durable and slip-resistant outsole, particularly your sports and hiking models. When walking on various terrains and in wet and dry conditions, your sandal's outsole must offer good grip and traction. As well as that, they are durable.
Lightweight – Sandals are generally more lightweight and take p little space in your baggage, so you can take more than one pair.
---
Do's and Dont's for Sandals for Europe
There are a few characteristics to look for in sandal types for walking in Europe, and then there are sandal types to avoid;
Flat Sandals and Flip Flops – Flat Sandals, Flip Flops, and even sliding on a sandal, or any sandal with an open heel, are a big NO. These sandals offer little support or comfort and may easily slip off your feet.
Slippery Soles – Avoiud sandal with a slippery sole, and always look for lug patterns on the sole for better grip. Rubber is always the best choice in an outsole of a sandal for Walking in Europe.
Hiking and Sports Sandals – Hiking and Sports sandals are an excellent choice for walking on different terrains. They offer slip resistance, superior cushioning, support, and an adjustable fit. However, they may not be acceptable for more formal occasions.
Formal Sandals – I would strongly advise against uncomfortable high-heeled formal sandals if you do plenty of walking. Rather opt for an Orthopedic design sandal with a more formal appearance and comfort features.
---
Features of a Good Sandal for Walking in Europe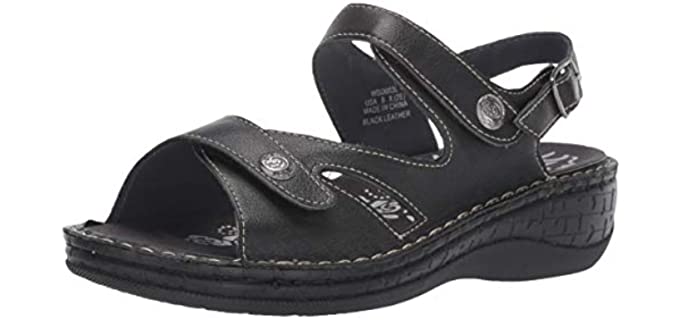 Uppers – the uppers can be leather or synthetic leather, Textile, fabric, or canvas materials. The uppers need to be comfortable with a lining that prevents friction when walking. Some models have padded uppers straps. Adjustability in the straps is a good idea to get the most comfortable fit.
Insole – A padded and moisture-wicking, lined insole is advised, which provides cushioning and comfort. The insole or footbed can also be contoured for better arch support.
Midsole – A foam, EVA or padded midsole ensures good shock absorbency along with the outsole.
Outsole – For a good sandal, you need an outsole that is durable and provides good grip and traction on most surfaces.
Styles and Colors – many different sandal styles will depend on their purpose. Something more dressy is required for walking in town or an evening out. Whereas for outdoor walking you may need sports or hiking sandals. There are also many color options you can select in most sandal models.
---
Reviews: The Best Walking Sandals for Europe
Here are some of the best available sandals that will be comfortable and stylish for walking in Europe;
We hope you love the sandals we recommend!
We may collect a share of sales or other compensation from the links on this page.
---
1
Casual Sandals for Walking in Europe
The Arla Shaylie and Malone Shore from Clarks are two perfect causal sandals for all occasions, including walking in Europe.
The Arla has light textile uppers, while the Malone has adjustable leather uppers.
Both sandals have a cushion soft technology footbed for comfort and Cloudtsepper luxury comfort technology.
You can get the Malone in a black or brown option and the Arla Shaylie in many color selections.
The durable rubber outsole on both sandals also ensures excellent traction for walking.
---
2
Sports Sandals for Walking in Europe
These two sporty sandals from Skechers are perfect for outdoor walking in Europe.
Both sandals feature soft and comfortable fabric uppers that are fully adjustable.
The Louden has a Memory Foam footbed and adjustable leather and textile uppers.
The On, The Go 600 for ladies features a responsive 5Gen cushioning system and a Goga Max high rebound insole.
The outsoles are durable and have high traction rubber.
You can also choose your favorite color in both models.
---
3
Sandal for Walking in Europe
The ECCO Yucatan is another very comfortable sports sandal for walking in Europe.
The uppers consist of leather with a smooth textile lining.
The EVA footbed is molded for comfort and offers excellent cushioning.
There is receptor technology for stability and support when walking.
Both sandals have fully adjustable straps for the perfect fit.
You can likewise choose from many color options.
---
4
The Newport H2 is the perfect sandal for hiking trips in Europe.
The uppers are water-resistant and washable polyester that is fully adjustable for a good fit.
The footbed is cushioned, and a compression-molded EVA midsole offers exceptional shock absorbency and cushioned comfort for all-day wear.
As for the outsole, the lugged rubber has Razor Siping for better grip on wet terrain and is non-marking.
Likewise, there are many color options from which you can choose to get your absolute favorite.
---
5
Fashionable Sandal for Walking in Europe
Something a bit more stylish is the Jocelyn and Daytona from Propet.
The uppers are leather and neoprene that are comfortable and durable.
There are an Extra cushioned removable Pu insole and a microfiber sock liner for shock absorbency and cushioning, as well as to keep your feet dry.
The outsole consists of Pu materials with rubber inserts for traction.
You can also get both shoe models in wider width selections.
---
6
Casual Walking Sandal for Europe
The Teva Original is a casual and comfortable sandal for walking and outdoor European wear.
The textile uppers offer an adjustable fit, and many colors are available.
The solid EVA footbed offers excellent cushioning with a moisture-wicking antibacterial lining.
The Durabrasion rubber outsole is durable and long-lasting.
The Teva Original is versatile and very comfortable to wear.
---
7
Casual Sandals for Europe
Something a bit more formal and sophisticated for wear in Europe is the Clarks Brixby and Sillian.
The Sillian has textile uppers, and the Brixby leather.
Both sandals have a Cloudtsepper Cushion stot technology and a lined footbed for comfort.
The rubber outsole is durable and offers excellent traction.
You can choose from a few neutral colors available in both models.
---
8
Cushioned Walking Sandals for Europe
The Under Armour Ignite is a more casual wear slide sandal for beachhwear at the poolside in Europe.
The synthetic uppers are adjustable for a wider fit.
The footbed is roomy and fully cushioned with Performance 4D foam.
There is a re-engineered EVA outsole that has built-in traction pods.
You can choose your favorite from many color options.
---
9
fashionable Sandals for Europe
Here we have two sandal models from Skechers that are more sophisticated and formal in style for all occasions in Europe.
The Upper of both sandals is synthetic and textile with an adjustable and comfortable fit.
There are a few neutral colors available from which you can select.
The footbed is cushioned and comfortable, and there is a durable rubber outsole.
While the Rumblers have a wedge heel design, the ankle strap design for men has a solid sole.
---
10
Outdoor Sandals for Europe
The Dream Pairs Adventurous is a comfortable Fisherman-style sandal ideal for outdoor excursions in Europe.
The mesh and synthetic uppers are breathable and water-friendly.
There is a secure bungee lace-up system.
The EVA cushioned footbed is soft and comfortable.
A Lightweight, flexible rubber sole offers long-lasting traction and support.
---
Index Table: Top Rated Sandals for Walking in Europe
---
---