Keen sandals are an excellent choice for walking sandals, especially if you enjoy walking outdoors and trail walking.
They offer some excellent comfort and support technologies for walking and exceptional grip, traction, and protection for outdoor and trail walking.
This article will look at some of the top favorite keen sandal models ideal for walking.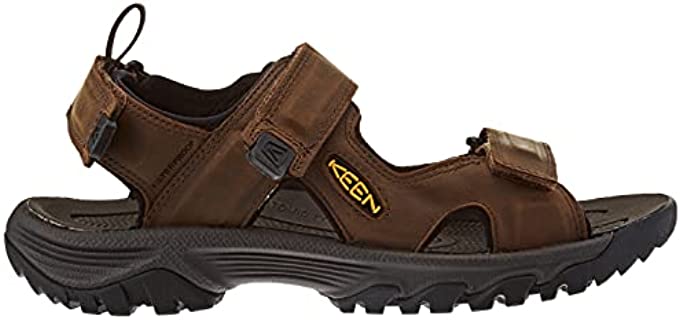 ---
---
What to Look for in a Sandal for Walking
For Walking, you need to consider these points, especially in a sandal;

Comfortable Fit – Most sandals do not offer a very comfortable fit for walking with; they slip and chafe and cause much irritation. This is why you should opt for sandals with adjustable or a more flexible material upper such as leather or stretch materials that ensure a snug but comfortable fit for walking. You want a sandal that will not slip off your feet easily, so opting for sandals with a closed-heel design or a heel strap instead of flip-flops and slide-on models is always wiser.
Good Cushioning and Support – Because there is an impact on your feet when you walk, you will need a sandal that does not just have a thin and flat sole but a cushioned footbed and shock-absorbing midsoles such as EVA or foam, to absorb the impact and keep your feet comfortable while walking. Stability features such as a contoured footbed, stability shank, and more locked-in heel fit are especially desirable for walking on uneven and slippery terrains and if you have pronation issues, such as excessive overpronation.
Grip and Traction – Then again, you need a sandal with a lug tread on the sole, depending on your walking surface. You need something that provides optimal grip and traction for wet, slippery, and uneven outdoor terrains. For road walking, you can settle for a less lug outsole and less grip.
Underfoot Protection – On hard roads, outdoor terrains, or any surface, you do require underfoot protection against impact and protruding objects that can cause puncture injuries. A thick rubber outsole or a shank usually provides effective protection on a walking sandal.
Durability – All in all, the sandal's sole and uppers need to consist of durable and quality materials, with quality construction for the sandal to last long and endure walking regularly.
---
Why Choose Keen Walking Sandals
Keen sandals are generally more suited for outdoor and trail walking, although they are tough enough for road walking.
Keen sandals offer exceptional cushioning and shock-absorbing technologies ideal for walking on all terrains.
They also have stability features that give you more control over uneven and slippery surfaces and help to provide stability in your walking patterns.
Keen sandals are extremely durable, with thick rubber soles that provide excellent traction and grip on wet, uneven, and slippery surfaces.
A Keen sandal's fit is usually adjustable and so comfortable that you will thoroughly enjoy walking in these sandals.
---
Features of a Good Keen Walking Sandal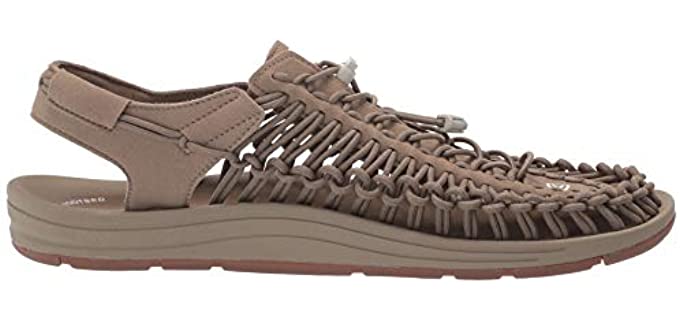 Uppers – Keen sandals mostly come with either textile polyester or recycled plastic uppers lines and are sometimes cushioned. The uppers are fully adjustable in fit and water-resistant, as well as quick drying, water-resistant, and. You also get leather uppers on some models with a textile lining and good water resistance.
Fit – Keen sandal offers a comfortable and roomy fit with fully adjustable uppers to customize the fit. They have a more locked-in design heel for stability and ankle protection.
Support and Comfort – For support and comfort, Keen sandals have a cushioned PU insole .and EVA foam midsole for shock absorbency and, in some models, a stability shank for support. Their sandal has a contoured footbed for full support, and the cushioning is very lightweight.
Outsole – Keen sandals feature a durable rubber outsole. Some models have zonal flex grooves for flexibility in the sole, and others a shank for stability. The outsole in the outdoor trail models has a Multi lug tread for optimal grip. While other models have a less aggressive non-marking tread.
Closure – The Adjustable uppers have a hook and loop Velcro closure for some models, while the more closed styles have a bungee lace system.
Odor Protection – Keen sandals have a natural pro-biotic-based odor protection treatment in the footbed to fight bacteria and odors.
Options – You get Keen sandal sandals in more colors, usually neutral color options. There are wider half-sizes or medium-fit full-size options available.
---
Reviews: The Best Keen Walking Sandal
These are some of our top favorite Keen sandal models that are ideal for walking;
---
1
The Keen Rose and Venice are great-looking and very comfortable sandals for walking.
They both have polyester and lined uppers that are durable and water-resistant.
There is a cushioned PU footbed and EVA midsole for shock absorbency.
The footbed is treated with a natural probiotic-based odor-resistant technology.
The outsole has multi-directional lugs for extra grip and consists of durable rubber.
---
2
many colors
The Keen Uneek EVO is a light and comfortable sandal ideal for walking.
The sandal has corded fabric uppers that are soft, durable, and stretchable.
The footbed has a Metatomical design, proper arch support and cushioning, and a lightweight PU midsole.
The sandals are extremely durable and easy to clean.
They are likewise available in more color options.
---
3
The keen Targhee and Terradora are similar sandals for outdoor and trail walking.
They have water-resistant recycled plastic and polyester uppers that dry quickly.
The footbed is contoured with arch support and cushioning for shock absorbency and full support.
The lug multi-directional tread rubber outsole is durable and slip-resistant.
You can choose from a few available color options in these sandal models.
---
4
The Keen Clearwater CNX is also ideal for outdoor and trail walking.
The sandal has water-resistant and quick-drying polyester uppers that are adjustable in fit.
There is a 4mm midsole drop and supportive cushioned footbed.
The footbed is treated with Aegis treatment for odor resistance.
The outsole is flexible with flex grooves and multi-directional lugs on the tread for grip.
The outsole is a very durable rubber design.
---
5
the Keen Whisper and Arroyo are comfortable walking sandals with adjustable uppers.
The uppers are synthetic and polyester for water resistance and comfort.
The footbed is cushioned with a compression-molded EVA midsole for shock absorbency.
There is likewise a stability shank and hydrophobic mesh lining for comfort and support.
The outsole is lug and very durable rubber.
---
6
The Keen SOLR sport is a sporty comfort sandal ideal for walking on various surfaces.
It has a locked heel design for stability and recycled plastic uppers that are water-resistant and abrasion-resistant.
The outsole is a non-marking rubber with a lug tread for grip on slippery surfaces.
The EVA footbed provides optimal support and cushioning for shock absorbency.
There are also a few more color options available to you.
---
7
The Keen Newport h2 sandal is a water-friendly sandal model from Keen that is perfect for walking.
The uppers are washable. and water-resistant polyester, that is adjustable and quick drying.
There is a contoured and cushioning EVA footbed for support and comfort.
The bungee lace-up system offers a comfortable fit.
The sandal has a Multi-directional lug rubber outsole for optimal traction on outdoor trails.
---
8
The Keen Uneek is a more casual walking sandal that is less rugged.
It features a closed style toe with soft and flexible braided nylon cords that is stronger with a fit that will mold to the shape of your feet.
The outsole is a high traction non-marking rubber.
There is a metatomical cushioned footbed for support and comfort.
There are also plenty more color options available in this range.
---
9
The Keen arroyo 2 is a rugged and comfortable sandal for walking.
They are a closed fisherman's style with leather uppers and a synthetic lining.
The sandals have an EVA cushioned footbed for support and a bungee lace system for a comfortable fit.
The outsole is a non-marking durable rubber.
---
10
The Keen Clearwater CNX is a water-friendly sandal ideal for walking.
The sandal has 100% polyester uppers that are adjustable and quick drying.
There is a cushioned footbed with contoured arch support and a 4mm midsole drop for walking.
The outsole is rugged with multi-direction flex grooves and rubber for trail walking and slip resistance.
More color options are likewise available in this range.
---
11
The Keen Kona Flip Flops are the ideal design for light hikes or walking trips.
They are washable polyester sandals with a PFC water repellent lining.
They have a durable rubber outsole with high traction pods and a comfortable EVA midsole and footbed for support.
The flip flops are available in more colors from which you can choose.
---
Index Table: Top Rated Keen Walking Sandals
---
---