The Wedge sandal is a very elegant and sophisticated style sandal that gives you the option of a heel that is safer and more stable.
Wedge sandals for Walking need to be comfortable in fit, with a medium to low wedge sole that is more stable.

---
Why Would You Need Wedge Sandals for Walking
No one actually goes walking or jogging in sandals. However, there may be occasions where you need to do some walking in sandals that look good.
Wedge-style sandals are perfect for occasions such as work and more formal events where you will be on your feet for a while.

Work – If you are on your feet at work all day, comfortable wedge sandals for walking can be ideal and look professional.
Town Excursion – Going to town includes plenty of walking, and a pair of wedge sandals for walking will be comfortable and stylish.
Formal Gathering – In more formal gatherings such as parties, weddings, and dates, where you will also be walking a bit, a classic and elegant wedge sandal will be ideal.
---
Choosing Comfortable Wedge Sandals
Firstly, as I have mentioned, when looking for a wedge sandal for walking, you need to opt for a low to medium wedge sole that is not higher than three inches, which places you at risk of ankle sprains. A One inch wedge heel is ideal for people with low arches, whereas slightly higher is perfect if you have a higher arch.
Look for sandals in natural and soft materials such as suede leather, leather sandal, soft fabrics, or stretchable fabrics that will not chafe and hurt your feet. Make sure that the fit is comfortable and adjustable.
Make sure that the wedges walking sandals have a cushioned or padded footbed and midsole for shock absorbency and comfort, as well as a lining to wick away moisture.
---
Features of a Good Wedge Sandal for Walking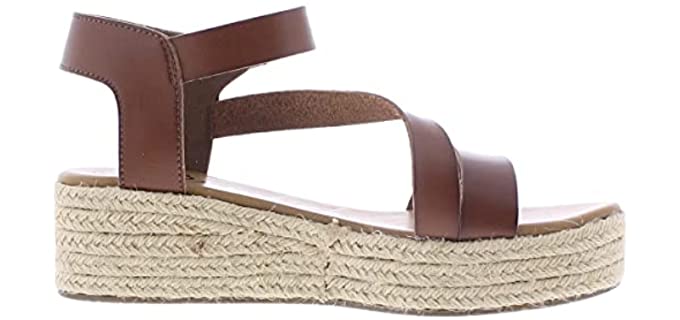 Uppers – Wedge sandals for walking should have comfortable leather, fabric, or synthetic leather uppers with a breathable and moisture-wicking lining.
Comfort and Support Features – The Wedge sandal have a comfortable padded footbed. Some may have memory foam, LiteRide foam, or Cork and Latex footbeds for shock absorbency. A contoured design footbed will also proved good arch support.
Outsole – The Outsole of the wedge sandal should be a durable rubber or synthetic, with a wedge-style heel. The wedge can be low, high, or medium. Although, lower wedges are more suitable for walking.
Options – The Wedge sole sandal for walking that we have chosen do offer a variety of color options.
---
Reviews: The Best Wedge Sandals for Walking
In our list, we have some exceptional sandal models with wedge soles that are ideal for walking with;
---
1
The Crocs Brooklyn Low wedge sandals are some of the most comfortable wedge sandals for walking.
They have two single uppers straps and an adjustable back strap.
The wedge sandals are lightweight with crosslite foam cushioning and LiteRide foam footbeds.
The sandal has a wedge heel with deep heel cups and a raised profile for stability and comfort.
They are available in a range of colors and size options.
---
2
The Cushionaire wedge sandals are elegant and perfect for a day out on the town or a more formal occasion where there will be a lot of walking.
They have an open-toe and single-toe strap and an ankle strap with an adjustable fit.
The sandal has soft vegan leather uppers and a comfortable padded footbed.
They have a flexible espadrille and rubber outsole that has a wedge style.
The sandal is also available in a few neutral color selections.
---
3
The FitFlop Lulu Crystal Embarrass sandal look stunning and are so comfortable for walking.
They have two straps and a slingback strap that is adjustable in fit.
The FitFlop sandal has a Microwobbleboard technology footbed and cushioning.
The uppers are faux leather with a microfiber lining and Crystal Embellishments.
There is a durable rubber sole that is mid-wedge height.
You can likewise choose from a few available colors.
---
4
The Sorel Joanie is a comfortable and lightweight slingback wedge sole sandal that is perfect for more formal occasions.
They are comfortable enough to walk in and look absolutely stunning for every occasion.
The sandal has suede leather uppers with a stretch elastic at the slingback for an easy fit.
They have a thick rubber outsole and medium wedges.
The Sorel sandal has a comfortably cushioned footbed that is lined with suede leather.
---
5
The Clarks Giselle are beach wedge sandals that are just perfect.
They can be used for walking on a variety of surfaces.
The wedge sandal for walking has a synthetic rubber outsole and high wedge heels.
They have synthetic leather uppers that are comfortable and adjustable.
There is a PU foam footbed and cork midsole.
The heel has a three-inch height.
You can also choose from a few neutral color options.
---
6
The Keen wedge sandal is sporty sandals for walking and hiking.
They are fully adjustable in fit and come in quite a few color options.
The sporty wedge sandal for walking has a durable and high traction rubber outsole for trails and outdoor surfaces.
The sandal are water ready with polyester uppers webbing that is quick-drying.
They are cushioned with a contoured footbed for good arch support.
---
7
The Crocs Brooklyn Mid Wedge sandal is slide sandals with two uppers straps.
They have a Thermoplastic rubber outsole that is durable and offers good traction.
The sandal has a wedge-style sole at a comfortable height.
They are Crosslite material, with a LiteRide foam footbed for comfort and cushioning.
---
8
The Naot footwear wedge sandals are elegant and stylish, with a durable outsole and comfort features for walking.
The wedge sandal is perfect for all occasions and has a comfortable design.
They have soft leather uppers, a cushioning cork, and a latex footbed with arch support.
There is a durable polyurethane outsole and a padded back for your comfort,
The sandals are shock absorbing and very durable.
---
Index Table: Top Rated Wedge Sandals for Walking
---
---