One of the most common causes that are associated with heel pain is a condition called Plantar Fasciitis.
The condition exists because of inflammation in the plantar fascia, a band of tissue connecting the heel bone to your toes.
Plantar Fasciitis is a painful stabbing feeling in your heel when you stand up or walk after being seated for a while or getting up in the morning.
This article will examine the best Clarks sandal for Plantar Fasciitis, a top sandal brand with many support and comfort features.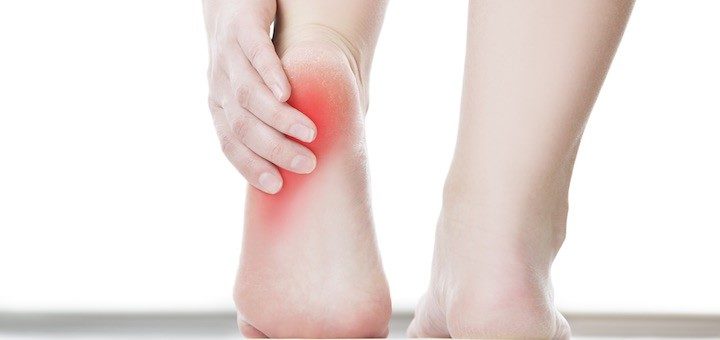 ---
---
Some Plantar Fasciitis Facts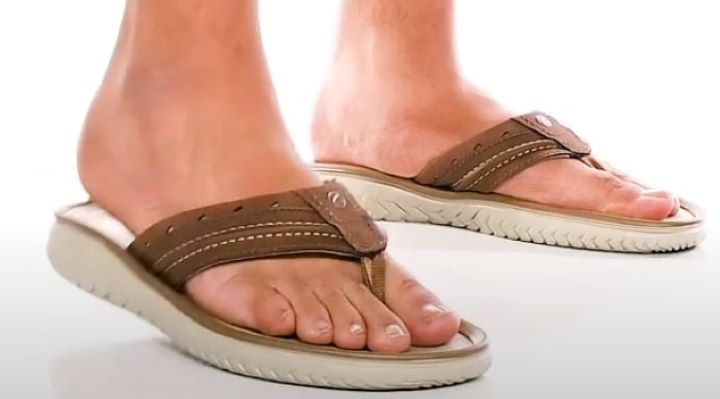 As mentioned, plantar fasciitis will typically cause stabbing pain in the bottom of your feet near and around the heel. Because it is worst when a toy initially gets up in the morning or after being on your feet, you may struggle to stand or walk straight away.
The pain will likewise worsen after a long exercise and not generally during exercise, running, or walking.
Some Causes and Risk factors Include;
Age – Persons between the ages of 40 and 60 are likely to suffer from Plantar fasciitis.
Sports and Activities – Any sports or activity that strain the heel and the attached area of the feet can lead to plantar Fasciitis. Running, dancing, and other sports can cause plantar fasciitis.
Flat Feet and High Arches – Not only in the low arch or flat feet, but very high arch types are prone to plantar fasciitis because simply, the arch is not absorbing impact effectively, and weight is not evenly distributed. Thus when you walk or run, the impact on the heel is much greater.
Obesity – Being overweight can cause many foot issues and conditions, including Plantar fasciitis. The excess weight can bear down on your arches, causing them to flatten or place extra strain on your Plantar fascia.
On Your Feet All Day – Any occupation, sport, or activity that requires you to be on your feet all day, whether standing, walking, or running, particularly on hard floor surfaces, is the main culprit in the causes and aggravation of plantar fasciitis.
---
How You Should Choose a Good Sandal for Plantar Fasciitis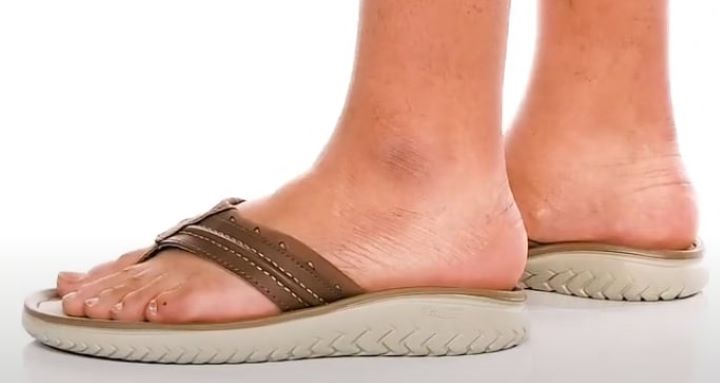 You will choose a sandal similar to choosing a shoe for Plantar Fasciitis. The technology will be the same without an enclosed upper construction.
However, I will still recommend sandals with a closed heel for better stability if you also Overpronate.
Roomy Toe Box – More often than not, the shoes we buy are too small and too tight for our feet. A wide-toe box design ensures our toes are not cramped, which can exacerbate foot pain.
Good Arch Support – If you fall under the category of having a very low or very high arch, I recommend that you look for a sandal with some arch support or generally just a contoured footbed to accommodate the lack of arch support in our natural foot.
Cushioning – Cushioning is especially recommended for persons with a high arch who need cushioning in the entire footbed. In contrast, a low arch type should opt for more stability features and firmer targeted cushioning. Overall for Plantar Fasciitis, I recommend heel cushioning or full cushioning.
Less Flexibility – the best Plantar Fasciitis sandal or shoe must only bend gradually in the ball of the foot area. A little more flexibility is tolerated for a high arch type, but for low arches, you need stability. A more rigid midsole and sole, in general, is advised to help with issues such as overpronation and, likewise, to absorb shock.
Heel Cup – A deeper heel cup stabilizes and supports the heel, providing relief and healing.
Avoid sandals with a thin or flat sole – Sandals with a thin or flat sole can put extra pressure on your feet and worsen discomfort caused by plantar fasciitis.
Generally, with Plantar Fasciitis, correcting and addressing underlying issues, such as a High Arche, low or fallen arch, Overpronation, and Supination, will help improve and prevent the condition, so you should opt for shoes and sandals that cater to these needs.
---
Features of a Good Clarks Sandal for Plantar Fasciitis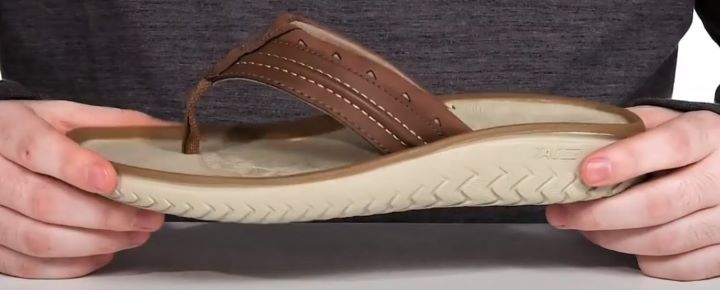 Uppers – Sandals will have either leather or textile uppers, with or without a lining and padding. Some have adjustable uppers with a Velcro or buckle closure.
Footbed – The footbed suggests the sandal's insole, midsole, and outer sole that provide support and comfort. You can look for a cushioned and contoured design that supports your arch type. EVA is a firmer and good foam cushioning for Plantar fasciitis.
Outsole – This is the outer part of the sole and the tread that needs to be durable and slip-resistant. You can aim at a rubber sole with lug patterns for grip and traction.
Options – Sandals come in options such as sizes, widths, and colors, depending on the specific brand and model.
---
Reviews: The Best Clarks Sandals for Plantar Fasciitis
From Clarks, we have this range of sandals that is the best available for Plantar Fasciitis;
We hope you love the products we recommend!
So that you know, We may collect a share of sales or other compensation from the links on this page.
---
1
Sandals for Plantar Fasciitis
I have chosen the Leisa Vine for the ladies and the Malone for the gents from Clarks to start.
Both sandals have genuine leather uppers with a textile lining.
The Malone is fully adjustable with hook and loop Velcro straps.
They both have cushion soft padding for comfort and an Ortholite or Open Cell footbed.
The footbed is lined to wick away moisture and has a supportive design.
The sole is flexible in all the right areas and semi-rigid.
There is a durable rubber outsole that offers good traction.
---
2
Next, we have the Clarks Brixby Cove for men and the Un Adorn for women.
These sandals have the perfect footbed for Plantar fasciitis.
The uppers are leather, and the sandal is very lightweight in both models.
They both have a durable rubber outsole and a cushioned midsole.
The footbed is comfortable and cushioned for support.
---
3
Sandal for Plantar Fasciitis
Also, from the Brixby range, we have the shoer model for men.
Unlike the Leisa for the ladies, the Shore model has adjustable leather uppers and is not a slide design.
The Leisa is a slide-on sandal with cross straps available in more colors.
Both sandals feature a comfortable and supportive Ortholite footbed and an EVA sole for cushioning and shock absorbency.
The footbed does have a supportive contoured design.
The outsole is rubber, and the uppers are premium leather.
---
4
Sandal for Plantar Fasciitis
Here are two flip-flop models from Clarks, the Breeze and the Step beat Dune.
They have Textile and synthetic uppers with Cloudstepper comfort technology.
There is a cushion soft technology footbed with Ultra Lightweight EVA.
The outsole is a flexible TPR rubber outsole with a high grip.
More colors are likewise available.
---
5
The Clarks Swing Fisherman sandal and Un Perri Way Flat sandal are the perfect casual sandal for Plantar Fasciitis.
They gave synthetic and leather uppers and a comfortable Ortholite footbed with a lightweight EVA midsole for cushioning and shock absorbency.
The Outsole is a premium rubber for grip.
The Un Perri likewise has genuine leather uppers.
Both sandals have more colors available.
---
6
Sandal for Plantar Fasciitis
The Arla Shaylie and Balta Reef are comfortable everyday wear sandals for Plantar Fasciitis.
The Balta Reef sandals have textile uppers with a hook and loop closure that is adjustable.
The Balta reef also features an EVA footbed for cushioning and support.
The Shaylie has Textile uppers with stretch fabric for a customizable fit.
The Shaylie model also features cushioning soft technology and cloud stepper technology in the footbed.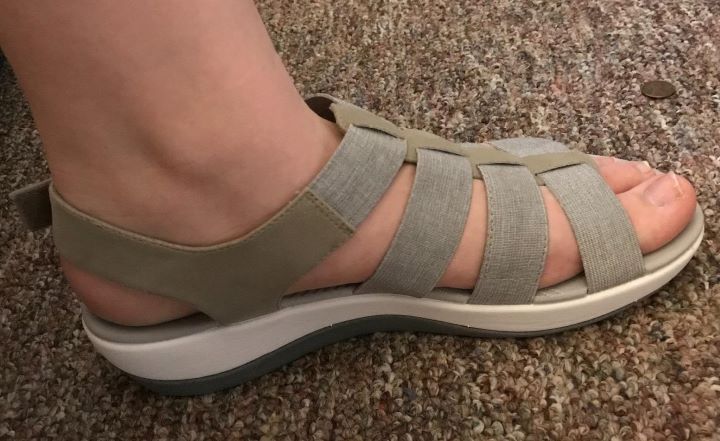 ---
7
Sandals for Plantar Fasciitis
The Clarks Cove and Clarks Lexi are comfortable leather sandals for Plantar Fasciitis.
There is an Ortholite cushioned footbed and EVA midsole with an arch support design.
The outsole is a durable high-traction rubber.
More colors are also available to you.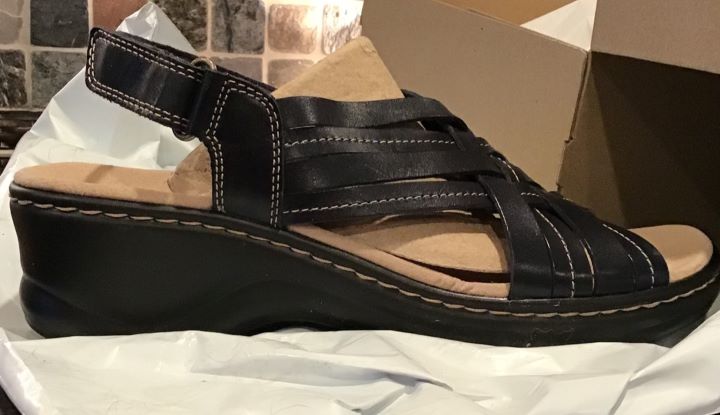 ---
8
Sandals for Plantar Fasciitis
These are two casual comfort sandals from Clarks, ideal for Plantar Fasciitis.
They have leather uppers and a durable rubber outsole.
The footbed is cushioned with Ortholite, and there is an arch support design.
The EVA midsole absorbs shock.
There are also more colors from which you can choose.
---
9
Sandals for Plantar Fasciitis
The Malone Cross and Lexi Selina are great Plantar Fasciitis sandals from Clarks.
They have leather uppers and a durable rubber sole.
The footbed is cushioned, and there is an EVA midsole.
The sandal supports your arches and cushions your heels.
---
10
Sandals for Plantar Fasciitis
The Clarks Ray and Melinda are the perfect choices for plantar fasciitis.
They have leather and synthetic fabric uppers and a comfortably cushioned footbed.
There is good arch support and a shock-absorbing EVA midsole.
The outsole is a high-traction rubber.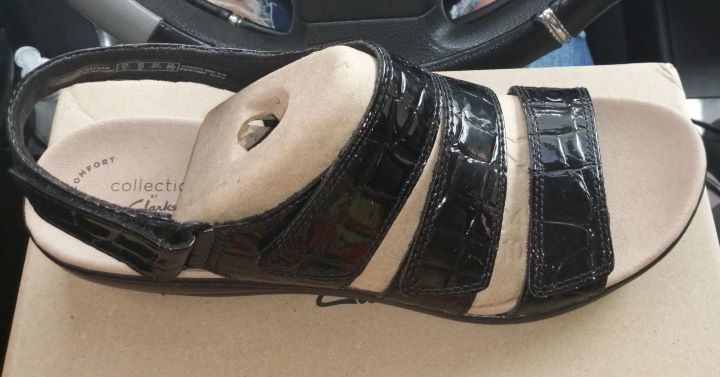 ---
Index Table: Top Rated Clarks Sandals for Plantar Fasciitis
---
---