There is up to 50% of people that have diabetes, that experience some form of nerve pain. In many cases, the pain is felt in their feet. Failure to control your blood sugar levels can create pain and worsen, or even lead to permanent damage. There are a few ways in which diabetes can affect your feet. In this article, we want to look at some of the best flip flops for diabetics that are comfortable on your feet and that allow your feet to breathe.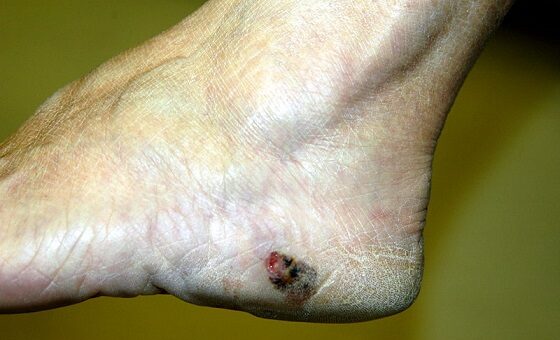 ---
How Diabetes Can Affect Your Feet
As I've mentioned, they are a few ways in which diabetes can affect your feet. Diabetes can cause pain and numbness in your feet, and it can, and can even worsen and lead to permanent damage.

Mononeuropathy – Mononeuropathy is a condition that causes less foot pain. It is also called focal neuropathy. When your high blood sugar levels are sustained, it can damage the nerves in your body which can cause many problems. You get mononeuropathy when a single nerve is affected. It can. It can cause sudden and severe pain, but it does not regularly cause any long-term issues, and it can fade away on its own. It usually takes a few weeks to several months for the conditions and the symptoms to fade away.
Peripheral Neuropathy – Some of the worst symptoms and most of the cases of foot pain caused by diabetes stem from a condition called peripheral neuropathy. Many individuals who are diabetics get peripheral neuropathy. Peripheral neuropathy affects the nerves in the legs, the feet, the arms, and the hands, mostly and firstly. However, it affects each person differently. You can have sharp pains, tingling, burning sensations, and sometimes even numbness, especially in your feet and hands. Numbness in your feet can be extremely dangerous, as you may not notice an injury, or if your feet have become cut scraped, well damaged in any way.
Issues with Circulation – Consistent high blood sugar levels, on the other hand, can also cause problems with your blood circulation, which can cause damage to your arteries, capillaries, and veins. Most typically affect all trees and veins in your legs, your knees, and your coughs. This, in turn, will cut off blood flow to your feet, and the tissues in your feet can become starved for oxygen, which can cause extreme pain. Some people have explained the pain in their feet from this condition as if their feet are being strangled. Because the flow of blood slows down in the legs and in the veins of the feet, the feet become swollen and painful even to touch. Eventually, these veins can lead to ulcers, which can also cause infection.
Infections – People with diabetes are much more susceptible to getting an infection because they're all medical and nutritional changes in their bodies. Ulcers and open source tend to heal much slower in people with diabetes. Bacterial infections can usually develop in their feet, especially if there is an ulcer or an injury. Because many individuals who have diabetes may have peripheral neuropathy, they can easily get an injury or ulcer in their feet without even noticing. Bacterial infections can begin on their skin, and they can even spray to the bone.
Gangrene – Along with poor blood circulation and neuropathy, you can develop gangrene. Gangrene occurs when body tissues start to die. Along with reduced blood flow, an injury may be because of numbness new feet, because of peripheral neuropathy, and an infection. The injury can become worsened, and the tissues die. And you develop gangrene. Gangrene is extremely dangerous and can cause severe pain, a foul smell, skin lesions, and a purple, green or blackish color on your skin. If you do have gangrene, you need to seek immediate medical attention.
Charcot's Foot – This is one of the rare complications of nerve damage that occurs in people who have diabetes. The condition begins as redness and wounds in your feet with some swelling of the feet. However, in some cases, neuropathy may block any feeling in your feet, so you may not know that you have Charcot's foot. They may be changes in the shape of your feet. They can become painful and difficult to lift.
---
Choosing Shoes and Sandals for Diabetic Feet
It is extremely important to make sure you get the right shoes and sandals when you have feet that are affected by diabetes, depending on how your feet are affected.
You may need to choose specialized shoes or sandals.
Now, for this article, we will be looking at flip-flops. Flip-flops are generally not the most supportive shoes, and there can be quite flimsy. That is why we specifically looked at flip flops that offer a more supportive fit, and also offer better protection for your feet.
Especially when you have peripheral neuropathy, you need good underfoot protection from sharp objects and protruding objects. It would help if you also had a shoe that offers support and can give you some stability.
Then again, you need to take into account that when you have diabetes you fit, do you tend to swell? So you do need a flip-flop that has a wider and more accommodating fit.
---
Features of a Good Flip Flops for Diabetics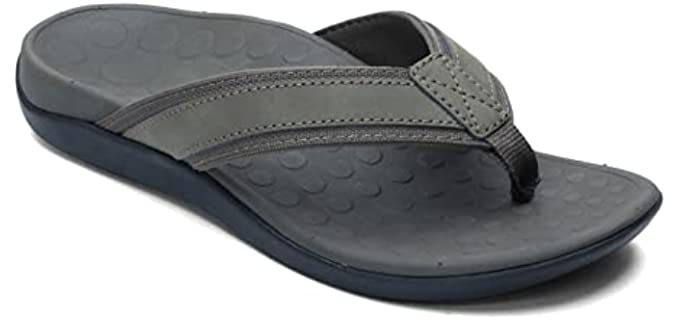 Uppers – We looked at a couple of styles of flip flops for diabetic feet now. The upper teeth strip of the flip flops can be leather, plastic, rubber, or a textile such as polyester or microfiber. Some models have to align or padding on the upper strips. We have also considered flip flops that have a more roomy and wide-toe box with upper straps that are more accommodating for swelling.
Footbed – The footbed of the flip-flop is also important, as this is what will be providing support and comfort for your feet. We looked at two main aspects. We looked at cushioning in the med soul to absorb impact, as well as in the topsoil area that is softer under your feet, and we also looked at flip flops with a more supportive footbed that has a contoured or anatomical design that supports your arches and your heels. We wanted flip flops that also offer large stability to keep you more balanced on your feet.
Fit – The flip-flop models that we have chosen have a more accommodating fit. We have opted for flip-flops with a wider toe box and a wider footbed to accommodate swelling. Some of these models, or even available in wider widths.
Outsole – I have tried to pick out a few flip-flop models that have a more durable outsole, such as rubber or a thicker EVA, that will protect your feet from dangers such as hard rocks and sharp objects.
---
Reviews: The Best Flip Flops for Diabetics
In our list below, you will find some of the best flip-flop brands and models that are ideal for diabetic feet;
---
1
The Vionic Tide sandal is comfortable leather flip-flops for Diabetic Feet.
They have an APMA seal of acceptance and a podiatrist-design footbed.
The flip-flops are supportive and well-cushioned for comfort.
They have a grippy rubber outsole.
---
2
Flip Flops for Diabetic Feet
The FitFlop Iqushion sandal is a wonderful design for Diabetic feet.
They have more flexible uppers to accommodate swelling.
There is good arch support, and additional cushioning in the heel and forefoot.
The sandal is very lightweight and soft on your feet.
---
3
The Voya Flip Flops are comfortable casual flip-flops for Diabetic feet.
They have soft textile uppers that are quick-drying.
There is a Mush top sole cushion for comfort and a foam midsole.
The outsole offers good support and slip resistance.
---
4
Arch Support Flip Flop for Diabetic Feet
The Olukai Ohana Flip Flops are ideal for beach wear.
They are water-friendly sandals that will accommodate foot issues.
The flip flops have a comfortable fit and ICEVA footbed that has an anatomical fit.
They are very lightweight with and durable outsole.
---
5
Flip Flops for Diabetic Feet
The Everhealth flip flops are Orthopedic flip flops that are ideal for feet affected by diabetes.
They have a podiatrist design footbed for support and cushioning.
The flip-flops are stylish and comfortable in design.
They are also available in a few more color options.
---
6
Diabetes Support Flip Flops
The Crocs Athens flip-flops are lightweight and comfortable on your feet.
They have an EVA sole that is shock-absorbing and durable.
The footbed is contoured for support and comfort.
They offer good ventilation and a soft accommodating fit.
---
Index Table: Top Rated Flip Flops for Diabetics
---
---