Diabetes is quite a common condition affecting many people. Diabetes can affect your body, and especially your feet in many ways. Finding comfortable shoes for Diabetic feet is difficult enough as it is, but what about sandals, especially outdoor sandals?
Well, the Merrell sandal for Diabetics has some exceptional features that can protect your feet and keep them comfortable when you have feet affected by diabetes.

---
How Diabetes can Affect Your Feet
Up to 50% of people that have diabetes do experience some other form of nerve pain. Many people that have diabetes experience eggs and pains in their feet, or even numbness in their feet.
There are a few ways in which your feet can be affected if you have diabetes.

Mononeuropathy – Mononeuropathy or focal neuropathy. This is a condition that usually affects a single nerve, which can be in the feet, and it can cause much severe pain. Peripheral Neuropathy – Peripheral neuropathy is more likely to affect individuals who have diabetes. The. The condition can cause pain, burning sensation, or even complete numbness, no feet. You may have a lack of complete feeling, and you may also not feel hot and cold, which can be pretty dangerous.
Issues with Circulation – Diabetes can affect the Audris in your legs, especially in your knees and cords. And this can cut off the blood supply to your feet, which can cause the tissues in your feet to become starved for oxygen which can also cause pain.
Infections – People who have diabetes are much more susceptible to getting an infection, especially a bacterial infection, from ulcer irritations or injuries to their feet.
Gangrene – Because of the combination of poor blood circulation and peripheral neuropathy, you could get injured easily, and this injury not healing fast enough may lead to gangrene.
---
Choosing Shoes and Sandals for Diabetic Feet
Merrell sandals are ideally outdoor sandals and hiking sandals, though we also find them very comfortable and protective for individuals that have diabetes affecting their feet.
The sandals do have an adjustable fetch, usually with a hook and loop closure system, so you can adjust the fit on days when your feet are swollen or not. They are comfortable, and the upper and the straps are gentle against your feet, and they are also lined so they cause less friction.
The sandals do have an EVA foam footbed that is sometimes contoured for more support. They have a stable sole, and they usually have a very thick and high traction outsole because they are outdoor sandals.
---
Features of a Good Merrell Sandal for Diabetics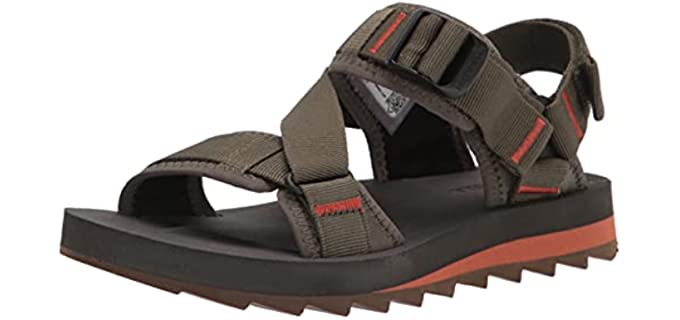 Uppers – Merrell Sandals mostly have either full-grain leather or nubuck leather uppers, some of the more water-friendly models will have textile or mesh uppers. For Diabetic feet, Merrell sandals offer full adjustability to accommodate the shape of your feet, and for swelling.
Comfort and Support – Merrell sandals mostly have an EVA footbed that may be contoured for arch support and stability. They have a soft microfiber lining that will also provide good moisture-wicking properties. Merrell sandals sometimes feature a Molded nylon shank for arch support and good underfoot protection.
Outsole – Merrel Sandals are outdoor sandals so they have the perfect outsole for diabetic feet in terms of underfoot protection. They may have a rubber, gum rubber, or Vibram rubber outsole for proper grip and stability on a variety of surfaces.
Options – Merrell sandals are mostly only available in different sizes and more colors.
---
Reviews: The Best Merrell Sandals for Diabetics
These are a few Merrell sandals that is comfortable, and safe for Diabetic feet;
---
1
The Terran Lattice is a very feminine-styled sandal for ladies with diabetic feet.
The sandal has fully adjustable straps with a hook and loop closure for a comfortable fit.
The uppers are nubuck leather and textile with a soft neoprene lining at the heel.
There is a more ergonomically shaped EVA footbed that provides cushioning and support.
The M Select Grip rubber outsole ensures excellent traction and grip on a variety of surfaces.
As you will see the sandal is available in many color options.
---
2
The Merrell Terran 3 Cush Slide sandal is a comfortable slide sandal for Diabetic feet in women.
The sandal features full-grain leather uppers with recycled polyester webbing.
The fit is wide and roomy, and the sandal is an easy slide-on-and-off design.
It is treated with Cleansport NXT for odor control and has an Active Comfortbase Integrated insole for all-day comfort and support.
The nylon arch shank supports the arches and provides good stability.
The Midsole is a lightweight, and shock-absorbing EVA.
The outsole is a durable and protective TPR rubber.
---
3
The Merrell Slingback sandal is comfortable and feminine for women who have diabetes.
They are non-irritating against your feet, with a more open and breathable design.
The sandal has full-grain leather uppers and is fully adjustable in fit.
There is a cushioning EVA midsole and a Comfortbase Active contoured footbed for support.
The M-Select Grip rubber outsole provides excellent grip and traction for all surfaces.
---
4
The Merrell Sandspur Rose is a comfortable active sandal for ladies with diabetes.
The sandal has a very comfortable design with a rounded toe for all-day comfort.
The Uppers are full-grain leather with a very soft and non-irritating textile lining.
The sandals have a fully adjustable design with a hook and loop closure.
There is an EVA Midsole that has a soft and comfortable microfiber-covered midsole.
---
5
The Merrell Bravada for ladies is a sporty sandal with soft and comfortable uppers for Diabetic feet.
It has soft and breathable mesh uppers and an adjustable ankle strap.
The sandal has a roomy toe box with no pressure points.
There is an EVA foam midsole and an Integrated EVA foam insole.
The Mountain Grade Quantum rubber outsole provides excellent grip and traction.
---
[/super_product]
6
The Sandspur oak from Merrell is the perfect sandal for men with diabetic feet.
The uppers are leather with a synthetic breathable lining.
There is also a soft padded Lycra and neoprene lining in the straps for padded comfort.
The shoe has fully adjustable uppers with a hook and loop closure.
The lightweight EVA foam midsole ensures good stability and comfort.
---
7
The Merrell Veron Convertible is a comfortable sporty sandal for diabetics.
The uppers are synthetic leather with a soft lining.
The uppers are fully adjustable in fit with a hook and loop closure.
There us a Microfiber lined, removable EVA insole that allows you the use your own orthotics.
The outsole is a regular rubber that ensures good traction.
---
8
The Merrell Kahuna is a water-friendly comfortable sandal for diabetic feet.
It has fully adjustable nylon webbing uppers with mesh for breathability, which is quick drying.
The uppers are fully adjustable to allow you to get the most comfortable fit.
There is an Air Cushion heel for stability and shock absorbency,
The EVA midsole ensures good stability and comfort.
The Vibram outsole ensures excellent traction in all weather conditions.
---
Index Table: Top Rated Merrell Sandals for Diabetics
---
---