When it comes to sandals for Children, Teva by far outshines the rest. Their sandal caters fully to the comfort and protection needs of young adventurers.
There are quite a few models in Teva sandals that I found absolutely outstanding for Kids, look further, and we will go through some of the top favorite Teva sandals for Kids.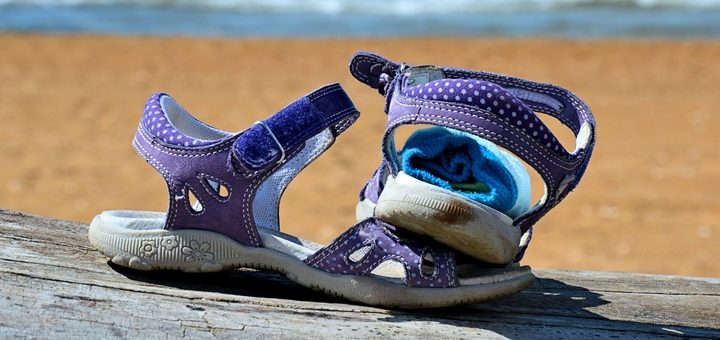 ---
---
Teva for Kids
The original Sport sandal from Teva emerged from the shores of the Grand Canyon back in 1984.
The sandal was born out of pure necessity when a river guide was needed to prevent his sandal from floating downstream. He proceeded to tie his Velcro wrist wraps to his pair of old Flip Flops, and this the ideal for Teva was born.
Teva is a brand that promises footwear and sandal that will give you the freedom to roam and enjoy many adventures. Teva likewise has a range of sandals for young and older children who enjoy exploring and roaming free.
Teva sandal takes the fuss out of losing sandals and irritating blisters from chafing Flip Flops by creating sandals for children that provide a secure and adjustable fit, with a comfortable and protective sole.
Teva sandals are likewise environBoystally friendly as they use recycled plastic for the upper Repreve Polyester webbing and natural materials from sustainable sources.
---
Why are Teva Sandals Ideal for Kids
Littke 8-13 and big kid 4-7 ranges

Size Ranges – Teva Kids range sandal are available in size optiosn for younger and older children, and some ranges even offer Toddler sizes.
Fun Colors and Prints – Teva sandals for Children come in many fun colors and prints, as well as more neutral colors and prints for older children.
Comfort and Protection – The same comfort and protection features that Teva sandals offer for Adults are there in the children's sandal range, with materials that are gentle on young feet and that offer excellent protection.
Slip Resistance – Teva sandal has a highly slip-resistant rubber outsole using different technologies depending on the mode to provide grip and traction in wet and dry terrains.
---
Features of a Good Sandal for Kids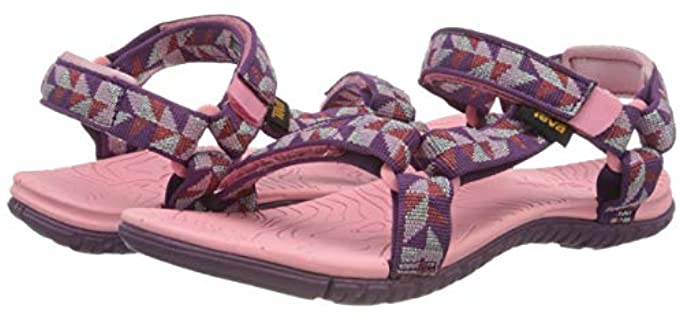 Teva Hurricane XLT Range for Kids – The Teva Hurricane XLT is one of Teva's best ranges that also come in fits and sizes for young and older children. The Upper webbing consists of a soft and comfortable Repreve Polyester that is fully adjustable with easy on and off-hook and loop closures. There is a lightweight EVA foam midsole for cushioning with stability and protection Nylon shank in the sole. The rubber outsole provides excellent support and traction.
Teva Mush Range for Kids – Available in different styles and even flip flop options, the Teva Mush also caters to children. The Mush Top Sole is soft and cushioning for plush comfort. The Upper webbing consists of a quick-drying Repreve Polyester. There is an EVA foam midsole that is lightweight and has a durable outsole. The Mush is a Vegan Sandal that used the only plant-based materials in the making.
Teva Hurricane Drift for Kids – Then we also have the Teva Hurricane Drift for Children. The Hurricane Drift is the perfect sandal for wearing to the beach or pool, as it is very lightweight and even floats. The Drift consists fully of Injection Molded EVA materials with adjustable straps and easy hook and loop closures.
Teva Manatee Fisherman's Sandal for Kids – The Manatee Sanda from Teva is a rugged Closed toe design adventure sandal that puts on and comes of quickly and easily. There is a Bungee cord lace-up system on the textile uppers. An EVA midsole offers lightweight cushioning, and the durable rubber outsole provides excellent traction and grip.
Teva Tirra Range for Kids – The Tirra range offers a multi-functional sandal that is comfortable and ideal for Lite and Day Hikes. There is quick-drying upper webbing that is adjustable in fit with hook and loop closures. The EVCA midsole provides comfortable cushioning, while the Spider Rubber outsole ensures excellent traction on wet and dry surfaces.
Teva Voya Range for Kids – The Teva Voyage range for kids is a laid-back,k comfortable sandal range that offers the MUSH comfort, Top Sole, with a lightweight EVA midsole. There are Nylon and Spandex flexible uppers with a hook and loop closure for adjustability. The rubber outsole provides great traction and durability.
Teva Omnium Water Sandal Range – The Teva Omnium Water Sandal range provides a comfortable Gravity-defying experience in a sandal with an injection-molded silhouette adjustable hook and loop closures straps. These sandals will float in any pool or water body, no jokes, and are light as a feather to wear.
Teva Olowahu for Kids – The Teva Olowahu is a fun and artsy sandal with colorful polyester uppers webbing and a comfortable Mush Top Sole. There are a lightweight EVA midsole and a supportive outsole for great traction.
---
Reviews: The Best Sandals for Kids
These are some of our top choices in Teva sandal ro Children;
---
1
Sandals for Little and Big Kids
Like the Adult version, the Teva Hurricane XLT 2 is a top favorite sandal model available in Little Kid and Big Kid sizes.
You will see there are many color options and size options for younger and older kids in the Hurricane XLT.
The Hurricane XLt features soft, water-ready, and earth-friendly, quick-drying Polyester uppers that are fully adjustable with hook and loop straps.
There is an EVA foam footbed for comfort and cushioning.
The rubber sole with lug tread offers excellent traction and slip-resistance on wet and dry surfaces.
---
2
The Teva Tanza is a model designed specifically for children by Teva.
The Tanza is available in two color options and little kid and big kid size options.
The Upper is fully adjustable with easy hook and loop straps, and they consist of a quick-drying and earth-friendly recycled Polyester.
There is a cushioned and comfortable EVA midsole.
The rubber outsole is very durable and offers excellent traction.
---
3
Water Sandal for Litlle Kids
For watersports, pool, and beachwear, I love the Children's model of Hurricane Drift.
The Hurricane Drift consists entirely of Full Injection Molded EVA, which dries fast and cleans very easily.
As a fun fact, these sandals will float completely on the water, which can be quite fun to experience.
There are Little Kid and Toddler sizes available, as well as a large range of fun colors.
The outsole ensures an excellent grip with the lug tread, and the uppers are adjustable with a hook and loop closure.
---
4
The Voya Infinity for Kids is a strappy minimalist design sandal for little adventurers.
The Voya Infinity is available in little and big kid sizes and has three color options from which you can select.
The Upper is a Nylon and spandex that stretches and dries quickly, easy to adjust.
The Lightweight EVA foam midsole provides comfort and support.
A comfortable Mush technology Top sole is extra plush under little feet.
The Outsole has a lug tread and durable EVA.
---
5
The Manatee for Kids is a more protective closed design outdoor sandal.
You can get the Manatee in Toddler and little kid sizes as well as many fun color options.
The Upper is a quick-drying mesh and breathable with a bungee cord lace-up system for a comfortable fit.
There is an EVA cushioning foam footbed for comfort and a durable rubber outsole for good traction.
These are ideal sandals for wet and dry conditions.
---
6
Original Design Sandal for Kids
The Teva Hurricane 3 is also available in a model for kids in little and big kid sizes.
The Teva Hurricane 3 has a fully adjustable hook and loop closure uppers for a comfortable fit.
The uppers consist of recycled plastic Polyester fibers that are quick-drying and soft against the skin.
There is a comfortable EVA midsole for cushioning.
A durable rubber outsole ensures excellent traction and slip resistance.
---
7
This is the Hurricane 4 range for Children.
It has Quick Drying polyester uppers that are fully adjustable.
The footbed is cushioned with EVA.
There is a durable rubber outsole.
You can also choose from some fun children's colors.
---
8
The Y Tirra sports sandal is also a favorite for kids.
The uppers are textile and synthetic, and water-ready.
There is a comfortable and cushioned footbed and a slip-resistant rubber outsole.
There are also a few more colors available for kids.
---
9
The K-Tanza Sport is available in Big Kid and Little kid-size options.
It has adjustable uppers in fabric and textile materials.
The sole is a cushioning EVA.
There is a slip-resistant rubber outsole.
It comes in fun and colorful variations from which you can choose.
---
10
The Walhalla is designed specifically for kids.
It is available in little kid and big kid size options.
The uppers are fully textile and durable.
There is a durable slip-resistant rubber outsole.
More colors are likewise available to you.
---
Index Table: Top Rated Sandals for Kids
---
---