Teva is a brand that manufactures some of the best available outdoor and casual wear sandals.
Included in their range are some exceptional leather design sandals crafted from premium leather that is ethically sourced.
This article looks at some of the top ranges of leather sandals that Teva has to offer.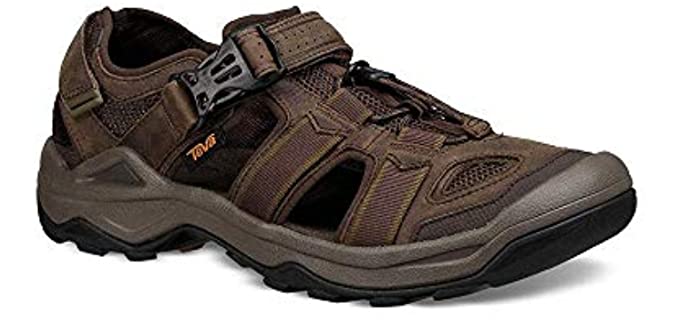 ---
---
Teva as a Sandal Brand
The Original Teva icon is initially created to give a person the freedom to roam.
Teva creates a range of sports and outdoor sandals that allow people to explore and enjoy all the wonders of life and the great outdoors.
Teva, as a brand, prides itself on its continual Innovation and improved Artisanship. Creating signature designs and new innovative technologies, using sustainable resources and materials to care for the environment.
Teva gives back to the environment, community, and employees by looking at their activities impact on these groups and supporting various organizations.
So, in the end, you get a pair of sandals made from sustainable materials by a well-known and environmentally friendly brand. Their sandals are perfect in every way, and there is a wide variety to choose from. We will be looking at some of their more classy and unique Leather sandal options.
---
The Benefits of Leather Sandals
Leather has always been associated with good quality, and this is no lie. Leather is known for its extreme durability, versatility, flexibility as well as style.
Teva has used leather in some of its sandal ranges for many years.
Leather sandals have quite a few benefits besides looking good on your feet;
Leather Sandals can be Worn with Virtually Anything – Leather sandals can be casual and chic, formal and stylish simultaneously, so they are ideal for all occasions. You can wear your leather sandal for a day at the beach and even for an evening out. Furthermore, a good pair of leather sandals will compliment almost any outfit elegantly.
Leather sandals are Extremely Comfortable – Leather sandals will never disappoint when it comes to comfort. The leather becomes softer and more supple over time and eventually conforms to your feet, providing you with the most comfortable fit. Unlike other materials that tend to chafe and cause blisters, leather is much more gentle and will seldom harm sensitive skin.
Leather Sandals are Versatile and Come in Many Styles and Ranges – Leather sandals, in general, and those manufactured by Teva come in various styles and colors. There are styles and designs available for both men and women alike.
Leather Sandals are Incredibly Durable – Leather is well known for being extremely durable. The leather sandal will last you quite a long time, especially Teva's leather sandal, which consists of very high-grade Premium leather. I also love leather because it ages well and looks better with age taking on a distinctive shine and finish.
---
Features of a Good Leather Sandal
Uppers – For their genuine leather range, Teva uses premium and rich leather with a supple and soft feel. The tanneries used by Teva for every piece of leather are certified by the Leather Working Group, which has the mission to promote sustainable and environmentally friendly business practices within the leather industry. There is also the Vegan leather option, where plant-based synthetic leathers are used.
Footbed – For the Footbed, you can enjoy the different ranges such as the MUSH cushioned Topsole, a Cork Wedge Midsole Leather-wrapped footbed, or a PU Footbed with a Microfiber Covering, depending on the model that you choose.
Outsole – Teva uses natural rubber for their outsole with lug patterns for better grip and durability. Many Leather sandals, especially for women, may have a wedge sole or a slight heel.
Colors – There are various colors and options available in the Leather Sandal range from Teva, including strappy styles, sporty styles, Flip Flops, and flat or heeled designs. Teva uses more neutral color options in their Leather range, such as natural browns, blacks, and tan colors.
---
Reviews: The Best Leather Sandals
Below are some of the top favorite Leather Sandal ranges offered by the brand Teva;
---
1
The two most favored leather sandal models from Teva are the Katavi 2 for gents and the Elzada Lea sandal for the ladies.
Both sandals feature leather uppers straps that are fully adjustable with a hook and loop closure system.
The Katavi has a contoured EVA sole with a nylon shank for stability and a durable Dermabrasion rugged rubber outsole.
The Lea features a Microfiber top footbed with a responsive PU drop-in design for comfort and support and a durable rubber outsole that also provides excellent traction.
You can obtain both of these sandals in a few neutral color options.
---
2
The Teva Omnium 2 is the latest in the Omnium range, with soft and supple leather and textile uppers.
The Upper consists of premium leather with textile lining and mesh inserts for breathability.
This is a closed-design sandal with multiple drainage ports, hooks, and loop strap closures for adjustability.
The Molded EVA foam footbed offers support and comfort, with a shock-pad heel for heel shock absorbency.
The non-marking Spider Rubber outsole ensures excellent traction and grip, particularly on wet and slippery surfaces.
---
3
The Teva Langdon and Teva Terra Fi Lite are leather sandals similar in style and comfort features.
The Upper consists of premium leather with textile linings for moisture control and comfort.
There are adjustable straps with hook and loop closures for the perfect fit.
The Molded EVA footbed provides excellent support and cushioning, while a Nylon shank provides stability.
Furthermore, a durable, high-traction Spider rubber outsole ensures excellent traction, especially on wet surfaces.
---
4
The Elzada and Langdon Slide sandal and Elzada Slide Lea are also two stunning leather sandal models from Teva.
The Upper straps consist of premium leather with a smooth textile lining.
The design is an easy slide on and off with hook and loop closures and adjustable straps.
Both sandals have a contoured cushioned EVA footbed, and the Lea features a Microfiber top lining for moisture control.
A durable rubber outsole provides excellent grip and traction.
---
5
The Teva Universal Leather is based on the Teva Original design, with a Platform Sole and Leather uppers.
The uppers are solid leather with adjustable straps and hook and loop closures.
There are many solid color options available from which you can choose in this model.
The sole consists of EVA foam and a durable Spider Rubber Outsole,
The Topsole has also been treated with Zinc based Microban technology for odor and bacteria control.
---
6
The Teva Voya Flip is a casual and comfortable Flip Flop with Leather webbing.
The Upper webbing consists of Premium leather with a soft microfiber lining,
A MUSH technology plush cushioned top sole and a lightweight EVA sole for shock absorbency and grip.
You can select from quite a few color options available in the Voya Flip sandal.
Furthermore, the Voya Flip has a synthetic sole with durable tread for better traction.
---
7
These are two comfortable and stylish leather sandals from Teva.
They are both ideal for all occasions and less casual in design.
The uppers are genuine leather, and there is a durable rubber sole.
More color options are available.
---
8
These are two slip-on design slides from Teva.
They are casual in design and easy to slip on and off for all occasions.
They have leather uppers and a durable rubber outsole.
More neutral colors are available to you.
---
9
Two more diverse leather sandals from Teva.
The Langdon has leather uppers with a textile lining, and the Voya Infinity has Elastic lacing with leather insets.
The sole is comfortable and cushioned with EVA, and there is a durable rubber outsole.
There are also a few more colors available.
---
10
For comfort and all occasions, we have the Tanway and Voya Strappy from Teva.
They both feature leather uppers and a durable rubber outsole.
The footbed has EVA cushioning for comfort.
They are available in neutral color options.
---
Index Table: Top Rated Leather Sandals
---
---