Hiking shoes may only sometimes be ideal, particularly in sweltering weather conditions or wet conditions.
This is where the Teva sandal for Hiking comes in handy. Their rugged design, durable materials, and excellent slip resistance make them the best available Hiking sandal.
Further, in this article, we will look at some of the best and most comfortable sandal models from Teva for Hiking.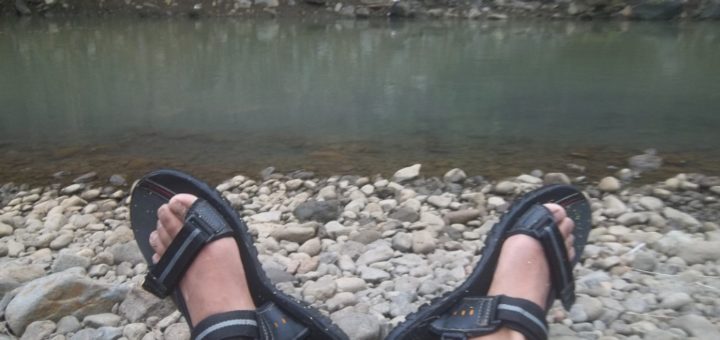 ---
---
The History Behind Teva
The original Teva sports sandal emerged straight from the shores of the Grand Canyon, also known as the Teva Original or Teva Canyon previously.
The design was born out of necessity to prevent sandals from floating downstream when a resourceful river guide strapped two Velcro watchbands to a pair of his old flip-flops to keep them on. And just like that, the Teva brand was born.
In the years following, Teva has maintained the same pioneering spirit and prides itself upon its footwear designed for freedom and exploring.
The Teva brand promises to give people the freedom to roam and enjoy footwear adventures to enjoy such endeavors.
Teva is a brand continuously in this article dates and is designed to keep up with fashion and technology. Besides that, Teva uses verifiable recycled plastic to create the upper webbing for their sandals called Repreve Polyester.
Regarding the community and environment, Teva positively shapes and protects the environment by using a Corporate Responsibility Program that encourages people to look at the broader impact of activities on the environment, customers, communities, and employees.
Teva is passionate about protecting wild places and nature and likes to make the great outdoors accessible by designing and creating some of the best available outdoor and hiking sandals and footwear.
---
What Do Teva Sandals Offer for Hiking
Teva sandal is designed for outdoor use and Hiking initially, but they offer a range of models which are ideal for lite walks to heavy Trail Walking and Hiking;
For Light Hikes – For Lite Hikes, walks through nature, and sightseeing, there are roam-ready lightweight sandal styles that will keep you moving comfortably without blisters. Many of these models feature comfort features such as an EVA midsole with Shoc-Pad heel technology for shock absorbency when walking, adjustable soft webbing for the uppers, and a high traction outsole.
For Day Hikes – You will need a slightly more rugged sandal for hiking trips on adventure trails during the day. A more rugged Spider Rubber outsole comes in handy in this model, which provides a better grip on wet and dry surfaces. An EVA midsole and shock-absorbing technology protect your feet against impacts, and water-ready upper webbing from soft Polyetsr protects your feet and reduces friction.
For Multi-Day Hikes – Multi-Day Hikes include good hikes through Creeks and rugged outdoor areas. These hikes require a robust sandal that can handle uneven, wet, and various surfaces. A Molded PU midsole helps provide cushioning and stability, while a rugged Ultra-Grippy outsole ensures excellent traction and grip on various surfaces. The Repreve Polyester uppers are water-ready and will dry quickly in wet conditions.
---
Features of a Good Teva® Sandal for Hiking
Teva Original Universal Styles – The Teva Original is the perfect all-round sandal for Lite Hikes and Walks, sightseeing, and Festivals. The Teva Original Universal features soft Repreve Polyester uppers that are fully adjustable and water-ready. The EVA footbed is robust and has a heel cup and arch cookie for cushioning and support. Added Microban treatment means you will be odor-free, and a durable rubber outsole provides excellent traction.
The Teva Hurricane Style – The Teva Hurricane is a more robust design similar to the Original. I would opt for the Hurricane XLT model for Hiking rather than the Drift, which is more suitable for water sports. The Hurricane XLT features the same fully adjustable polyester yarn uppers that are water-friendly with an Injection Molded strap for quick and easy grip and adjustability, with hook and loop closures. It also has an EVA footbed that is a bit more robust and stabilizes nylon shank for uneven terrains. The Durable rubber outsole provides excellent traction and comfort. I suggest the Hurricane for Day Walks and Lite Hiking trips.
The Teva Tirra Design – For the ladies, the Teva Tirra is an excellent Hiking and trail walking sandal with an open or closed-toe design. The Teva Tirra has adjustable quick dry polyester webbing and a contoured EVA midsole with arch support and Shoc-Pad technology on the heel. A Nylon shank in the sole provides excellent stability. At the same time, the rugged Spider Rubber Outsole ensures superb traction in wet and dry conditions.
The Teva Omnium Fisherman Style Sandal Range – The Teva Omnium is another excellent and ultra-protective Fisherman's style sandal ideal for hiking in wet and dry conditions. The Omnium features a closed design with mesh, synthetic uppers, and a protective toe cap. An EVA midsole with zinc-based Microban treatment and a rugged Spider Rubber outsole for optimal traction and grip on wet and dry surfaces.
The Teva Terra F1 5 Universal for Men Range – A favorite Hiking sandal for Multi-Day Hikes and more rugged terrain is the Teva Terra F1 5 Universal. The Terra is an all-terrain hiking sandal with quick-drying, verifiable Repreve Polyester uppers that are fully adjustable. A supportive PU midsole has a stabilizing TPU shank and a contoured design. The Rugged Spider Rubber outsole is perfect for wet and dry surfaces and offers outstanding slip resistance.
---
Reviews: The Best Teva® Sandals for Hiking
Here we have the top Hiking sandal models from Teva;
We hope you love the products we recommend!
So that you know, We may collect a share of sales or other compensation from the links on this page.
---
1
Closed Design Sandals for Hiking
The Teva Omnium is a more protective and durable sandal ideal for Multi-Day Hiking and rougher Terrain.
The Upper consists of durable leather, quick-drying mesh, and synthetic materials.
Elastic Gore stretches with your feet and ensures you enjoy laceless comfort and a perfect fit.
A durable rubber toe cap for added protection and a Nylon shank for stability on uneven terrains and underfoot protection.
The Cushioned EVA foam midsole with shock-pad technology heel provides excellent comfort and shock absorbency.
The Non-Marking Spider Rubber outsole is a versatile rubber that ensures good durability and slip-resistance on wet terrains.
---
2
The Teva Hurricane XLT is perfect for day hikes, lite hikes, sightseeing, and short trail walks.
The Teva XLT comes available in many color options you can choose from.
The Upper is water-ready Polyester and nylon with adjustable hook and loop closures and an Injection Molded strap end for easy on and off.
A robust EVA footbed with a contoured support design and a Nylon Shank for better stability on uneven terrains.
The rubber outsole offers superb durability and traction on most outdoor surfaces.
---
3
Leather Lite Hiking Sandal
I recommended the Langdon and the Terra Fi Lite for Lite Hikes and short day trips.
The Langdon has leather uppers with a smooth moisture-wicking lining and easy hook and loop closures for the adjustable straps.
The Terra Fi Lite features leather and synthetic uppers with smooth lining and adjustable straps with hook and loop closures.
Furthermore, the Terra Fi Lite has an EVA midsole with a Nylon shank for protection and stability and a durable Spieedre Rubber outsole for wet surfaces.
The Langdon also has a Molded EVA footbed with a nylon shank for stability and a durable rubber outsole.
---
4
Water Friendly Sandal for Hiking
One of the best available Hiking sandals for Multi-Day Hikes and rough terrains is the Terra Fi 5 Sport sandal from Teva.
The Upper is a quick-drying, durable synthetic mesh material, and EVA Upper cushioning along the posts keeps you comfortable.
A Molded Pu midsole offers heavy-duty cushioning and support.
The Upper has buckle closures, which are much easier to get in and out.
There is also a trail-specific wet and dry condition Durabrasion Sticky Spider Rubber Outsole.
---
5
The Teva Katavi and Teva Tirra are sports sandals that also come in handy for Hiking and Trail walking trips.
The Katavi has Quick Drying Repreve Polyester and leather uppers, while the Tirra has synthetic Neoprene Foam and mesh uppers that are water friendly.
Both sandals have a molded EVA midsole for support and cushioning. The Tirra has shoc-pad heel technology, and the Tanway has an additional Nylon shank.
You can also enjoy the exceptional traction and grip on wet and dry surfaces from the Spider Rubber outsole on both these sandals.
Furthermore, a few neutral color options are available in both sandal models.
---
6
The Closed design Terra-Float Knit sandal is ideal for Lite and Day Hikes in wet conditions and water.
The Upper is a soft and quick-drying synthetic polyester.
An anti-microbial treated insole for odor resistance and fully knitted uppers design offers a 360 sock-like fit and excellent moisture-wicking capabilities.
The EVA footbed provides durable support and cushioning.
A Rugged Durabrasion outsole is durable and ensures excellent grip and traction.
---
7
Comfortable and supportive hiking sandals.
The sandal has adjustable and textile uppers.
The footbed has EVA cushioning.
There is a rugged Durabrasion outsole for grip on slippery surfaces.
---
8
The Sandals have adjustable water-resistant textile uppers.
They are also available in more colors.
The footbed us EVA cushioned and robust.
The outsole is a slip-resistant rubber.
---
9
A unisex design of sandals.
The uppers are fully adjustable and textile material.
They have a nylon stability shank for stability.
The outsole is a rugged Durabrasion outsole for slip resistance.
---
10
More sophisticated design hiking sandals.
They are a protective closed-toe design and durable construction.
The sandal has an EVA footbed and shock pad technology for comfort and support.
The outsole has a lug tread for slip resistance.
---
Index Table: Top Rated Sandals for Hiking
---
---