Plantar Fasciitis is a widespread foot condition mainly caused by impact on your heels, which can be created by many situations such as having flat feet or being overweight.
Plantar Fasciitis causes pain in the heel that can be relieved by comfortable and shock-absorbing shoes and prevented.
The best sandals for plantar fasciitis in 2023 must have good cushioning and a shock-absorbing midsole to reduce pain and prevent further impact on the heels.

---
More About Plantar Fasciitis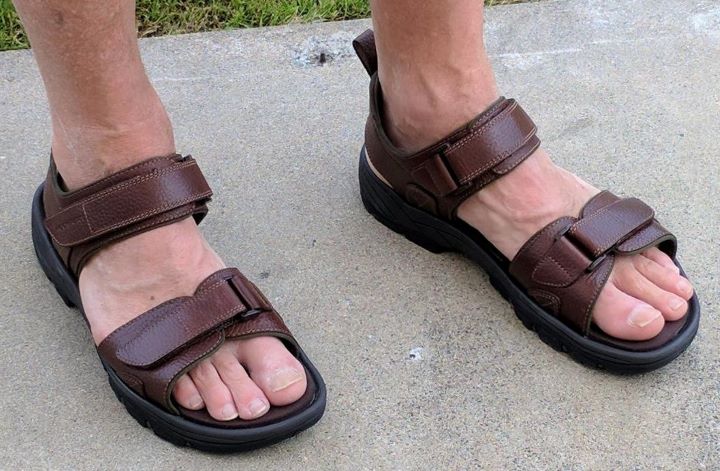 Plantar Fasciitis is the inflammation of the thick band f tissues which run from your heels to your toes, called the Plantar Fascia. This causes pain in the heel when you step on it, particularly after a long rest off your feet or when you get up in the morning.
Symptoms – These include sharp pain in the heel area into the ankle when you step on your heel and are predominant after a long rest off your feet or getting up in the morning.
Causes – The main causes are: being overweight, participating in activities that impact the heels, or having a flat foot or low arch. High-heeled shoes are also a culprit among women.
Treatments – Icing the area and anti-inflammatory pain medication will help, but you also need to address the cause. Take care of the activities you perform, wear cushioned and shock-absorbing shoes, and if you are overweight, try to lose some weight; it will most definitely help.
---
What to Look for in Sandals for Plantar Fasciitis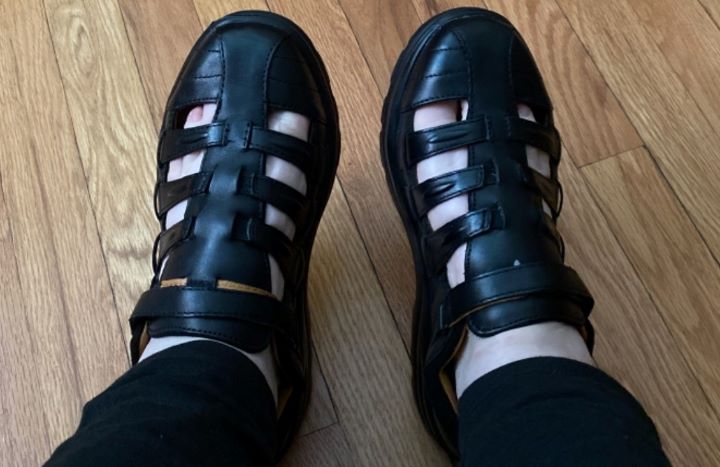 Plantar Fasciitis in a Low Arch or Flat Foot – Plantar Fasciitis is most common in individuals with shallow arches or flat feet. This arch requires a specific shoe type with arch support aimed at a low arch. Stability and motion control is essential here, helping control the excessive overpronation and keeping your feet aligned properly. Extra heel padding or a deeper heel cup will help stabilize and protect the heel against impact.
Cushioning and Shock Absorbency – Cushioning and shock absorbency, particularly in the heel area, can provide much pain relief and even lessen the impact on your feet and heel, so also make this your number one priority when looking for shoes or sandals for Plantar Fasciitis.
Orthotoc Devices – Many shoes, even sandals, are designed with a removable insole or footbed, allowing you to use your own orthotic devices. You can use cushioned or arch-supportive insoles to alleviate pain and absorb shock on impact.
---
Features of a Good Sandal for Plantar Fasciitis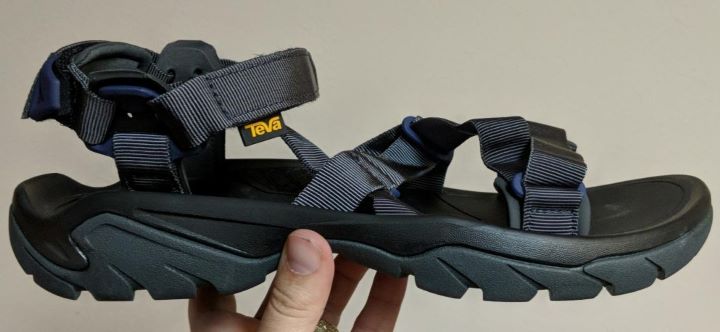 Support and Cushioning – Cushioned and contoured insole for comfort and support. Good arch support. A removable footbed or insole allows you the use your own orthotics. Foam or EVA midsole and thick, durable rubber outsole for additional shock absorbency.
Uppers – Soft and comfortable uppers straps or webbing.
Outsole – A durable and high traction rubber outsole.
---
Reviews: The Best Sandals for Plantar Fasciitis
Below are our top-rated sandal brands and models for Plantar Fasciitis.
We hope you love the sandals we recommend!
So that you know: We may collect a share of sales or other compensation from the links on this page.
---
1
---
2
---
3
---
4
---
5
---
6
---
7
---
8
---
9
---
10
---
11
---
12
---
13
---
14
---
Index Table: Top Rated Sandals for Plantar Fasciitis
---
---