Plantar Fasciitis is a widespread foot condition mainly caused by impact on your heels, which can be created by many situations such as having flat feet or being overweight.
Plantar Fasciitis causes pain in the heel that can be relieved by, for one, comfortable and shock absorbing shoes and being prevented. Sandals with good cushioning and a shock-absorbing midsole can reduce pain and prevent further impact on the heels.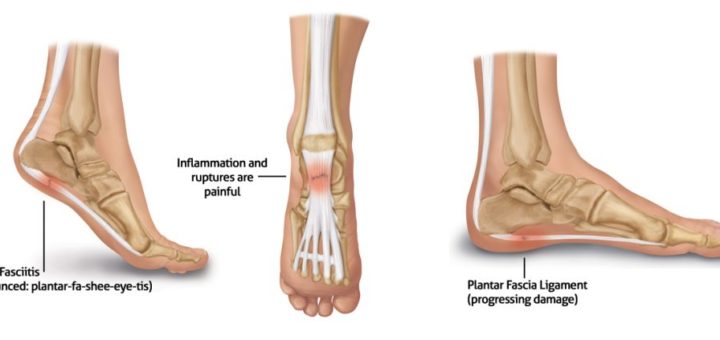 ---
More About Plantar Fasciitis
Plantar Fasciitis is the inflammation of the thick band f tissues which run from your heels to your toes, called the Plantar Fascia. This causes pain in the heel when you step on it, particularly after a long rest off your feet or when you get up in the morning.
Symptoms – These include sharp pain in the heel area into the ankle when you step on your heel and are predominant after a long rest off your feet or getting up in the morning.
Causes – The main causing are being overweight, taking part in activities that impact the heels, or having a flat foot or low arch. High-heeled shoes are also a culprit among women.
Treatments – Icing the area and anti-inflammatory pain medication will help, but you also need to address the cause. Take care of the activities you perform, wear cushioned and shock-absorbing shoes, and if you are overweight, try to lose some weight; it will most definitely help.
---
What to Look for in Sandals for Plantar Fasciitis
Plantar Fasciitis in a Low Arch or Flat Foot – Plantar Fasciitis is most common in individuals with shallow arches or flat feet. This arch type requires a specific shoe type with arch support aimed at a low arch. Stability and motion control are essential here, helping control the excessive overpronation and keeping your feet properly aligned. Extra heel padding or a deeper heel cup will help with stability and protect the heel against impact.
Cushioning and Shock Absorbency – Cushioning and shock absorbency, particularly in the heel area, can provide much pain relief and even lessen the impact on your feet and heel, so also make this your number one priority when looking for shoes or sandals for Plantar Fasciitis.
Orthotoc Devices – Many shoes, even sandals, are designed with a removable insole or footbed, allowing you to use your own orthotic devices. You can use cushioned or arch supportive insoles, which can alleviate pain and absorb shock on impact.
---
Features of a Good Sandal for Plantar Fasciitis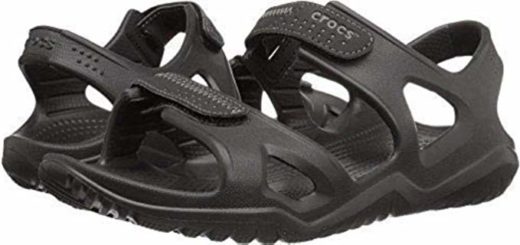 Support and Cushioning – Cushioned and contoured insole for comfort and support. Good arch support. A removable footbed or insole is allowing you the use of your won orthotics. Foam or EVA midsole and thick, durable rubber outsole for additional shock absorbency.
Uppers – Soft and comfortable uppers straps or webbing.
Outsole – A durable and high traction rubber outsole.
---
Reviews: The Best Sandals for Plantar Fasciitis
Below are our top rated sandal brands and models for Plantar Fasciitis;
---
1
Plantar Fasciitis Sandals
The Rockport Fiona and Rocklake are sporty and comfortable sandals with excellent cushioning to impact resistance, particularly in the heel area.
Leather and fabric uppers with a smooth, irritation-free lining and an adjustability option.
The thick and shock-absorbing durable rubber outsole ensures excellent impact resistance and excellent slip resistance.
A cushioned and soft insole with an EVA midsole for cushioning and shock absorbency, reducing the impact on your heels.
These sandals also have a great sporty and fashionable design.
---
2
Sports Sandal for Plantar Fasciitis
Teva is a well-known comfort and fashionable sandal brand that is more on the casual side.
There is a cushioned Compression-molded EVA midsole that ensures the best in support and comfort.
A Stability shank and Shock pad Heel keeps your feet stable, well supported, and absorbs shock.
A High traction rubber outsole with water channeling lugs makes this sandal perfect for beach and outdoor wear.
There are wider widths available and many colo selections for men and women.
---
3
Walking Sandal for plantar Fasciitis
The Propet Pedic Walker and Jordy are designed by a company that manufactures some of the best orthopedic and comfort design sandals and shoes, aiming at a range of foot and health conditions.
There are smooth and supple leather uppers with adjustable straps so that you can get a snug and comfortable fit.
Wider widths options are available for w wider foot or flat feet conditions.
The footbed is fully cushioned for comfort and removable, allowing you to use your own orthotic devices.
Likewise features a highly durable and shock-absorbing rubber outsole.
---
4
Sandal for Plantar Fasciitis
Looking for heaven on your feet, then do not miss out on these two superior sandal models from Hushpuppies.
The uppers consist of the most exceptional quality, soft and supple. Full Grain Nubuck Leather.
The Rawson Grady sports has a Lycra-Neoprene lining that reduces friction, a suede-covered cushioned polyurethane footbed, and a lug rubber outsole.
Both shoes have a durable rubber outsole with WaveFlex Technology patterns, for better grip and traction.
The ladies Lyrical offers strategically placed Flexible Grooves for enhanced flexibility and even weight distribution along with their popular, BioBevel beveled design toe and heel for natural balance and stability.
Both are highly fashionable and fine quality sandal, which offers orthopedic comfort and superb shock absorbency.
---
5
Sandals for Plantar Fasciitis
The Dr. Comfort Breeze is another highly comfortable and supportive Fisherman's style sandal ideal for conditions such as plantar Fasciitis, Hammertoe, Bunions, and Neuropathy.
The Soft and smooth leather uppers in a Fisherman's sandal style are comfortable and fashionable.
Ther is an Open-air design for breathability and cooling in any setting.
The removable cushioned insole can use your own orthotic devices and provides superb shock absorbency and cushioning.
Fasciitis
A highly durable and high grip EVA sole.
---
6
Fisherman's Sandal for pplantar Fasciitis
The Orthofeet Alpine and Naples are two Fisherman-style sandals that are lightweight, durable, and breathable with a shock-absorbing Ortho Cushioning system ideal for foot conditions such as plantar Fasciitis.
Popular Ortho Cushioning System provides sufficient shock absorbency and cushioned comfort without the weight.
The perfect sandal for back and heel pain also accommodates a wider foot shape and foot deformities such as Hammertoes and Bunions.
The uppers have a seamless interior design for less irritation.
A thick and durable rubber outsole for better traction and grip on outdoor surfaces.
---
7
Outdoor Sandal for Plantar Fasciitis
The Keen Newport H2 has a contoured footbed and arch support which is ideal for Plantar Fasciitis.
Polyester webbing is used for the uppers that are also adjustable.
There is a TPU shank in the sole for stability and Metatarsal Ridge support.
The sandal has a Hydrophobic mesh lining for moisture control and comfort.
Only PVC-free materials are used in these sandals.
---
8
Plantar Fasciitis Sandals
The Birkenstock Milano offers a secure fit with a contoured cushioned footbed for Plantar Fasciitis relief.
A comfortable and supportive closed ankle style sandal from Birkenstock.
Soft leather upper that is adjustable and a leather ankle strap give you a secure fit.
The contoured cork and latex footbed provide support and cushioning.
A flexible EVA sole ensures excellent traction and shock absorbency.
You can also choose between different width options.
---
9
Open Toe Sports Sandal for Plantar Fasciitis
The Teva Open Toe Design sandal and Verra are athletic and sporty-styled sandals with a supportive footbed and cushioning.
An open-toe design adjustable comfort sandal in a sporty style.
The Textile and synthetic upper offer you hook and loop closures for adjustability.
There is a contoured EVA footbed for cushioning and comfort and a durable high traction outsole.
Some color variations are also available.
Added Shock Pads provide impact resistance in the heel and forefoot, which is perfect for Plantar Fasciitis.
---
10
Plantar Fasciitis Dress Sandals
The Clarks Un-Trek and Saylie Moon are more formal styled sandals for all occasions that support your feet.
The upper is genuine leather and fully adjustable.
The Ortholite Footbed and Cushion soft technology footbed provides comfort and support.
There is also a Flexible and shock-absorbing EVA sole.
You can likewise choose from a few different color options available.
---
Index Table: Top Rated Sandals for Plantar Fasciitis
---
---