Choosing a good sandal to prevent heel pain and support your feet when you have Plantar Fasciitis is not always easy.
It would be best to have a sandal that offers proper support and cushioning for this condition and prevent pain.
So we will look at a very unlike and specific sandal brand, the best Crocs sandals for plantar fasciitis, that is quite effective.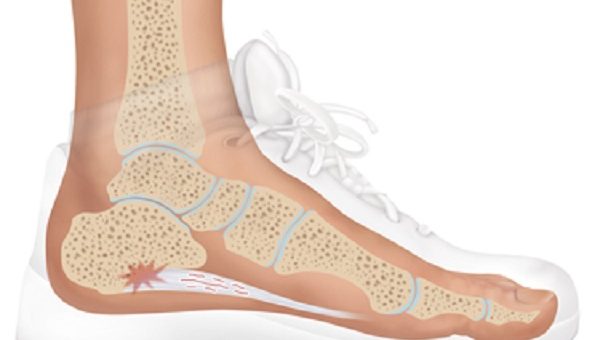 ---
---
Plantar Fasciitis Risks and Symptoms
But let us peek into the condition for a bit before continuing.
Plantar Fasciitis is a condition that exists because the Plantar Fascia, which is the band of connective tissue that connects your toes and heel, running along the side and bottom of your feet, becomes damaged or inflamed.
This generally occurs because of high-impact sports and activities such as running and dancing. There is plenty of strain on the feet and heels, or just because of standing or walking for prolonged periods, especially on tough surfaces.
Other factors, such as your weight and foot mechanics, can also come into play which may cuase or aggravate the condition.
It is more likely that you will develop Plantar Fasciitis if you have flat feet. However, it is also noted in persons with a higher-than-normal arch type.
All in all, you want to reduce strain on the Plantar fascia and protect your heels initially when you have plantar Fasciitis or are at risk of developing the condition.
---
What to Look for in a Sandal for Plantar Fasciitis
So, we will highlight a few features to look for in footwear, especially sandals for Plantar Fasciitis, and why you need them;
Fit – I always recommend a roomy fit or wider fit sandal for persons with flat feet and Plantar fasciitis. Luckily Crocs are generally wide in fit.
Support for Your Arch Type – Firstly, to help with the condition, you need to consider what type of arch you have, very low or very high, because this means that you will need arch support in a sandal. It will also affect other support choices, such as cushioning and stability. You may supinate with a high arch, whereas with a lower arch, you may overpronate, affecting your support choices. Arch support is good but unnecessary for a neutral foot that does not have these issues.
Proper Cushioning – As I have mentioned depending on your arch type, you may need firmer or more plush cushioning. However, to absorb shock that may affect the Plantar Fascia, you need some form of midsole and insole cushioning in the footbed of your sandal. The shock from hard impacts will aggravate and cause Plantar Fasciitis.
Flexible or Rigid Sole – Generally, I would opt for a more rigid sole when you have Plantar fasciitis. A rigid sole is required mostly for flat feet and lower arches, particularly overpronated persons, as they need more stability. With a higher arc, you need a bit of flexibility. Look for a sandal that only flexes at the ball of the foot. This is ideal.
Heel Stability – A sandal that offers a deeper heel cup or more contoured design provides stability for the heel and helps to reduce symptoms of Plantar fasciitis.
---
Features of a Good Crocs Sandal for Plantar Fasciitis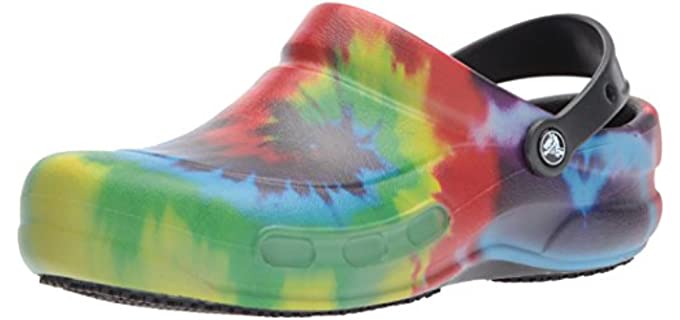 Materials – Crocs sandal consists almost entirely of a soft foamy Crosslite material for the uppers, with more density in the footbed and sole. Some models have a rubber outsole; others may even have mesh or textile uppers.
Design – Crocs generally have the basic Clog design you can wear as a slip-on or with the back strap. This design has ventilation and drainage holes as the sandals are water-resistant and friendly. You also get Flip Flop, closed clog designs, Swiftwater mesh designs, and newer models.
Slip Resistance – Crocs Generally have a slip-resistant sole that is patterned to provide grip and traction.
Support – Most Croc shoe models have a contoured design footbed for arch support and proper support for your entire foot.
---
Reviews: The Best Crocs Sandals for Plantar Fasciitis
These are the most popular models from the brand Crocs;
---
1
Sandals for Plantar Fasciitis
This is the Classic Clog design from Crocs and the most popular.
As you will see, it is available in many fun and neutral color options for men and women.
The design is a closed-front clog style with vent holes and a back strap that you can swing over to create a slide-on sandal.
The entire sandal consists of soft and foamy crosslite material.
The EVA sole is textured for grip, and the footbed has a supportive contoured design.
---
2
The Crocband Croc is similar to the original clog-style Crocs but has a white band in the midsole around the sandal.
The sandal consists of Crosslite foam and has an EVA outsole.
The design is much more sporty and very lightweight.
It is well-ventilated and breathable and has a supportive footbed.
This model is also available in many more color options.
---
3
Sandal for Plantar Fasciitis
Here we have the Bay Clog model from crocs consisting of 100% crosslite foam for cushioning and lightweight comfort.
There are also ventilation and drainage holes; the new design helps keep water and debris out.
This design has a very roomy and wider fit and can be customized with jibbitz charms of your choice, purchased separately.
The design is for both men and women, and more colors are readily available.
---
4
Sandal for Plantar Fasciitis
The Bistro Clog from Crocs is designed as a work shoe for hospitality, restaurants, and hospitals because it provides excellent slip resistance.
The Bistro clog has an enclosed toe with a thicker metatarsal area for toe protection and an ASTM and CE-tested and certified slip-resistant outsole.
The footbed has to cushion and a comfortable, supportive design.
The Bistro Clog is also available in many color men and printed options.
---
5
Here we have the Specialist Vent model in Crocs.
This model consists entirely of Crosslite material with the same contoured and supportive footbed and cushioning sole.
There are additional vents in the forefoot, and this sandal is ideal for water and wet environments.
The outsole is very grippy for slippery surfaces.
The insole also has a new luxury massaging design.
There is a white, black, and navy blue color option available in this model.
---
6
Sandal for Plantar Fasciitis
No sandal list is complete without a flip-flop, and crocs do, in fact, have a flip-flop model.
It has an EVA outsole and crosslite construction that is soft and foamy.
The footbed provides optimal support, and the sandal is very lightweight, as well as water-friendly.
It is also available in more colors from which you can choose for men and women.
---
7
Flip Flops for Plantar Fasciitis
The Crocs Athens Flip Flops are an excellent choice for Plantar Fasciitis.
They have a flip-flop open design and a fully cushioned footbed.
The footbed is contoured for proper arch support and stability.
The flip-flops also come in more color variations.
---
8
Sandals for Plantar Fasciitis
The Duet Sports clog is the perfect Crocs sandal for Plantar fasciitis.
The sandal has a closed style and a back strap that you can use to convert it into a slide.
There are more colors and sizes available.
The footbed is contoured for support and also cushioned.
---
9
Sandals for Plantar Fasciitis
The Crocs Swiftwater mesh is a great closed design hiking and water sandal for plantar fasciitis.
They have mesh uppers and a closed toe.
There are large drainage holes on the sides.
The footbed offers support and cushioning.
---
10
Flip Flops for the Plantar Fasciitis
The Crocs Bayaband Flip Flop is the perfect beach flip flops for Plantar Fasciitis.
They have an open and water-friendly design.
The Crosslite foam offers soft cushioning, and the contoured footbed supports your arches.
They are also available in more color options.
---
Index Table: Top Rated Crocs Sandals for Plantar Fasciitis
---
---