Comfort when it comes to footwear forms a large part of the job description of nurses. Nurses are on their feet for many long hours and can quickly suffer from fatigue and aching feet.
In the hot summers, it can be even more excruciating. Therefore you need the best available sandal specifically designed to provide comfort for nurses.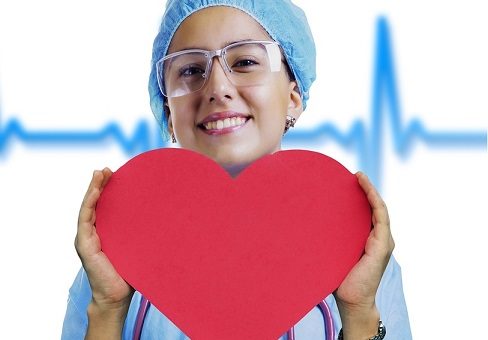 ---
Why do Nurses Need Good Sandals
Choosing the perfect sandal for those hot summer months can make a world of difference in Nurses everyday life and provide many characteristics;
Good Posture – The right sandal provides support that can help to improve your posture and prevent back problems.
Arch Support – Proper Arch support means that your feet are protected from impact, and weight is distributed even;y, thus no more aching and painful feet at the end of the day.
No Slips and Falls – The right sandal for nurses will have a sturdy slip-resistant sole, which protects you from slipping and falling on those hard slippery floors, even if they are wet.
Improved Performance – You will be able to move around faster and more comfortable and perform better at daily tasks with a comfortable pair of sandals that do not hold you back.
---
What to Look for in a Supportive Nurses Sandal
Here are a few characteristics to consider in a good sandal for Nurses;
Genuine Leather or Textiles – Look for genuine leather materials or textiles such as cotton, as genuine materials tend to be more breathable and absorbent than synthetics.
Easy to Maintain – As a nurse, spills, and accidents happen, so get a sandal that is durable and easy to clean.
Support and Comfort – Look for a snadl that provide adequate arch support and proper cushioning for comfort.
---
Features of a Good Sandal for Nurses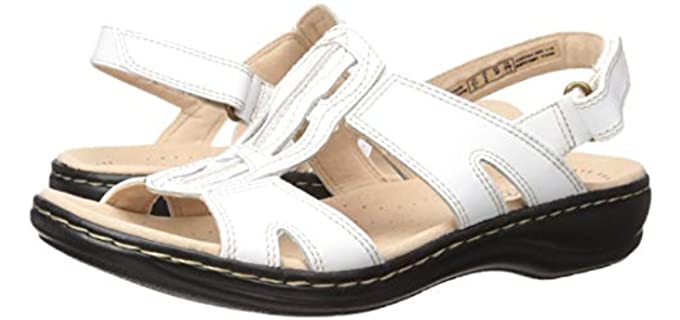 Uppers – Leather, Textile, EVA, and synthetic materials make for comfortable uppers, some models have padded or lined upper for even more comfort.
Footbed – Cushioning in the footbed such as EVA Memory Foam, or Orthoite provides excellent comfort and shock absorbency. Then there are also Anatomically shaped and arch supportive footbed designs along with a shock-absorbing midsole for even better support in most Nurses sandals.
Outsole – As for the outsole slip-resistance on wet and dry hard floors are essential. Rubber in the sole with a lug tread is the perfect combination for slip resistance.
Other Features – Features such as heel cushioning or support, or an antimicrobial lining, can also come in handy in sandals for nurses.
Options – Options in shoe designs for nurses range from comfortable orthopedic style dressy sandal designs, to more sporty and durable hiking and sports model sandals. The desired color in shoes for nurses overall is white, so I have chosen sandal in white only, although there are other color options available. Moreover, a wider width and extended size options are available in most sandals for nurses.
Closures and Adjustability – Most sandal have straps that allow for an adjustable fit. Closure systems such as a Hook and Loop, Velcro and buckles can be found.
---
Reviews: The Best Sandals for Nurses
Here we have some excellent choices in durable and comfortable sandals for Nurses;
---
The Teva Original Universal sandal is available in a plain white color and offers durable comfort features for nurses.
The Teva Original is a casual design sandal available in a solid white color as well as other color options.
The Uppers are a soft polyester that is quick-drying and adjustable with hook and loop straps.
The footbed is a cushioning EVA, and there is an EVA midsole.
As for the outsole durable Durabrasion rubber is used that is also slip resistant.
---
2
The Skechers Reggae Slim Simply Stretch Sandal is a more professional styled sandal with a low heel.
The Upper is a soft and comfortable leather with an open toe and back strap for a secure fit.
The footbed is fully cushioned and contoured for optimal support and comfort.
There is a durable rubber outsole for grip and traction with a low heel.
You can get the Simply Stretch sandal in many color options as well as the solid white color.
There are also width options up to Extra Wide for all foot types.
---
3
Although the Birkenstock Arizona is a Slide Sandal, it can also be worn in some settings as a Nurse.
The uppers are soft leather with a Nubuck lining for comfort.
There are two upper straps with adjustability and buckle closure.
The Arizona is available in a White color, as well as many other color selections to choose from as needed.
The Footbed is a moldable Cork and Latex with an anatomical shape for comfort and support.
The Sole is also highly slip-resistant and durable.
---
4
Another excellent from Teva is the Hurricane, which is a sporty design durable sandal.
The Hook and Loop instep closure makes this sandal very easy to put on and take off.
There are soft and comfortable synthetic uppers and a durable slip-resistant outsole.
As for comfort, the full injection Molded EVA footbed offers plenty of cushioning and support.
The sandal is available in a solid white color, as well as a few other color options.
---
5
The Clarks Leisa Skip is also a more professional style sandal for nurses with many comfort features.
The upper is genuine leather, and the sandal has a slip-on style with a back strap for a secure fit.
The sole is synthetic, yet durable and highly slip-resistant.
For comfort, there is an Ortholite footbed and Cushion soft technology as well as a moisture-wicking, antimicrobial fabric lining.
This sandal is also available in white color and a few other colors variations for your perusal.
---
6
From Skechers, we have the Rumblers Solar Burst Wedge sandal something more fancy and classy, yet still comfortable enough for nurses to wear.
The Upper is a soft and flexible textile material with a Bio-Dri design.
The Sole is also flexible and slip-resistant and has a sophisticated low wedge heel.
There is a plush and comfortable Memory Foam footbed for comfort,, and a supportive midsole.
The outsole consists of high traction and durable rubber.
The color options are more neutral, with contrasting black sole and white options available.
---
Index Table: Top Rated Sandals for Nurses
---
---