Not just construction and industrial workers have long shifts and hazardous work environments.
Nurses, doctors, chef's and workers in these types of industries likewise endure long work hours in hazardous work environments.
Clogs for work are ideal for occupations in the healthcare and hospitality, and food service industries. They can, however, also be worn as work shoes for other occupations.
Clogs for work come with many outstanding safety and comfort features, making them an excellent choice as a work shoe.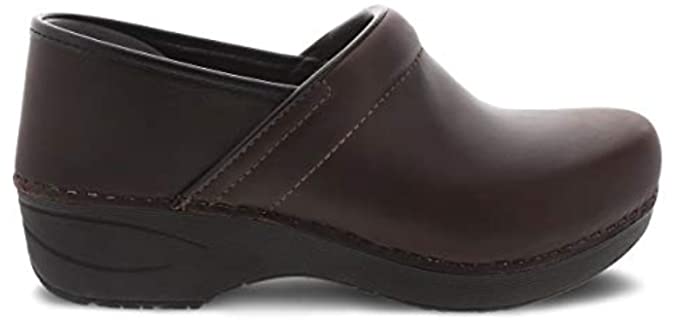 ---
Benefits of Wearing Clogs for Work
Clogs support your feet, and they are very comfortable, but they also have some other features that make them so exceptional.
They Prevent Slips and Falls – Most clogs are equipped with slip or slip and oil resistant outsoles that are designed specifically for hospital and restaurant floors.
Improved Hygiene – Clogs for work have no laces and are easy to slip on and off, so you do not have to touch your shoes regularly. The fact that they are hygenic makes them safe for doctors and nurses to use.
Excellent Spill Protection – Clogs, especially in the medical and food service industry, provide excellent protection against spills, and they are super easy to clean.
---
Choosing a Good Pair of Clogs for Work
The type of clogs you choose for work will depend largely on your work environment.
Generally, you should consider a pair of clogs for work that offer good slip resistance and that have solid waterproof or water-resistant uppers.
Look for certain comfort features such as arch support and cushioning, which will help prevent foot fatigue.
---
Features of a Good Clog for Work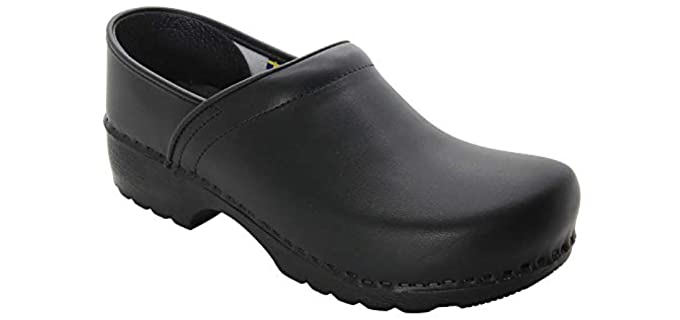 Uppers – Most of the clogs featured have either genuine leather, EVA or Crosslite foam uppers with a closed and reinforced design.
Footbed – A cushioned and contoured style footbed provides much comfort and support for your feet while working all day.
Outsole – The outsole will have a tread designed for slip, or slip and oil resistance that could be EVA, Crosslite foam, or more durable rubber.
Options – You can choose from a few color options, solids or prints, and some models of wider width options.
---
Reviews: The Best Clogs for Work
In our list we have researched and listed some of the best available clogs for work;
---
1
The Dansko XP 2.0 Clog is a durable and comfortable fit clog for work.
It has genuine leather uppers and is available in a few neutral color options, as well as wider width fits.
The Dansko Clog has a p[added instep collar for extra comfort when you walk or stand.
There is a very roomy toe box with plenty of wiggle rook for your toes.
There is a lightweight anti-fatigue, EVA midsole for all-day shock absorbency, and a comfortable cushioned insole.
It has stapled construction of improved durability and a closed design for protection.
---
2
The Specialist Vent Clog from Crocs is ideal for summer as a work clog.
It has large ventilation holes at the sides and an open back with a secure back strap to keep your feet cool and dry.
The toe is solid and reinforced for protection against spills and durability.
The Clog consists of Crosslite foam that is water-resistant, quick-drying, and durable.
The footbed provides contoured support with crosslite cushioning.
The outsole has a very grippy design for excellent slip resistance.
There is also a massaging design for the footbed.
---
3
The SR Manteo EVA Clogs are ideal work clogs for men and women.
The SR Max is available in wide and extra-wide fits as well as neutral colors.
The clogs have a soft toe and unlined design.
It consists of Injection Molded EVA for the uppers and a removable cushioned EVA footbed.
There is an SR MaxTrax anti-clogging, oil and slip-resistant, durable rubber outsole.
---
4
The Crocs On The Clock is quite a popular work clog with a completely closed design from Crocs.
It has a Thermoplastic Elastomer sole that features a Crocs Lock slip-resistant tread.
There is a deep cushioned crosslite foam footbed for comfort and support for long shifts.
The uppers ate reinforced, durable, and easy to clean.
There are wider fits available, as well as more solid colors and printed options.
---
5
From Skechers, we have the Clogsmith for men and the Clogs for Work for women.
They are both a one-piece closed style clog with plastic and sculpted EVA foam uppers.
There is a soft collar panel for a comfortable fit and a roomy rounded toe box for enough wiggle room for your toes.
Inside is a soft and moisture-wicking lining.
The Clogs for Work for women is electrical hazard safe and OSHA compliant as well as ASTM standards,
There is a lightweight midsole for cushioning and support, with a comfortable insole.
More colors and prints are available.
---
6
The keen Utility Clogs are Chef and Food Service work shoes for men and women.
They are a closed design with waterproof and easy cleanable designs.
The clogs have a soft toe with Keen protect toe caps for minor impacts and spills.
The outsole is oil and slip-resistant with a durable design.
There is a TPU shank for underfoot protection and stability.
---
7
The rocs Bistro clogs are likewise ideal for the food industry and medical care work.
They have a closed design and easy to clean solid uppers that are waterproof.
The metatarsal area is thicker and reinforced for light protection against impacts and spills of hot liquids.
The outsole offers excellent slip and oil resistance.
The clogs are available in a few color options.
---
8
The Dansko Professional Clog is a leather and fabric clog with a genuine leather upper and smooth fabric lining.
They have a padded instep for comfort when standing or walking and a roomy reinforced design toe box.
There is a PU outsole that has a rocker bottom design to absorb shock and reduce pressure on your feet.
The sole offers a wide heel strike for much better stability.
The durable rubber outsole offers excellent slip resistance on a variety of floor surfaces.
---
Index Table: Top Rated Clogs for Work
---
---