Chefs work long hours on their feet, which takes its toll on their feet and body.
There are also many hazards involved in this industry, especially slippery and greasy floor surfaces that could cause a slipping hazard.
That is why chefs need comfortable and protective shoes.
In this article, we will look at some of the best Clogs style shoes that are ideal for Chefs.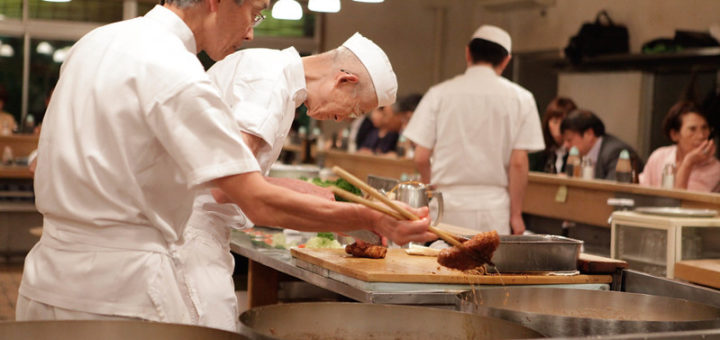 ---
Why do Chefs Need Good Shoes
Slipping Hazards – One of the main hazards faced by chefs is slipping hazards. Wet and greasy kitchen and restaurant floors can cause a slipping hazard and serious falls. Thus chefs need shoes that provide good grip and traction on floors that are slippery, wet, and even greasy.
Spills – Chefs work with hot liquids, and their feet may become wet and uncomfortable from a spill. Thus they need a water-resistant shoe protecting them from liquids.
Comfort – Because a Chef will mainly be on their feet all day, a comfortable shoe is required. The fit needs to be roomy and accommodating, and there needs to be good cushioning and support features.
---
Why Choose a Clog for Chef's
Clogs generally have a closed design and a more roomy fit. Most clogs styles are designed especially for the hospitality and medical care industry because of their design.
Some have a rocker sole that takes the pressure off your feet. They also come with many comfort features, as well as waterproof uppers and a slip-resistant sole.
---
Features of a Good Clog for Chefs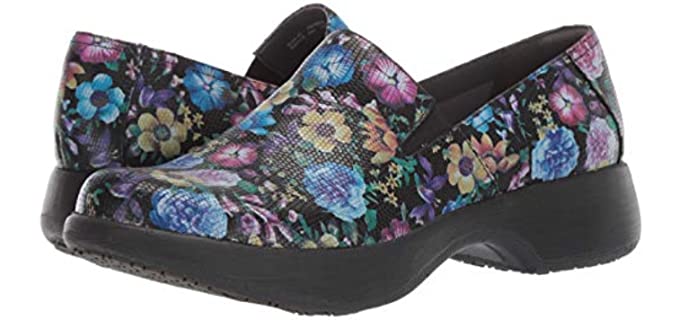 Uppers – Clogs for Chef's need to have waterproof, or water resistant uppers that are durable. They can be leather, Foam, or rubber for comfort and protection, with a comfortable lining. As you will see with many of the Clogs we have chosen for Chefs, specifically Crocs clogs, they have a double or thicker layer in the metatarsal area to protect your toes from falling objects, and hot liquids.
Comfort and Support Features – Clogs for Chef have cushioning such as Crosslite form, EVA, or foam to absorb shock. They may have a contoured footbed or deep heel cup for arch support and shock absorbency.
Outsole – The outsole will be a durable EVA, Crosslite, or rubber with a textured tread to ensure good shock absorbency and slip resistance. The outsole will be slip-resistant or oil and slip-resistant. As most hospitality and food service floor surfaces are hard, it is good to have a thick-soled clog for shock absorbency. Likewise, the floor surfaces may be covered with wet spills, grease, oils, and even sticky foods and liquids. Thus a durable and slip-resistant outsole will be needed.
Options – Clogs for chefs may be available in a few neutral colors, such as black, blue, and white, as well as wider widths and plenty of sizes.
Easy to Clean – Clogs for Chefs are designed with materials that are easily cleaned, just by wi[ing them off with a damp cloth and mild detergent, they are also generally quick drying.
---
Reviews: The Best Clogs for Chefs
---
1
The Crocs On The Clock Clog is the best available clog for chefs.
They consist of water-resistant materials and Crosslite foam for shock-absorbing cushioning.
The footbed has a contoured and deeply cushioned design.
The outsole is slip-resistant and highly durable.
There are a few colors and printed models available, as well as wider widths.
---
2
The Dansko CP 2.0 has genuine leather uppers that are water-resistant and very durable.
There is a padded instep collar and roomy toe box for extra comfort.
Inside us is a lightweight EVA midsole, and a cushioned PU footbed with Dansko Natural Arch technology, for arch support.
There is a TPU arch stabilizer for support.
The clogs are highly shock absorbent.
They are available in more neutral colors and wider widths.
---
3
Low Height Clog for Chefs
The Keen Utility clogs are designed ideally for work in the food industry and for Chefs.
They have soft toe caps for added protection and leather uppers.
The clogs have a comfortably cushioned footbed with supportive contours.
They have a highly slip-resistant rubber outsole and a TPU shank for stability.
The clogs are available in a few more neutral colors and plenty of size options.
---
4
The Crocs Bistro Clogs are likewise a designed specifically for work n the food industry and for chefs.
They are Crosslite foam with an enclosed toe and a thicker metatarsal area for spill protection.
The clogs have a closed style and a roomy fit.
The outsole has a textured tread for slip resistance.
The clogs are available in neutral color options, as well as wider widths.
---
5
The Avia Clogs are ideal for Chefs with a comfortable and ideal fit.
They have anatomical cradle technology with an EVA molded sock liner and a roomy toe box.
They gave a stable and supportive fit and heel.
The clogs are very easy to wipe clean and offer good water resistance.
There are a few neutral color selections available.
---
6
The Chef's and Nursing Clogs firm Wako is perfect for men and women.
They are oil and slip-resistant with a durable outsole.
The clogs for chefs have flexible air vents on the sides and consist of EVA materials.
They have a comfortably cushioned footbed and anti-fatigue technology.
The Chef's Clogs are available in black and white color options.
---
7
The Dansko Professional Clog has leather uppers with a soft fabric lining,
There is a padded instep collar and a comfortably cushioned footbed.
They have a PU rocker design outsole to take pressure off your feet,
The outsole is slip-resistant and has a wide heel strike for better stability.
You can also select from a few more neutral colors.
---
8
The Crocs Specialist clogs are the idea designed for chefs.
They have a closed toe and open heel for protection and ventilation.
The metatarsal area is reinforced for spill protection and a solid design for water resistance.
The clogs have comfortable crosslite foam and a thick contoured footbed.
The outsole is slip-resistant with a durable tread.
There are a few more colors available, as well as wider widths.
---
Index Table: Top Rated Clogs for Chefs
---
---