Gardening is an excellent hobby that allows you to enjoy the fresh air outdoors and tend to your garden to keep it healthy and beautiful.
Gardening entails many small risks and hazards, such as slipping, getting dirty, or stepping on hard objects like rocks and thorns.
You may only sometimes want to wear long and thick gardening boots, especially in the summertime. Therefore the best Gardening Clogs may be a great option.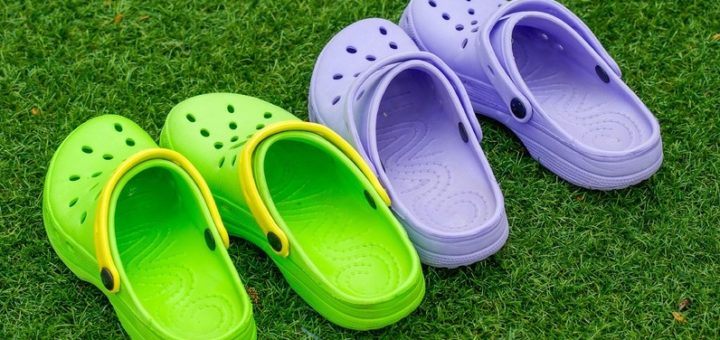 ---
---
Gardening Clogs and their Benefits
A Clog is a shoe generally with no back but a closed, wide, and roomy toe box. Clogs have a thick platform-shaped sole and come in many styles and options.
Gardening Clogs are created from ideally waterproof materials and are durable for gardening specifically. Gardening Clogs have water-friendly materials and a thick protective slip-resistant sole.
So Why Should you choose a Gardening Clog rather than Gardening Shoes?
Better for Summer – Gardening Clogs are a much better option for those hot summer days than a closed shoe or gardening work boot which can become sweaty and overheated. Gardening clogs will help to keep your feet cool and well-ventilated.
More Lightweight – A gardening Clog is generally a lightweight shoe option. Most Gardening shoes and boots can weigh heavy on your feet, while gardening clogs mostly have a lightweight design and usually consist of very lightweight materials.
Easy Slip-on and Off – A Gardening Clog can easily slip on and off your feet when you need to go outdoors or into gardening quickly. They are very versatile and ideal if you need to move through your garden in and out frequently.
Still Provide Some Protection – Although a Garden clog will not keep your feet dry in wet conditions where you step in a wet puddle or thick mud because the back is open, they still offer some wetness protection with the closed-toe design and thick sole. Gardening clogs likewise offer good underfoot protection and slip resistance in their soles. Many gardening clogs also come with drainage holes for ventilation and drain water and excess debris from your clogs.
Come in Many Designs – What I love about garden clogs are the many styles, colors, and prints they generally come in. There are so many to choose from, making the gardening experience much more fun.
---
Choosing the Right Gardening Clogs
Here are a few steps that you can follow to help you choose the best gardening clogs that will work for you;

Quality – I always aim at quality first. Finding a trusted brand of garden clogs ensures a gardening clog that will perform well and last you very long.
Slip Resistance – You want a Gardening clog that has a lug and patterned tread outsole to prevent slips and falls. On wet grass and even hard, slippery floor surfaces, you need the clog to provide good traction to prevent slipping.
Fit – A comfortable fit is an absolute must. You do not want a gardening clog that will squeeze and cause painful pressure; however, you do not want something that will slip off your feet the whole time, especially because this is a backless shoe style. Could you make sure that you get the right fit for your feet? Gardening Clogs generally have a more roomy toe box.
Comfort – Many gardening clogs have comfort features such as cushioning or EVA to absorb shock and a moisture-wicking dry lining. Comfort features are ideal if you will be spending a few hours on your feet in the garden. You also want something that will allow flexibility so that you can easily move, bend and crouch as needed without any restriction from your shoes.
Style – The style and colors of the gardening clogs are all up to your personal preference; gardening clogs all have the same basic design but may differ in styles, colors, and prints.
---
Features of a Good Gardening Clog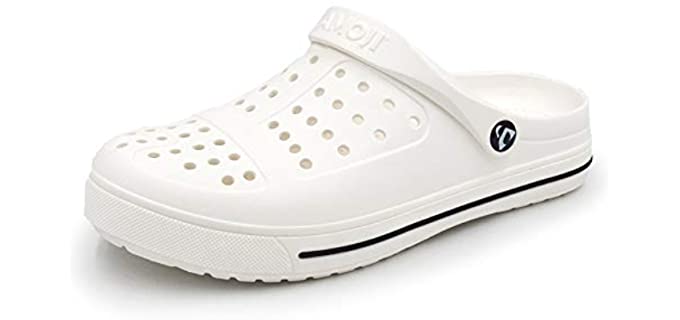 Materials – Most Garden Clogs will have a soft foam material with a rubber outsole. Crocs use Crosslite foam, whereas other foam types may also be water-friendly and easy to clean. Then there are also nylon and rubber options.
Design – Clogs have a roomy, block-designed toe box with an open heel and a platform-style uniform outsole. You do get more styles and shapes available.
Outsole – The Outsole will usually be a durable rubber or consist of the same foam materials that the rest of the clog consists of. The outsole will have a lug or patterned tread to improve slip resistance.
Comfort Features – For comfort, there may be an anatomically shaped footbed or water-resistant cushioning to support your feet.
Options – Gardening clogs offer availability in size and colors, depending on the actual brand and model.
---
Reviews: The Best Gardening Clogs
These are some of our top choices in the best available gardening Clogs for men and Women;
---
1
The Birkenstock Original Supper is a comfortable garden clog.
It consists of Alpro foam which is a durable and high-density foam.
The Clog has a regular-width design and comes in more colors.
It is perfect for all types of garden work.
---
2
The Amoji is a unisex design garden clog.
It has a more ventilated design with many drainage holes.
The Amoji gardening clog has a soft foamy structure and a thick sole.
It is flexible and portable.
There are also plenty of color options available.
---
3
Specialist Gardening Clogs
The Crocs Specialist Clog is ideal for gardening and a variety of purposes.
It has 100% synthetic crosslite foam construction that is durable and cushioning,
The sole is a durable and slip-resistant EVA.
The footbed offers a comfortable massage-like experience.
---
4
The BNV garden Clogs are the perfect water shoes.
They can be used for gardening and are also ideal for beachwear.
The clogs are available in many colors and sizes.
They consist of lightweight material and have an air-cushioned footbed for comfort.
The materials are water-friendly and easy to clean.
---
5
Another addition from Amoji is the Yard shoes for gardening.
These are the perfect garden clogs with an EVA outsole and soft rubber materials.
They are slip-resistant and very durable, as well as easy to clean.
There are also more colors available from which you can select.
---
6
Ventilated Gardening Clogs
The Adidas Adilette Clog is another favorite for gardening.
It consists of a soft and water-friendly synthetic material.
The sole is durable and slip-resistant.
The clogs offer good drainage and ventilation.
More colors are likewise available to you.
---
7
The Crocs Classic Clogs are perfect for gardening.
They are easy to clean and water-resistant.
There are large drainage holes and soft crosslite materials.
There are also many colors available.
---
8
The Hunter clog has a closed-toe design.
It is rubber, with a high-traction rubber outsole.
The clog is water-resistant and durable.
There are also more colors available.
---
9
The Crocs Literide is a lightweight gardening clog.
The uppers are well ventilated and lightweight.
There is a durable and slip-resistant EVA sole.
There are also more colors available.
---
10
The Lightfoot Clog is ideal for many uses, including gardening.
It is lightweight and breathable, with excellent water drainage.
There are many colors available.
The outsole also offers good slip resistance.
---
Index Table: Top Rated Gardening Clogs
---
---