Wearing a pair of stunning high heels to work can give you an elegant and professional appeal that is feminine and will complement your work outfit beautifully.
However, not all heels for work are very comfortable, and you may find yourself with tired and aching feet at the end of the day.
That is why you need the most comfortable heels for work that support your feet and look great at the same time.

---
Do's and Don't's for Heels at Work
There are a few etiquettes for wearing heels to work, that will make them comfortable, and acceptable;
Do

Never go over a three-inch heel height, as this is not just dangerous and uncomfortable but does not look good in an office setting.
Try to avoid bold and neon colors, and rather opt for more neutral color heels such as brown, black, and grey, or patterned heels that will complement your outfit and not draw attention or look tacky.
Wear chunky or thicker heels that provide much more stability and support than narrow stiletto-style heels. Avoid very high platforms, as this likewise will not be suitable for a professional work environment.
You can opt for heels with light embellishment on them, but not too much, and avoid glittery and shiny heels.
Don't

Try not to wear heels will an overly high platform sole. They are inappropriate for work and uncomfortable.
Avoid anything sparkly, metallic, or overly shiny, and rather opt for smooth and neutral colors.
Try to avoid bright and bold colors or very patterned and printed heels, and they do not look professional.
---
What Makes Heels for Work Comfortable
Comfort features such as a cushioned footbed and a comfort or arch support footbed in your heels will make them much more comfortable.
Also, consist of the uppers and opt for softer leather and materials that have a lining, to prevent friction.
A lower block style or thicker heel provides much more stability and still looks sophisticated.
---
Features of the Most Comfortable Heels for Work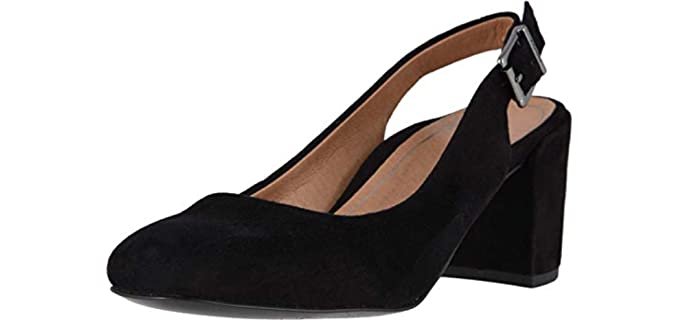 Design – Comfortable heels for work can come in sandal or closed models. The heel should be more sturdy and secure, and the shoe should offer a comfortable and roomy fit.
Uppers – The uppers can consist of leather, synthetic leather, or textile materials. Design will depend on the model and can be a strappy sandal, or more closed style shoe such as a pump.
Comfort Features – Comfort features include a cushioned footbed that may also offer contoured support such as arch support. The fit needs to be roomy and comfortable, some models do offer wider width options.
Outsole – A durable rubber outsole is ideal for good traction and grip.
Heel – Look for a medium to low heel in a work shoe, that is thicker or more a block style for better stability.
---
Reviews: The Most Comfortable Heels for Work
As you can see from our list, these are some comfortable and professional heeled shoes and sandals that are ideal for work;
---
1
From Dream Pairs, we have a closed-toe pump-style heel.
They have a closed toe and heel with a secure and adjustable ankle strap that closes with a buckle.
The shoe has a medium-high heel that is thicker and more solid for stability.
The uppers are a soft suede leather with a round comfortable, and roomy toe.
There is a latex padded insole and a TPR durable outsole.
---
2
The Vionic Plaza Nazeen are the most comfortable heels for work.
They have a slightly pointed toe with a slingback design and buckle closure that you can adjust.
The heel is a low and wide block heel that is stable and comfortable to wear.
The Uppers are a soft suede fabric, and the cushioned footbed has a leather lining.
There is arch support and a deep heel cup in the footbed for comfort and support.
The podiatrist design footbed that hugs your feet for complete support and proper alignment.
There are also a few more color options and sizes available.
The sole is a durable and high traction rubber.
---
3
The Cushionaire Alba is one of the most comfortable heeled sandals for work.
It has an elegant yet simplistic design with a single toe strap and a secure ankle strap, with a closed heel for protection.
The heel is a thick, low, block heel for stability and support.
The uppers are a vegan leather with a soft lining,
The footbed is cushioned with memory foam for comfort and support.
There is a flexible and durable sole and 2.25-inch heel.
You can likewise choose from a few more available colors.
---
4
The Lifestride Charlotte is a comfortable-fit heeled sandal for work.
The sandal does offer you wider width fit options which are ideal.
The uppers will stretch and flex to the shape of your feet and your movement.
The heel is a low block heel that is sturdy and offers good stability.
There is a peep toe and synthetic leather, and flexible uppers.
The sole is a durable and high traction rubber.
---
5
From Orthofeet, we have the Camille and Orthopedic and diabetic heeled sandal, which is ideal for work if you have any foot conditions or deformities.
The sandal has adjustable leather uppers with a comfortable and moisture-wicking lining.
There is a low and sturdy block heel and supportive forefoot.
The sandal feature and ergonomic arch support footbed with plenty of cushioning for shock absorbency.
They are available in wider widths, as well as more color options.
---
6
An elegant and simple style that never goes out of fashion is the Clarks Viola Dress Pump.
The dress pumps have a high yet sturdy heel and a rounded pump toe with a roomy toe box for a more comfortable fit.
The heels have a 0.5-inch platform and a 3.26-inch heel.
They have synthetic leather uppers with a smooth textile lining.
For comfort, there is a cushioned and arch support footbed.
The durable TR outsole provides good traction.
You can choose from some solid color varieties, as well as animal prints.
---
7
The Dream Pairs high-heeled sandal is exquisite for office work and more professional settings.
They have a single toe strap and a closed heel with an adjustable ankle strap.
The footbed is latex padded for comfort and support.
There is a TPR rubber outsole that is durable and slip-resistant.
The heel is a high and elegant block heel.
There are also many colors available from which you can choose.
---
8
The Drop Avery is a square toe two-traps high heel sandal for work.
It has a comfortable and cushioned footbed for support and shock absorbency.
The heel is a more stable design, and there is a durable outsole.
The uppers are 100% polyurethane.
There are also many color options available from which you can choose.
The heeled sandal has an easy-open back slip-on design.
---
Index Table: Top Rated Comfortable Heels for Work
---
---