Plantar Fasciitis is a condition that is one of the main causes of heel pain. It is quite a common condition that can be mild or more severe with chronic pain.
Proper footwear will offer good support and cushioning features that will help to reduce the hard impact on your heels and align your feet properly to prevent and help with the treatment of Plantar Fasciitis.
Keen sandals for Plantar Fasciitis offer a more contoured and arch-supportive footbed, with stable cushioning and a stable heel to prevent and help with Plantar Fasciitis.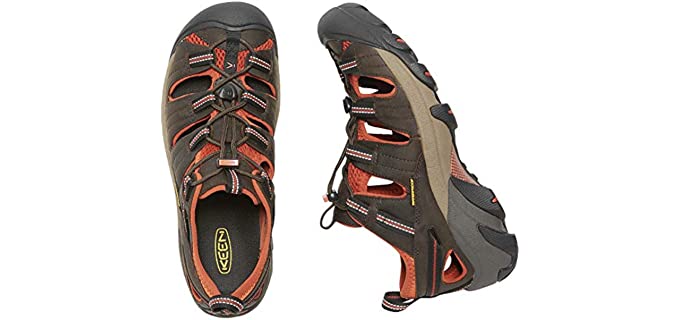 ---
Plantar Fasciitis Causes and Symptoms
A band of tissues runs from your heel bone at the bottom of your feet to the toes, connecting them. This band of tissues is known as the Plantar fascia. Small tears and inflammation of the Plantar fascia may lead to the condition called Plantar fasciitis.
Causes – High impact sports can activities can increase your chances of getting Plantar fasciitis. People with a flat arch that offers little support may also suffer from Plantar fasciitis. Extra weight on your feet can cause a harder impact on the heels, possibly leading to plantar Fasciitis. Certain injuries and medical conditions may lead to heel pain and Plantar Fasciitis. Shoes that do not offer proper support will not protect your feet, leading to plantar fasciitis.
Symptoms – Plantar fasciitis will cause a sharp burning pain in the heel and bottom of your feet. The pain will especially be felt after getting up in the morning or being off your feet for a while. Some people feel pain when they are standing for long periods.
Treatments – The Pain can be treated with rest and ice or a prescribed or over-the-counter anti-inflammatory pain medication. Wearing shoes with good arch support and cushioning, especially n the heel, will also be ideal. This, of course, counts for sandals in turn.
---
Why Choose Keen sandals for Plantar Fasciitis?
Keen sandals offer good support and heel stability to reduce unnecessary motion such as Overpronation, which may lead to Plantar fasciitis.
Most Keen sandals are well-cushioned to absorb impact and offer effective arch support, which is ideal for Plantar fasciitis.
---
Features of a Good Keen Sandal for Plantar Fasciitis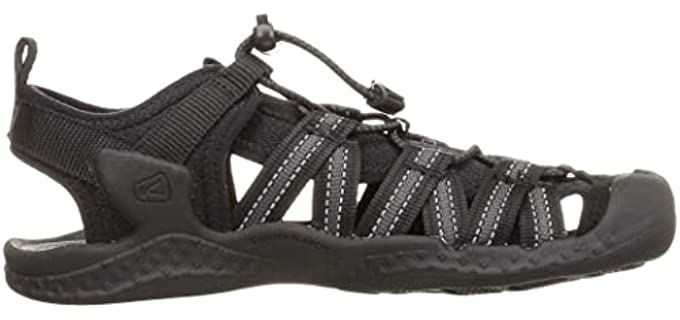 Uppers – Keen sandals are mostly sports and outdoor style sandals designed to be durable and water friendly. There are options available with water-resistant and quick-drying polyester uppers, EVA uppers, and leather uppers with a textile lining. Keen sandals usually have fully adjustable hook and loop closure uppers or a lace-up bungee system for the Fisherman-style sandals.
Support and Comfort – Keen sandals have a Fit and Insole designed on a specific last for women and men to support your feet and all their features. They have EVA Molded footbeds with an arch support design and good cushioning for impact absorption. Some models do come with a stability shank for walking on uneven surfaces.
Sole -Most keen sandals have a TPR or non-marking rubber outsole with a multi-directional lug tread for grip and traction on outdoor trails and uneven or wet surfaces. There are also models with Aquagrip rubber outsoles with Aqua Stop zonal siping to provide maximum traction on wet surfaces.
Options – Keen sandals offer some color varieties and size options from which you can choose.
---
Reviews: The Best Keen Sandals for Plantar Fasciitis
These are some excellent Keen sandal models that are ideal if you have Plantar Fasciitis;
---
1
Fisherman Style Waterproof Sandal
The Keen Newport H2 is a very popular fisherman-style sandal that is water friendly and has comfort features for Plantar Fasciitis.
The sandal has water-resistant and washable polyester uppers with a quick dry lining.
The Outsole is non-marking rubber with multi-directional lugs and razor siping for grip on wet and slippery designs.
For comfort, there is an EVA footbed with arch support and cushioning.
The sandal is available in more colors and size options.
---
2
The Keen Targhee 3 and Whisper are very similar Fisherman style sandals,h adjustable uppers and a comfortable cushioning system for Plantar Fasciitis.
The sandals have quick-drying polyester and textile uppers, a comfortable lining, and an adjustable system for a comfortable fit.
An EVA-cushioned footbed has a dual density for shock absorbency and arch support for Plantar Fasciitis.
The sandal comes with a non-marking rubber outsole with multi-directional lugs and zonal flex points for grip and flexibility on uneven terrains.
Both sandal models are available in many more colors.
---
3
Plantar Fasciitis Closed Sandal
The Keen Uneek sandal is a braided style flexible and stretchable sandal with washable braided nylon cord uppers that will mold to your feet for a customized fit.
They have a Metatomical supportive footbed with cushioning and a lightweight shock-absorbing midsole.
The sandals have a microfiber lining for moisture management and a closed-heel design.
They are comfortable for Plantar Fasciitis Pain and lightweight on your feet.
---
4
Outdoor Plantar Fasciitis Sandal
The Keen Westoria T-strap sandal is a more sporty styled sandal that is a lightweight and well-cushioned sandal for Plantar Fasciitis.
They have an impact-absorbing cushioned midsole with a high rebound and a supportive footbed that also supports your heels.
The uppers are water-ready quick-drying polyester with adjustable features.
There is an Aquagrip rubber outsole specially designed for grip on wet surfaces.
The sandal is available in neutral and brighter color options.
---
5
The Keen Arroyo for men has leather uppers with full adjustability features for a customizable fit.
The Arroyo features a metatomical-shaped footbed for support and stability, with a dual-density shock absorbency EVA cushioning system for heel pain.
The Keen Arroyo likewise has a lug rubber outsole with a non-marking tread.
The Keen Rose is a more feminine styled sandal for ladies.
The Rose has leather and textile uppers with a rubber toe bumper.
The Rose sandal has an EVA footbed with arch support and an EVA midsole for cushioning.
Furthermore, the Rose also features a non-marking rubber outsole and is available in more colors.
---
6
The Keen Drift Creek is a Closed toe water-friendly sandal with good heel cushioning for Plantar fasciitis and a longer-length ankle strap for ankle support.
It has water-resistant and washable polyester uppers, quick-dry lining, and fully adjustable features.
The Outsole is a high traction TPR that has non-marking rubber.
There is a lace-up bungee system and comfortable compression molded EVA footbed for cushioning and support.
---
Index Table: Top Rated Keen Plantar Fasciitis Sandals for Plantar Fasciitis
---
---