Regarding water, sandal keen is a brand that stands out far above the rest.
Their sandal is used in wet, harsh, and outdoor conditions with all the features you need for full protection against wetness and slippery surfaces.
So in this article, I would like to help you find the best Keen water sandal for various applications.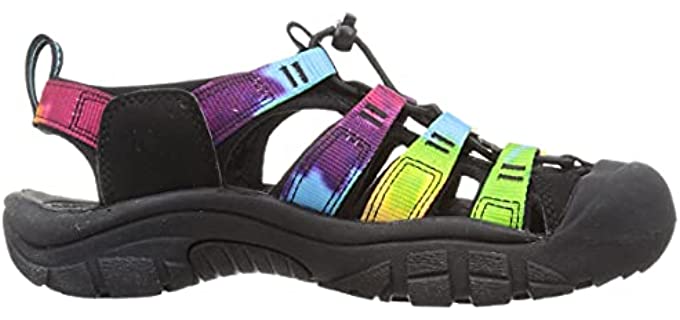 ---
---
Uses for Water Sandals
So why may you need a water sandal or a water-resistant sandal?
Well, there are a few applications where water-resistant or water-friendly sandals can come in quite handy;

Pool and Beach Use – Keen has some excellent lightweight and water-friendly sandals that are ideal for use on the beach and at the poolside, both in and out of the water. Forgoing to the beach or at the pool, you are in and out of the water, which will wet your sandal, and you need something slip-resistant that will also be quick-drying and lightweight to wear or carry with you.
Water Sports – There are many types of water sports, such as Canoeing, riding a jet ski, or even diving, where you need a good water sandal. Sometimes you need a sandal for use when you get out of the water, such as swimming.
Hiking in Wet Conditions – When you enjoy hiking, a water-resistant sandal is ideal for rainy days or for treading through puddles and small rivers. The materials will dry quickly, and the outsole will offer excellent slip resistance on wet rocks and slippery wet trails.
---
How Keen Sandals Measure Up
Keen sandals are some of the best ranges for wet conditions and water use.
Most of their sandal has fully water-resistant or water-friendly materials that are designed to be lightweight in water and to dry quickly.
Their sandal has comfort features and cushioning that also provide comfort in all situations.
Furthermore, all their sandals have antimicrobial and odor-resistant treated footbeds, ideal for sandals that tend to get wet.
Lastly, Keen sandals have lug Multi-directional lug treaded rubber outsole designed specifically for grip and traction on wet, slippery, uneven, and outdoor surfaces and trails.
---
Features of a Good Keen Water Sandal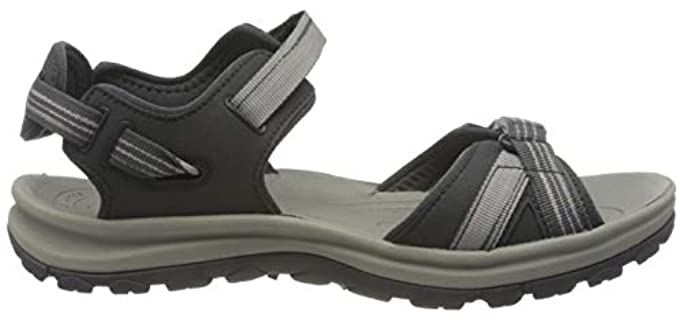 Uppers – Keen Water sandals will likely have polyester or recycled plastic uppers that are water-resistant and very durable. Some leather models will have a coating that also makes them water-resistant. The uppers are usually adjustable in fit and lined for comfort with a hydrophobic mesh lining or similar lining.
Fit – Keen sandals are designed to fit men's and women's feet specifically and offer half or full-size options in terms of width and size. The fit can be adjusted as the uppers usually have adjustable straps or cords
Support and Comfort. Keen sandals have a cushioned footbed lined with an odor-resistant probiotic or Aegis treatment. Compression Molded EVA in the midsole in single or dual densities, and the design is metatomical for full support and arch support.
Outsole – As for the outsole, you get regular non-marking rubber outsoles and also the more aggressive tread outsole with multi-directional lugs for uneven, wet, and slippery outdoor trails. The outsoles are rubber and very durable.
Closure – Depending on the style of the sandal, there may be a hook and loop Velcro closure or a bungee lace-up system.
Options – Keen sandals come in various colors and styles, as well as size and half size options. The half sizes are mainly wider-width options.
---
Reviews: The Best Keen Water Sandal
These are our top favorites when it comes to keen water-resistant Sandal that is ideal for use in wet conditions and water;
---
1
The Keen Newport H2 is one of their top sandals for water.
The uppers are water-resistant polyester with a quick-drying lining and are fully adjustable.
The footbed has a contoured, supportive design with cushioning and EVA in the midsole for shock absorbency.
The rubber outsole features multi-directional lugs on the tread for optimal slip resistance in wet conditions.
The sandal is treated with an ECO anti-odor treatment and can be washed.
There are also a few more color options available to you.
---
2
The Keen EVOFit is an actual water sandal designed for use in water.
The sandal has Quick drying engineered synthetic uppers for use in water.
There is a PU midsole and metatomical EVA footbed with full arch support.
There is Cleansport NXT odor control protection for odor resistance.
The rubber outsole has multi-directional lug treads for excellent slip resistance in wet conditions.
---
3
The Keen Targhee and Terradora are ideal for wet and outdoor conditions but not for full water submersion use.
They both have water-resistant and quick-drying uppers.
There is a dual-density and metatomical design EVA footbed and midsole for cushioning and support.
The outsole is a durable rubber with a Multi-directional lug tread and flex grooves for flexibility in the sole.
---
4
The Keen Clearwater CNX is a water-resistant sandal ideal for wet conditions.
The uppers are polyester that is quick-drying and durable.
A contoured arch and EVA are cushioning, with a hydrophobic mesh lining for comfort.
The footbed is treated to resist odors and bacteria.
The outsole has Multi-directional lug treads and flex grooves for flexibility and slip resistance in the outsole.
---
5
The SOLR sport sandal from Keen is also an excellent water sandal.
It has recycled plastic webbing and offers adjustability in the fit.
There is an Aqua grip non—marking rubber outsole for grip on wet surfaces.
The sandal has a heel lock system for a secure fit and an EVA midsole for shock absorbency.
There is also more color option available from which you can choose.
---
6
Flip Flop Sandal for Water
This is the SOLR toe post model flip-flop design.
It is a great water flip-flop, perfect for beach and pool use.
The sandal has recycled plastic uppers that quickly dry in a toe-post style.
The footbed is cushioned, and there is an EVA midsole for shock absorbency.
The Aquagrip outsole provides a non-marking grip on the wet surface.
The Flip Flop is available in a few more color options.
---
Index Table: Top Rated Keen Water Sandals
---
---