When it comes to Keen as a company and brand, its main aim is to push boundaries and experiment with many new technologies.
This gives us a range of footwear and Sandals with the latest innovative technologies and comfort and protection features to look forward to in the Keen sandal.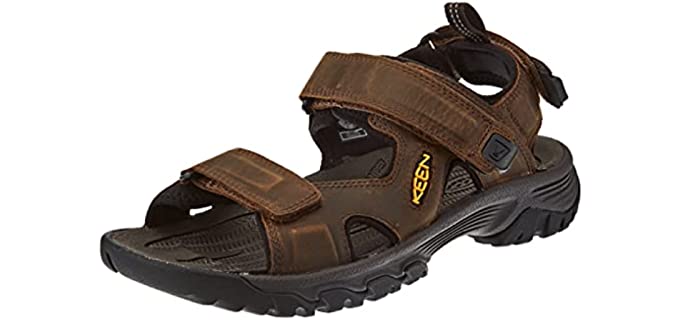 ---
---
Keen and What They Stand For
Keen is a company that produces some of the most innovative and comfortable quality footwear and uses ethical production methods and materials.
Awesome prizes themselves on using materials and production methods that are safe for their employees and environmentally friendly. They research and use sustainable chemistries and standards in their production process concerning their employees, Environments, and the community.
Keen is a trendy Casual and outdoor Footwear and Sandals brand with very durable, protective, and comfortable designs.
---
Keen Sandal Technologies
Here are a few of the Latest Technologies that Keen uses in their Shoes and Sandals;

PFC Free Water Repellent Materails -PFCs are Perfluorinated Chemicals commonly used to repel water on outdoor gear. Unfortunately, these compounds are suspected to be carcinogens that slowly degrade in the environment. Therefore, Keen has switched to alternative, safer chemistry yet performs just as well as PFC.
Environmentally Friendly Leathers – It is a dirty process that leaves much waste when tanning leather. For This reason, Keen sources their hides from Leather Working Group-certified tanneries, which use methods to reduce chemical waste and impact watersheds.
Eco Anti-Odor Technology – A new favorite technology is the Probiotic Footbed technology that naturally breaks down seats and odors without using heavy metals or hazardous chemicals.
---
Features of a Keen Good Sandal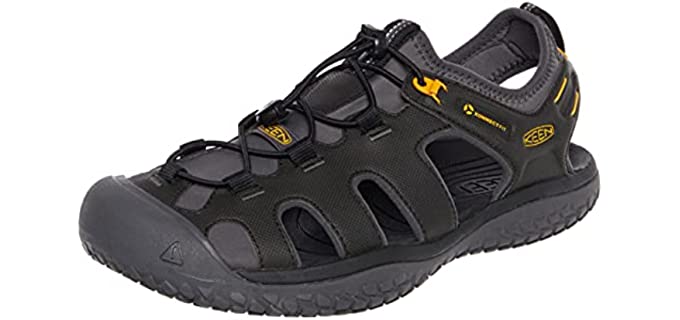 Uppers – The Uppers of most Keen sandal models consist either of leather with a mesh or neoprene lining or a Polyester-based textile webbing that is quick-drying and water-resistant.
Footbed – Most Keen sandal models have a Metatomical EVA footbed that offers excellent cushioning, shock absorbency, and good arch support. Other models have a compression-molded EVA footbed, and some linings are Aegis treated for odor control.
Linings -A Hydrophobic mesh lining, microsuede-lined Eco Anti-Odor lining, or a natural probiotic-based lining technology can be found in most Keen sandal models. These linings are Quick-drying, Durable, and water-repellent.
Outsole – A Non-marking rubber outsole with Multi-directional lugs with razor siping to help provide superior grip on slippery terrain will be found in almost all Keen sandal models.
Support – A signature rubber toe bumper for toe protection and an internal support mechanism that is anatomically engineered to provide excellent arch support. Then there is also a footbed design that cradles the foot's natural contours.
Colors and Designs – A Slip-on design for easy on and off, hook and loop straps, and even a Fisherman's design are all available in the Keen sandal range. There are usually more neutral color options in the upper leather models and more colorful and patterned designs in the top textile models of Keen sandals.
Closures -A Lace-lock bungee capture system that provides a secure fit, an Adjustable hook-and-loop strap, and elastic cording can be used as a closure system.
---
Reviews: The Best Keen Sandals
Here we have some of the most sought after Keen sandal models and ranges for men and women;
---
1
Sports and Hiking Sandals
One of the highest-rated sandals from Keen has always been the Whisper for the ladies and a very similar Clearwater for the gents.
Both sandals feature textile polyester upper webbing, which dries easily and is available in many color options.
There is a thick EVA midsole with a metatomical footbed design for internal support and stability.
These water-friendly sandals are also machine washable.
The rubber sole has a lug tread for excellent grip on all terrains.
---
2
A new Addition from Keen is their lightweight closed-design Uneek sandal.
The uppers are soft leather loose straps and synthetic materials with beaded details.
There are many fun and neutral color selections in this new range.
The durable rubber outsole offers excellent support and traction.
Inside is a lightweight PU midsole and a clean sport NXT footbed for organic odor control.
---
3
These are two unique sandals from Keen for ladies and gents;
The Rialto 2
Durable leather is issued to make the uppers with quick-drying water-resistant lining.
There is a comfortable Pu footbed with an odor-control lining.
The straps are all adjustable with a hook and loop closure system.
The durable rubber outsole has a lug pattern for better grip and traction.
The Rose
The upper of this model consists of Textile and synthetic materials with adjustable hook and loop closure straps.
The footbed has Metatmocal EVA support and an AEGIS-treated odor-prevention lining.
There is a non-marking, multidirectional traction outsole.
You can get this model in a few color selections.
---
4
A fun and sporty model for the beach from Keen is their Venice H2 range.
The upper consists of quick-drying, water-resistant Polyester webbing.
There is a high traction, durable rubber outsole with a non-marking tread and razor siping for increased grip.
The compression-molded EVA midsole offers exceptional cushioned support, and the Bungee lace-up closure system ensures a comfortable, snug fit.
Inside is a water-resistant Hydrophobic breathable mesh lining.
---
5
The Newport Retro is also newly incorporated in the Newport Range from Keen, featuring funky-colored and printed upper options.
The Textile uppers came in many fun and printed color selections that are bright and Retro in style.
The polyester used for the upper is washable and water-resistant.
A durable rubber outsole with multi-directional lugs and razor siping helps provide the best grip on the slipperiest terrains.
There is an EVA footbed that is compression molded for comfort and a bungee lace-up system for an adjustable fit for support and comfort.
The sandal also provides exceptional contoured arch support.
---
6
Slide Sandal for Men and Women
The Elle and Targhee are comfortable and casual slide sandal models for men and women from Keen.
The upper portion consists of soft polyester materials.
The sandal boasts an easy slip o and off design.
There is a metatomical EVA footbed with excellent arch support.
The outsole is rubber and non-marking with a lug tread for excellent grip on all terrains.
---
7
Sandals for Everyday Wear
These are two stunning outdoor and casual wear sandal models from Keen.
The uppers of the Arroyo are Nubuck leather, while the Venice is textile.
There is a supportive and cushioned footbed in both sandals with metatomical shapes and EVA materials.
The rubber outsole offers excellent traction on trails and other surfaces.
There are also a few color options available in both sandal models.
---
8
Hiking and Outdoor Sandal
The Keen Newport H 2 sandal is the perfect outdoor and hiking sandal from Keen.
The uppers consist of polyester webbing that is fully adjustable and quick drying.
There is a Metatarsal ridge for support and protection.
The footbed is cushioned and has an arch support contour.
The rubber sole offers excellent grip on all terrains.
These sandals are also machine washable.
---
9
The Kona from Keen is a comfortable and lightweight Flip Flop.
The uppers are a soft textile in a Flip Flop design.
There is a Metatomical EVA footbed for cushioning support.
The rubber outsole is durable and non-marking.
You can choose from a few color options in the Kona.
---
10
The Keen Waimea is a casual and easy-wearing sandal.
The uppers are a quick-drying polyester.
There is a durable and high traction rubber outsole that is non-marking.
For comfort, the sandal has a metatomical EVA footbed for cushioning and shock absorbency.
The slip-on design is easy on and off, and there are a few color options you can choose from.
---
Index Table: Top Rated Keen Sandals
---
---