A good pair of Golf shoes are essential to allow you the best performance and an enjoyable time on the golf course.
Golf sandals are the perfect addition for those hot summers as they provide all the benefits and support of a golf shoe, with an open and more breathable design.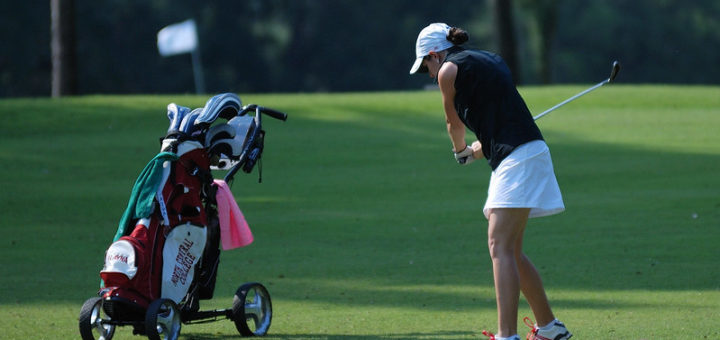 ---
Golf Sandals
Golfers in hotter climates or the summertime greatly benefit from the more open and breathable Golf sandal design. Although golf sandals provide less protection in wet weather and can be uncomfortable in long walks, they can still provide you with a cooler and more comfortable fit.
Uppers – the uppers consist of either leather or synthetic straps in various designs, from a flip flop style to a more closed style with Velcro closure straps or an adjustable fit. Upper straps should be lined with fabric materials that prevent chafing and friction and aid in wicking away moisture.
Midsole – A supportive and cushioned EVA foam midsole ensures good shock absorbency and keeps your feet well supported and cushioned.
Footbed – Lateral support and a contoured footbed will ensure better stability and better motion control, while a deeper heel cup also aids in stabilizing your feet. Cushioning is ideal for comfort and support and excellent arch support for your arch type.
Outsole – A slip-resistant, durable lug or patterned outsole designed to offer a firm grip on wet and uneven turf is ideal. The outsole can be spiked or unspiked.
---
Golf Sandal Spikes
Excellent traction is essential in the Golf course, particularly on your swing. It would help if you were well anchored. Therefore spikes may be a good option, even n your Golf sandal.
Soft or Plastic Spikes – Plastic Spikes are the most popular types of spikes; they are lightweight, offer good traction, and do not tear up the greens as badly. Plastic spikes are much softer and more comfortable to walk in as they flex when you walk. Other than that, they are a much safer choice in general.
Metal – These are becoming less common although, still used by many pros. Metal spikes are longer and sharper than plastic and give much better traction. However, they are infamous for tearing up the greens and are prohibited by many golf clubs.
Fitting New Spikes – Always make sure you get the right type of replacement spikes, as not all golf sandals have the same spike fitting systems.
---
Features of a Good Golf Sandal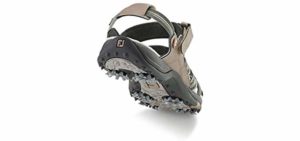 Shank for torsional control and stability.
Cushioned EVA and contoured footbed with a heel cup and higher sides for optimal stability and control.
Spiked or non-spiked durable and high grip rubber outsole.
Adjustable synthetic, fabric, or leather uppers straps.
Comfortable and cushioned footbed.
Lined insole and uppers that wick away moisture and prevent irritation.
---
Reviews: The Best Golf Sandals for Women
Listed below are your best choices in women's Golf Sandals:
We hope you love the products we recommend!
Just so you know, We may collect a share of sales or other compensation from the links on this page.
---
1

100% pure textile uppers with a Newport last and full Oblique toe character and full across-the-toe design.
There are a full instep and a standard designed heel, with a preferred last for golf Sandal styles.
The footbed offers a secure feel, and there is a Velcro fit strap for a more customized fit.
Enhanced traction with the durable rubber outsole has a proprietary compound, ensuring turf gripping performance and durability.
---
2

The Etonic is a spiked design sandal that provides you with the best grip on even the most slippery surfaces and turfs.
Tan-colored Nubuck HP and PU uppers lined with a lycra fabric to prevent abrasion and irritation and wick away moisture.
There is a fine mold pull-on strap for easy on and off and an Etonic Logo on the strap.
An EVA cushioned sole and an Ultra Tack rubber outsole with lightweight EVA mold and metal thread silver spikes for the ultimate grip and shock absorbency.
Comfortable and highly durable design created specifically for playing golf.
---
3

The Zoriz is likewise a sandal designed specifically for women's golf, with the option of removable spikes.
This is available in a few color options to choose from; this is a flip-flop design sandal that can easily slip on and off.
An EVA cushioned midsole for comfort, support, and shock absorbency.
Deeper heel cup for stability and control and a contoured design footbed with higher sidewalls to keep your feet perfectly in place.
The contrasting outsole is made from durable rubber, and there are removable spikes.
---
4

This is a versatile sports sandal from Skechers that can be used to play Golf as it provides great grip and excellent stability for the game.
Available in many different color and pattern options to choose from.
The uppers consist of soft and quick-drying textile materials with an adjustable front and back Velcro strap.
A slight platform sole and contoured design footbed for better support and control.
Goga Max high rebound insole for comfort and a 5Gen cushioning system.
The durable rubber outsole has a patterned and lug tread for excellent slip resistance.
---
5

Another very versatile outdoor hiking sandal from ECCO is perfect for playing Golf, particularly for beginners.
Features 100% Nubuck leather uppers that are cushioned and lined with moisture-wicking fabric.
A sporty sandal with an omnidirectional rubber outsole for better grip and a hook and loop closure system.
A lightweight EVA molded footbed with a microfiber cover to wick away moisture.
The Receptor technology ensures excellent stability and offers dynamic support.
There are multiple adjustment points, sandals, a neoprene lining to give you an optimal fit.
Available in a large range of neutral and bold colors and patterns to choose from.
---
6

The sandbaggers Lola is a more classy-looking ladies' sandal that offer superb Torsional Control and Grip on the Golf course.
Soft and comfortable leather uppers straps with a closed heel strap design in a few neutral color variations.
There is a Built In Step saver Orthotic comfort device.
A Thermal Rubber high grip outsole.
The Plastic shank offers exceptional Torsional Control.
There are three Velcro adjustable straps so you can get the perfect fit for your feet.
---
7

The Greenleaf Golf Sandal is designed specifically for traction on the greens.
There is a durable rubber sole with spiked ridges for better grip and traction.
The uppers are soft leather with Velcro closures for adjustability.
There are a spongy cushioned footbed and a moisture-absorbing lining.
You can also select from three available color options.
---
8

The Teva Tirra is a slip-resistant sports sandal and is ideal to use as a golf sandal.
The uppers are synthetic and polyester, a durable and quick-drying material.
There is Shocpad technology in the heel and a cushioned footbed for shock absorbency.
The lining has Microban zinc treatment to fight odors.
There is also a slip-resistant, durable rubber outsole.
---
9

The Golfstream Sandal is explicitly designed for Golf with a spiked sole.
The Upper is leather with a soft leather lining and adjustable Velcro straps.
There is a comfortable cushioned and leather-lined footbed that molds to the shape of your feet.
The rubber sole is spiked for a better grip on Golf terrains.
---
10

The Teva Verra is another sporty sandal model perfect for playing Golf.
The Verra can be obtained in many feminine colors ranges you can select.
The uppers ate polyester, water-friendly, and fully adjustable.
The footbed is cushioned with EVA and has ShocPad heel cushioning for support and comfort.
The rubber sole is designed for optimal slip resistance, even on wet surfaces.
---
Index Table: Top Rated Women's Golf Sandals
---
---