Hallux Rigidus is a painful condition that mainly affects the joint at the base of your big toe. The condition is also called the stiff big toe and is a degenerative type of arthritis that is quite common among a few individuals. The condition of Hallux Rigidus can make it very difficult for you to find the right shoes and even the right sandals.
I have found sketcher sandals for Hallux Rigidus to be extremely comfortable, and supportive and to offer a more accommodating fit.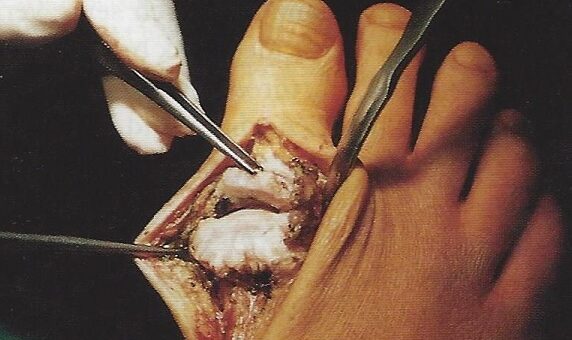 ---
Hallux Rigidus Causes and Symptoms
But firstly, let us look a bit more into the condition Hallux Rigidus, how it affects you, and how it is caused.
Now, as I have mentioned, Hallux Rigidus is a degenerative type of arthritis, which many times is called Victor Auth writers, that affects the joints at the hallux where your big toe meets your foot. The condition causes stiffness in the big toe, which can make it difficult to walk or run, and which can also make it quite painful to wear certain sorts of shoes. Hallux Rigidus can affect anyone from teenagers to adults, but it is more likely to affect individuals in their 50s or 60s.
Hallux Rigidus is sometimes also confused with the condition hallux, Valgus, which is bunions. And it is a very common considerable toe disorder. Bunions cause a bony bump, at the side joint of your big toe. Bunions are mostly caused by wearing narrow-fitting and high-heeled shoes. However, the conditions are different.

Causes – Now, one of the biggest causes of Hallux Rigidus is an extensive strain on the joint of the big toe. Overuse of the joint, such as stooping or squatting, or even in athletes and sportsmen and women, can lead to Hallux Rigidus. Sometimes the condition can be caused by an injury as basic as just stubbing your toe or spraining the joint of your toe, which is called turf toe in athletes. Certain genetics that runs in your family can cause you to inherit a particular foot type, such as a long first foot bone in your foot that makes it more likely for you to get the condition. On the other hand, Osteoarthritis and rheumatoid arthritis, as well as Gout, are also conditions that can cause Hallux Rigidus.
Symptoms – I have not mentioned this before, but Hallux Rigidus is a progressive condition. It's. It starts with slight symptoms such as pain in your big toe joint when you walk or run, as you push off the big with time, you may feel some stiffness in the big toe, and eventually, the toe may become completely rigid, swollen, and painful. Some individuals find that Hallux Rigidus does not progress further than it started, and some treatments can help to prevent the progression of the condition. Hallux Rigidus can also lead to other issues, such as bunions, corns, and calluses on your feet because of pressure on the toes. It may be difficult for you to find comfortable shoes and shoes, could place painful pressure on the big toe.
Treatment – Hallux Rigidus in more severe cases will need to be treated by a doctor. First case scenario, you may need surgery, otherwise, your doctor can prescribe injections such as Corticosteroid injections, to help relieve the pain. At home, you can use pain relievers such as non-steroidal anti-inflammatory pain medications, including ibuprofen, to reduce the pain and the swelling. You can also try to soak your foot and try contrast between hot and cold water to reduce swelling and inflammation.
Complications – Hallux Rigidus can cause some complications, especially when walking and running and trying to get comfortably fitting shoes. The joints in your big toe may become stiff, and they may be deformities and persistent swelling in the big toe. After Surgery, there may also be complications such as excessive bleeding and infection.
Prevention – So can you prevent helix rigidus well in short not really. But you can slow the progression of the condition. Try to do some exercises to keep the joints in your big toe more mobile. Rest your feet when you feel pain in the big toe joint, especially where good-fitting shoes or sandals have enough room and space for your toes to move around, and do not place any pressure on the big toe.
---
Choosing the Best Shoes and Sandals
The most important factor characteristic of any shoe or sandal for Hallux Rigidus is to choose something that has a wide and roomy toe box in which you can easily spread out your toes with soft uppers that place no pressure on the big toe joints.
You want a type of sandal or shoe that is also more of a stability shoe or sandal that reduces excessive motion of the joints in the big toe. So you want less flexibility and the forefoot area of the shoe or sandal.
Keep in mind when you walk or run, or even stand your full body weight is on your feet, and when you walk and push off the big toe, you have twice your body weight on your big toe. Thus you need a shoe or sandal that absorbs impact and that reduces the hard impact that is felt on the joints of your big toe when walking, running, or standing.
---
Features of a Good Skechers Sandal for Hallux Rigidus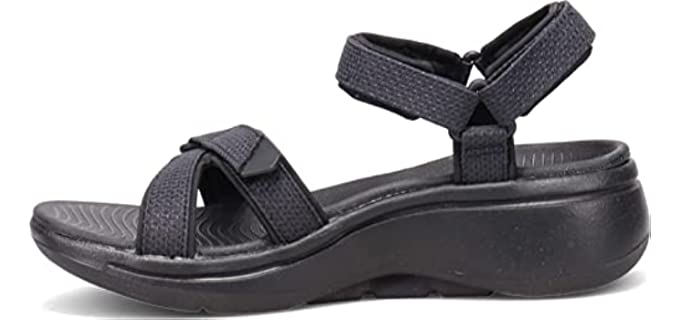 Fit – What I love about Skechers sandals for Hallux Rigidus is the fact that they generally have a very roomy and accommodating toe box and a wide footbed. You get Sketchers sandals available in wider with fits from which you can choose.
Uppers – Skechers sandals will have either synthetic leather soft mesh, textile, or more, stretchable Textile uppers. They can also have softer fabric uppers, or plastic uppers, depending on the exact model. For the most part, they do offer adjustable uppers so that you can get a more accommodating fit for Hallux Rigidus.
Low Heel – The Skechers sandals that we have included all have a lower heel or a solid platform soul that will not place pressure on your big toe.
Rigid Sole – We have chosen sandal models that have a more rigid soul, and that offer better support and shock absorbency, rather than being too flexible.
Support and Cushioning – As you will see, most Skechers sandals have a more contoured shape, a footbed that provides good support and arch support. They also have different types of cushioning to absorb shock and provide comfort for your feet.
---
Reviews: The Best Skechers Sandals for Hallux Rigidus
These are some of our favorite Skechers, sandal models that are ideal for Hallux Rigidus;
---
1
Sandals for Hallux Rigidus
These are two sporty-style sandals from Skechers that are ideal for Hallux Rigidus.
They have fully adjustable and lined uppers.
The footbed offers good arch support and cushioning.
There is also a high-traction rigid rubber outsole,
---
2
Sandals for Hallux Rigidus
The Arch Fit Walking sandal from Skechers offers good support and comfort.
They reduce pressure on your big toe with a slight rocker sole.
They have a cushioned footbed with arch support.
The uppers are comfortable and adjustable in fit.
---
3
Sandals for Hallux Rigidus
These are two sporty-style sandals from Skechers for Hallux Rigidus.
The sandal has comfortable and adjustable fitting uppers, with a broad and roomy fit.
They are well-cushioned and have a supportive footbed.
The thicker outsole offers good protection and rigidity.
---
4
Sandals for Hallux Rigidus
Here we have two more walking sandal models for hallux Rigidus.
They are comfortable with more flexible and adjustable uppers.
There is comfort Pillar technology in the sole for comfortable walking.
The midsole and footbed are cushioned and supportive.
The outsole is durable and offers good traction.
---
5
Sandals for Hallux Rigidus
The Fisherman-style sandal from Skechers offers more closed-toe protection.
They have a roomy toe box and are available in wider widths.
The sandal is comfortable with a Luxe foam footbed and soft leather uppers.
They have a protective toe cap and durable outsole.
---
6
Sandals for Hallux Rigidus
Two more sandals from the Arch fit range.
They have built-in arch support and shock-absorbing cushioning in the footbed and midsole.
The sandal has soft and comfortable uppers with a wide fit.
They are adjustable in fit, and available in wider widths.
---
Index Table: Top Rated Skechers Sandals for Hallux Rigidus
---
---